Art and D&T Summer Exhibition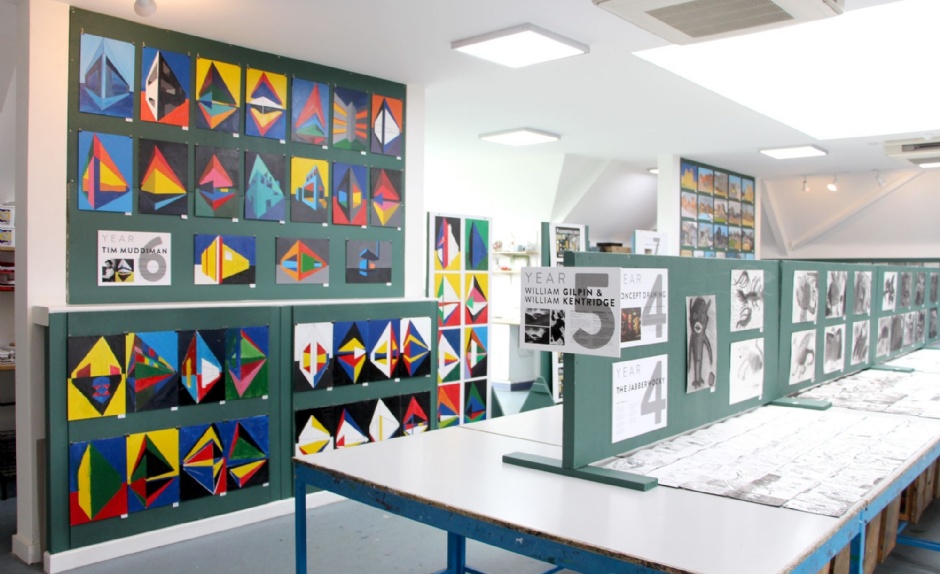 End of the Summer Term saw the Private View of the hotly-anticipated Art and D&T Exhibition in and around the school.
The Octagon and Art Studio had been shrouded in mystery for much of the week, while Mr Walters and Mr Armstrong worked their magic and set up the work of their departments throughout the year for everyone to see.
And what work it was! All work from Pre-Prep up to Year 8 was showcased beautifully. The viewer was transported from Reception's idyllic water lily ponds, inspired by Monet, to Year 8's stunning Zaha Hadid-inspired architectural models in D&T.
In the Art Studio, each year group had taken artists and themes as their source; for example, Year 4 reimagined mythical beasts like Lewis Carroll's Jabberwocky, Year 7 had painted Wolvesey Castle in the style of Caspar David Friedrich, as well as emulating the stark, simple beauty of Gerhard Richter's Skull with Candle.
In the D&T workshop, Year 6's colourful puppets, in the style of Jim Henson were on display, as well as some intricate lightboxes from Year 7, and picture frames from Year 4.
As well as the Year group exhibits, three Year 8 Art Scholarship candidate portfolios were on display. Ben T's incredible talent as a draughtsman will inspire a whole new generation of Pilgrims' artists, with his bold mixed-media drawings of his favourite locations and intricate architectural studies. Otto G's watercolours were stunning, as was Harry H's bold painting of the south of France and his obvious love for D&T.
Such is the importance and enjoyment of art at Pilgrims' that many create work in their own time, and George Si, Max H and Chenhan Z all had extra work on display - these are names to watch in the future!
The evening was enjoyed by all. Thanks, as ever, go to our wonderful teachers, JVW and AA. It is rare to find talent nurtured to such effect in boys so young, and we are lucky to have them. Looking forward to next year's show already!