Notes from two pews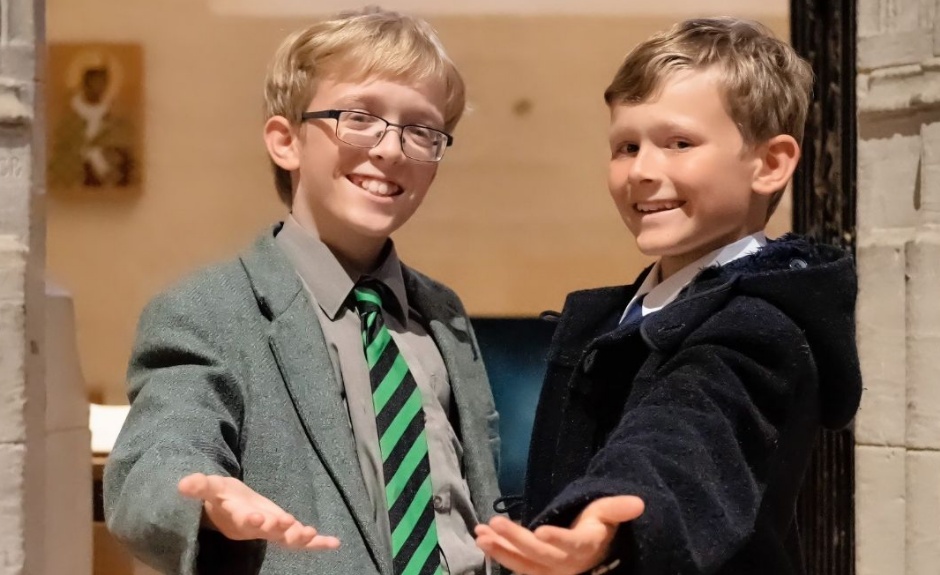 A few years ago we were in the exciting position of considering a choice between Chorister or Quirister for our eldest son. "I have to be a Chorister" came the determined reply. On asking why that was such a firm answer, the response was "Have you seen the cathedral, I have to sing in there!"
A year ago we had a similar discussion with our younger son. A calm and happy boy told us that he definitely wanted to be a Quirister because they were going on a tour abroad and he wanted to be at home for Christmas.
And so our dual journey began this term and we are all loving every minute of it! Peter and Alex get to board together and see each other regularly while we make the decision four times a week; do we head out of the back of the Yard, to the College chapel, or through the front gate to the Cathedral. What a privilege to have these choices!
Unusually, this week we have been able to enjoy both our boys singing from one pew! The Founder's Obit service in the cathedral brought the Cs and Qs to sing together, making one amazing sound.
The week continued to be pretty special with the Qs singing as part of a 90 strong choir during the Amicabilis Concordia service in Eton College Chapel. The Tavener and Howells music was equally ethereal and stirring. We met a couple of Old Choristers who are now at Eton: Henry Lui and James Phipps. This was a treat for Peter as it was Henry who had encouraged him all those years ago when he was auditioning to be a Chorister.
The week was topped off perfectly with a service in the cathedral to celebrate the completion of their capital projects, most notably the Kings and Scribes exhibition which is a must-see for everyone! The Evensong was attended by HRH The Earl of Wessex and the Choristers were treated to a Royal visit to their newly refurbished song room by Prince Edward.
Here's to many more memorable occasions enjoyed alongside those boys in red and blue!
Julie Allen
Chorister and Quirister parent