Book a taster session
Quirister open morning, Saturday 11 June, 9.30am - 12.30pm
Come and sing with the famous choir and meet the staff that teach and look after the Quiristers. For boys in Years 3, 4 and 5 (ages 7 to 9).
Numbers are limited, so please contact admissions@pilgrims-school.co.uk or call 01962 854189 for further details.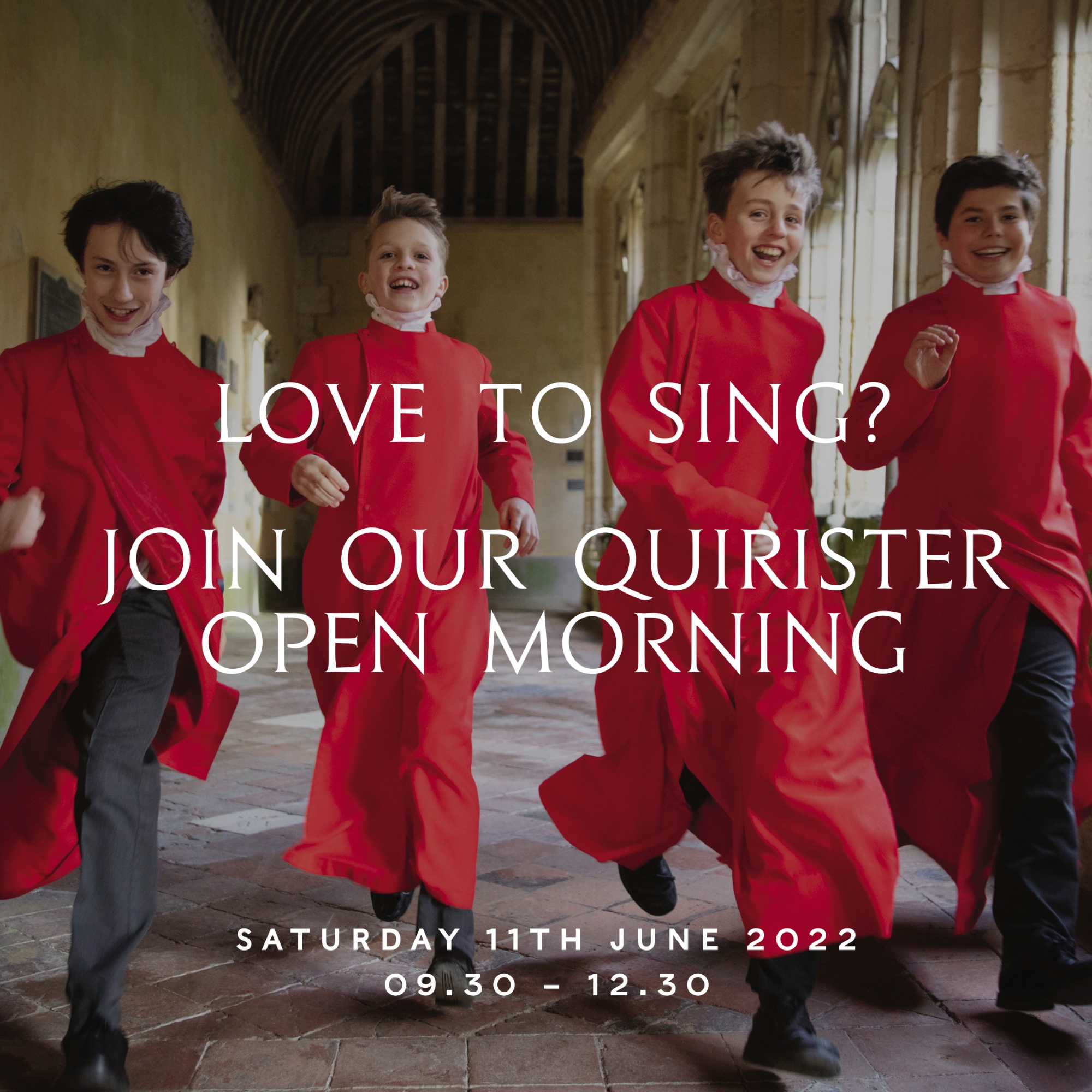 Watch this film to find out what a taster session is like
Hopefully, the following 9-minute film and the information below will be a helpful starting point for you.
HOW DO I KNOW IF MY SON COULD BE A CHORISTER OR QUIRISTER?
The first step is to contact the school when your son is 7 or 8 years old (but no earlier than the summer term of Year 2) to arrange a very informal pre-audition and a chat with Mr Andrew Lumsden, Director of Music and Organist for Winchester Cathedral, and Mr Howard Ionascu, the Director of Music for Winchester College Chapel Choir.

The informal audition is a low-key opportunity for them to hear your son sing, and for him to try out the same aural and voice tests that will be used at the formal auditions. No previous training is needed, but enthusiasm and a passion for singing are very important!

After they have heard your son sing, Mr Lumsden and Mr Ionascu will chat with you about your son's voice and potential, and tell you if they would like him to come to a formal audition. If your son is not asked to audition, they will explain their decision, which we hope will be helpful. Every choir looks for different qualities in their choristers, and your son may well be successful elsewhere.
WHAT HAPPENS IN AN INFORMAL AUDITION
An informal audition is casual, relaxed, and chatty. Your son will be asked to work through a series of simple ear and vocal exercises. He does not need to have any previous experience, the Director of Music will explain everything carefully to him and will offer him lots of help. Your son will be asked to:
Sing back individual notes played on the piano
Clap the rhythm of a short phrase after it has been played twice on the piano
Sing back a short melody after it has been played twice on the piano
Pick out individual notes from a group of 2, 3, or 4 notes played on the piano
He will also be asked to sing a short song. The Directors of Music will use it to hear your son's voice and to see how he responds to their direction. It needs to be something that your son knows confidently and is happy to sing, once with piano accompaniment and possibly again, unaccompanied. It can be something very simple - a hymn, a carol, or something from a musical. If in doubt, please don't hesitate to ask.
Your son will also be asked to read aloud from an unseen text. This is because the choir has to learn new music all the time, and the boys need to be able to read the words confidently on sight. He does not have to be able to read music - he will learn that later, once he starts his training.
WHAT HAPPENS AFTER THE INFORMAL AUDITION?
If your son is invited to audition formally, he will first need to come for a taster day at the school, which includes our entry tests. He cannot come to a formal audition without an offer of a place at Pilgrims'. If you have not already done so, you will want to visit the school, meet the Head, the school's Director of Music, the teachers, the boarding team - everyone who will be looking after your son (and you!).

Once your son has been offered a place at the school, your next job will be to decide which choir you would prefer him to join. Pilgrims' is unique in having two professional choirs, which makes your life a bit more complicated! You must decide which choir you would like your son to join before he comes to a formal audition. We suggest that you and your son sit in on a choir rehearsal and hear both choirs sing at Evensong, meet some of the Choristers and Quiristers, and talk with their parents. All of this can be arranged through the Registrar.
WHEN ARE THE AUDITIONS?
An informal audition can be arranged at any time throughout the academic year.
Although the main formal auditions have now taken place, boys may still audition formally, by individual arrangement with the Registrar.
Boys audition formally for the Cathedral Choir when they are in Year 3, and join the choir in Year 4 (aged 8/9).
Quirister auditions are held when a boy is in Year 4, to join the choir in Year 5 (aged 9/10). Our 'Be a Quirister for the Day' is taking place on Saturday 11 June, where boys can have the opportunity to sing with a famous choir, eat in the medieval College Hall and play football in the beautiful grounds of one of the country's oldest Schools. Email our Register to book.
On occasion there may be places available outside these year groups, please feel free to check with Admissions.
CAN MY SON JOIN THE SCHOOL WITHOUT A CHORAL PLACE?
Yes. Your son may still have an offer of a place in the school, even if they are not offered a place in the choir. Your musical son will certainly benefit from the great wealth of choral and instrumental opportunities, as well as everything else that the school can provide as one of the top prep schools in the country. The Registrar will be pleased to discuss the options with you.