Debating Commoner with Mrs Bailey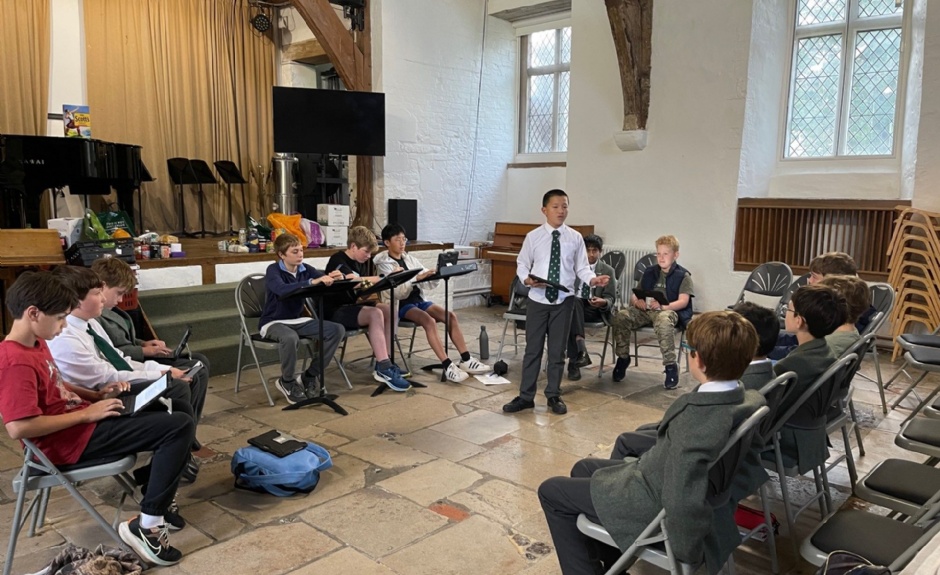 This house believes that the most important of all human qualities is a sense of humour.
Proposition team: Sammy P (Captain), Arthur M, and Seth
Opposition team: Sam Q (Captain), Aditya and Louis B
Judges: Edward B, Barnaby D and Bryan S
A great start was led by the proposition team captain, Sam, who delivered a humorous reminder of the benefits of laughter. This speech was a prepared and confident opening to the proceedings and set the team up strongly.
Next, brave and not lacking in skill or confidence, Arthur, stepping in at the last minute, made a clear and direct rebuttal about why there are so many other virtues to consider. Arthur had clarity but a partial range of points, which comes with more debate preparation time. Aditya made no bones about the health benefits of humour and seeing the logical outcomes and reasons to encourage laughter. Keen to fully diagnose the body of evidence for the proposition. Seth was a confident and serious teammate to Arthur, and he reminded those more light-hearted souls of the proposition to focus on the important values of compassion and care, not just humour. Louis was all heart after Aditya's white coat approach, but he was distracted by his romantic spirit and he finished a bit too quickly but he did keep the momentum going for his team.
Sammy P rounded up the debate as the final speaker, setting the tone with rational thoughts about other important qualities and virtues, including humour. He expanded the whole issue with some soul-searching about those poor individuals who cannot help it but do not have a sense of humour. Our hearts were bleeding, but there was a need for further work on the details of his lament.
Tonight, preparation was evident from some boys, but not all, and given the group's talent, I hope that the scope and detail of the debates can be improved with more prep next week.
Our three judges struggled to agree and treated the audience to a Team Captain shoot-out to help reach their conclusion. First up for the proposition was Sam, who repeated the main argument of health, happiness and mental benefits of humour. He even promised more hair if you laugh a lot when over thirty as a sweetener to the judges. Louis also offered a joke with the punchline ... Beauty and the yeast to exemplify their point.
Sammy rebutted in our final speech, giving his team's view that generosity, intelligence and peace are more worthwhile than humour alone. Still, more was needed from this team to convince the judges that humour is not the most important quality of them all, perhaps because Sammy loves humour so much himself. Therefore, this motion passed. Well done to the proposition team this week.
Next week, the motion will be 'This House believes that video gaming should be an Olympic sport.'
Mrs Joy Bailey
Head of History