Pilgrims' Parents' Football competition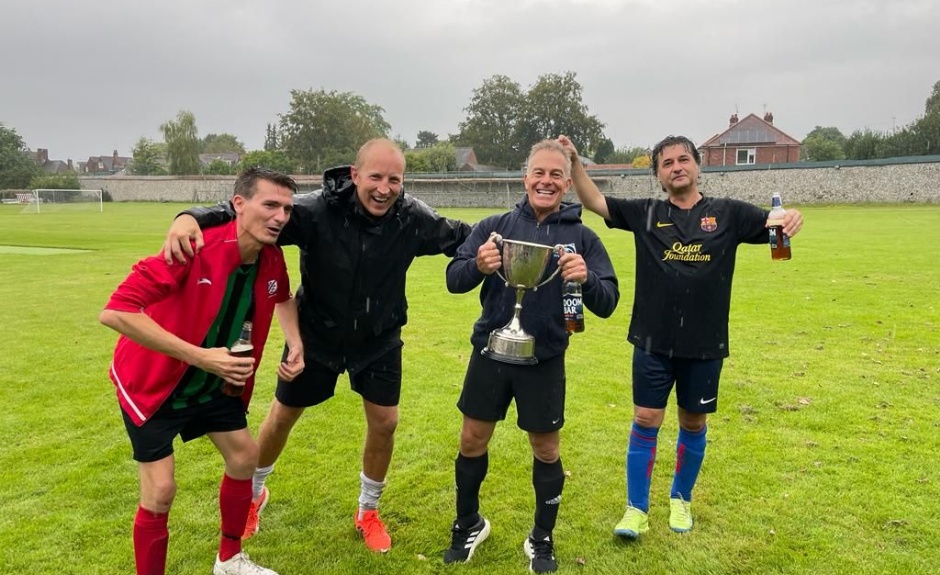 This year's PPA committee started their efforts with the Parents' Football and whilst numbers were down slightly, the event was a huge amount of fun. Matt Oliver kindly picked up the reigns from Caspar Fox and, with the help of Oli Dobson, Gary Crispin (Parents' Football Captain) and a number of Year Group Captains, they made the football happen!
Matt's organisational skills were brilliant...
Matt's report:
The annual Pilgrims' Parents Football Competition was held on Wolvesey on the morning of Sunday 17 September, with a collection of new and current parents engaged in the friendly challenge of being crowned Year Group Champions of parental small sided football.
Year 5 emerged as the winners after a run of hard-fought fixtures to retain the trophy won last season as the Year 4 cohort.
The tournament went down to the wire, with the current Year 4s – supplemented by the surprise guest appearance of returning parent Caspar Fox – having a chance of snatching the trophy and entering into the last round of fixtures, only to be denied by a resilient Year 6 team (2 time Winners) determined to end their tournament with a win!
Well deserved snacks and bacon sandwiches were provided throughout by the PPA (manned by two boys from Year 6, George W and Henry C), with thanks to Andy Short and son Barney for not only helping to set up the event but also in competing for the Year 6 team. Also, credit to the young Year 6 referees (Archie W, Christian B and Theo W); stern taskmasters indeed who, fortunately, had forgotten their cards.
The deluge of rain which followed the final whistle of the last round of fixtures suited the old adage of 'fortune favours the brave' or, at least, those that were there.
It was a lovely way to start the new academic year, and we can now look forward to Pre-Prep Coffee on Friday 6 October and Breakfast in the Yard on Saturday 7 October.