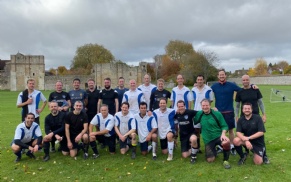 One team, two matches
Published 26/11/19
Pilgrims' Parents v Western School Parents 2-5
The new fixture on the list this season posed an unknown quantity. Alarm bells should have rung when prior to the match the opposition stated they practise twice a week.
The match started well for Pilgrims' with an early lead via an Alex Gulliford header from a corner. Western's preparation started to show and their short passing game had Pilgrims' chasing the ball in midfield. Two goals were conceded in the first half. The second half was a similar affair, Pilgrims' struggled to string passes together and create chances. Three further goals were conceded before an excellent consolation goal from Maxim Crewe. A humorous moment was a rugby tackle from David Hartwright on the Western captain; David harking back to his rugby roots was made all the more amusing when their captain confessed that he had undergone surgery under David's care a few months before!
Gorav Datta (Pilgrims' parent)
Read More