Parents and staff on equal footing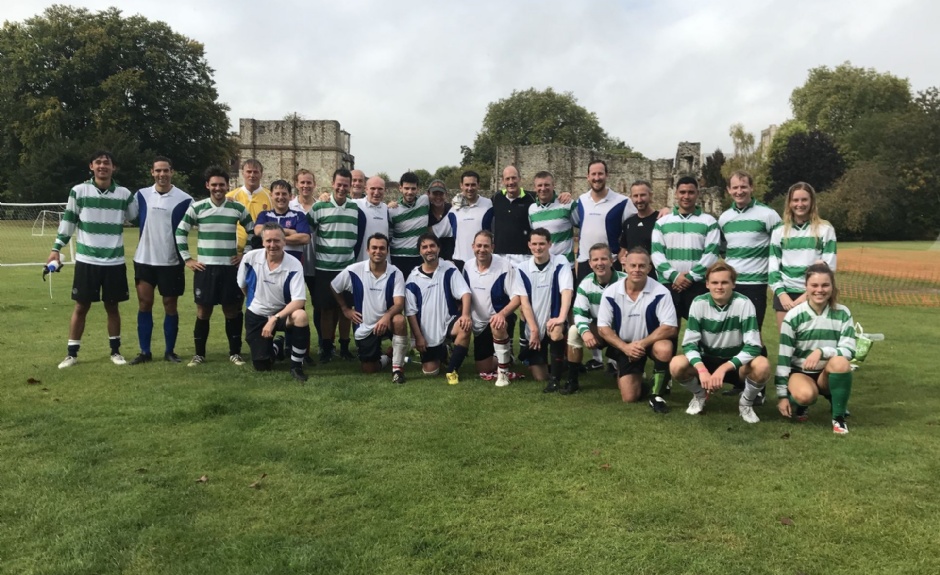 The much-anticipated annual football challenge took place this year in the pouring rain "amid a chorus of boarders repetitively chanting Mr Darlow's name from the pavilion."
Parents 2 - 2 Staff
"This was easily the best game I have been involved with during my time at the school; a draw was the fair result, but the staff will be disappointed they did not get the win. Bearing in mind most players are over forty years in age, the pace of the game started quickly and did not let up (well, that's how it felt). Even at the end, players were willingly making 50 yard runs at full pelt trying to win the ball for their team.
Conditions were especially difficult for goalkeepers. The staff took an early lead following a speculative long-range effort from outside the box. Seventy minutes of brutal, competitive football ensued, chances at both ends, with some excellent saves from both Matt Oliver and Jeremy Richardson in goal for the parents. Strong forward play from Peter Richards led to a deflected goal for the parents which levelled the game. Momentum then shifted their way until Jay Buck left a prostrate Dave Hartwright (groan included) and scored an excellent goal from the right. There were only a few minutes left and the staff would have thought victory was theirs. Not so, the parents refused to concede and continued to surge forward and scored a last-minute equaliser through an excellent cross from James Kendall which unfortunately was turned into the net off Andy Short following a strong challenge from Peter Richards.
A special mention has to go to Jay Buck, we (myself especially) chased his shadow for most of the game. If our boys take even a fraction from his coaching, they will all end up as decent footballers.
Drinks were shared in the pub after the game, another highlight was Messrs Lakin and Hanson turning up, spruced to the extreme looking like boy band 'Bros' whilst the rest of us were soaked and covered in mud! Who knows where they were off to..."
Gorav Datta
Pilgrims' parent