Shipshape Cubs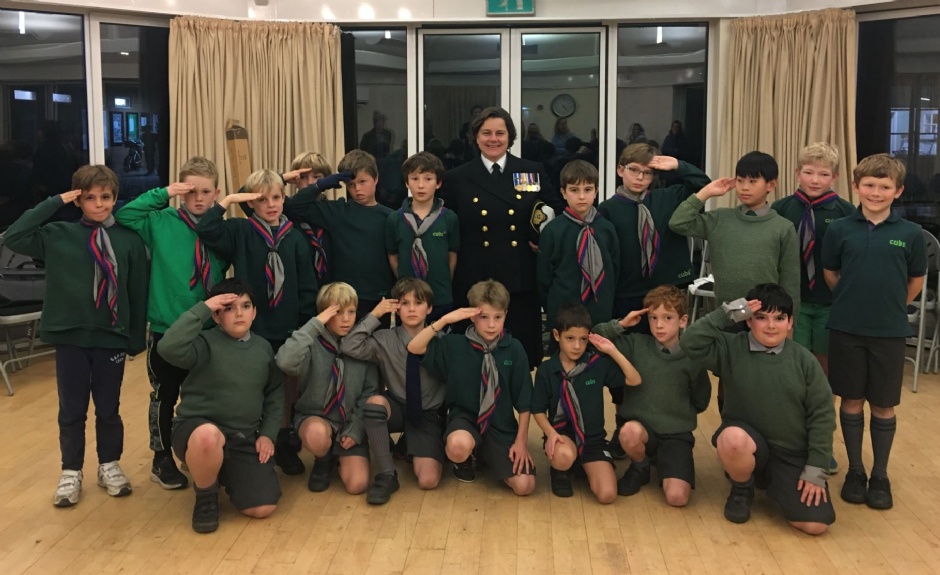 I'm almost tempted to deliver this write-up as before and after images...Picture one: Cubs lolling on the floor, hidden behind taller boys, out of shot and generally looking less than shipshape. Picture two: perfect salutes, all 18 faces visible, and straight backs. Welcome to the world of the professional leader.
Commander Bryony Carpenter, RN (aka mother of James) delivered an inspirational session on Wednesday last week about all things Royal Navy and how the armed forces relate to teamwork in a wider context. The boys were given problems to solve, team games to play, and watched a truly astonishing presentation that would make any landlubber itch to join the crew of an aircraft carrier, submarine or frigate. Bryony's career has spanned over 20 years, taken her to Kosovo, Somalia and Iraq, and all over the Gulf on HMS Invincible. Unsurprisingly, the Cubs' question time could have gone on till midnight, with Bryony interrogated on everything from where her medals were awarded to had she met the Queen.
Thank you to Bryony for being so generous with her time, knowledge and crowd control skills. Mr Burden, Captain of the Good Ship Pilgrims', you might want to call on her services for the next school photograph.
Amanda Fox (parent and Cub Leader)