An insider view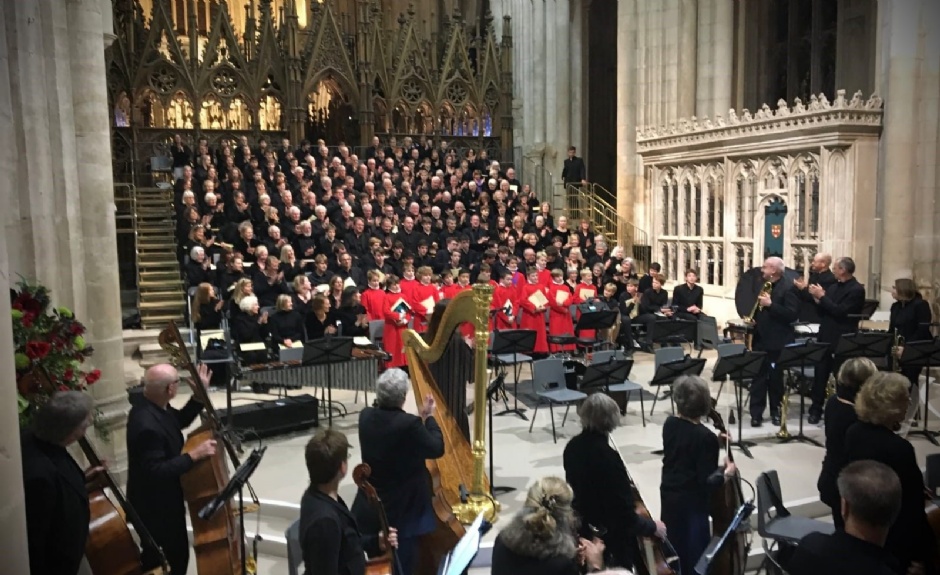 Four forces of local music combined last week to bring a programme of wonderful choral works to Winchester Cathedral. The Winchester Music Club's choir and orchestra were joined by Winchester College's Chapel Choir and Glee Club in performances of Bernstein's Chichester Psalms, Finzi's Lo, The Full, Final Sacrifice, and the Duruflé Requiem .
The Pilgrims' contribution through the Quiristers (and many ex-Quiristers) in Winchester College's Chapel Choir is well known, but it was not until my youngest son joined the Qs this year that I discovered, and was initiated into, Glee Club. It is an unauditioned choir for the boys of Winchester College, their parents (including Q parents), and teachers. Nearly one hundred performers strong, it is a powerful and enthusiastic force, complementing the Music Club and the Chapel Choir.
I must confess that I had not sung in a choir for over thirty-five years and the programme, especially the Bernstein, was intimidating for voices far more experienced than mine. But the Glee Club is a friendly and welcoming environment for beginners and experienced alike. Coached admirably and enthusiastically by Messrs Ionascu, Tarney, Thomas and Cunningham, there was little to fear.
I was perhaps not in the best position, professionally or geographically, to judge the performances, but from my elevated seat, the Bernstein was rewarding, the Duruflé was uplifting and the Finzi (performed by the Chapel Choir alone) was simply tremendous. A special mention for Kyven Tan and William Higgs, whose solo Quirister performances were so beautiful.
Would I do it again? Yes. The opportunities to sing alongside such vocal and orchestral talents, to perform in Winchester Cathedral, and to share a performance with a Quirister son, were individually inspiring and collectively unforgettable. Hopefully this has whetted your appetites as well as mine; in the spring we will perform Tarney's Magnificat and next autumn we will showpiece Verdi's Requiem. There is much to look forward to, for participants and audiences alike!
Philip Guest (Q parent)