Cricket Match Reports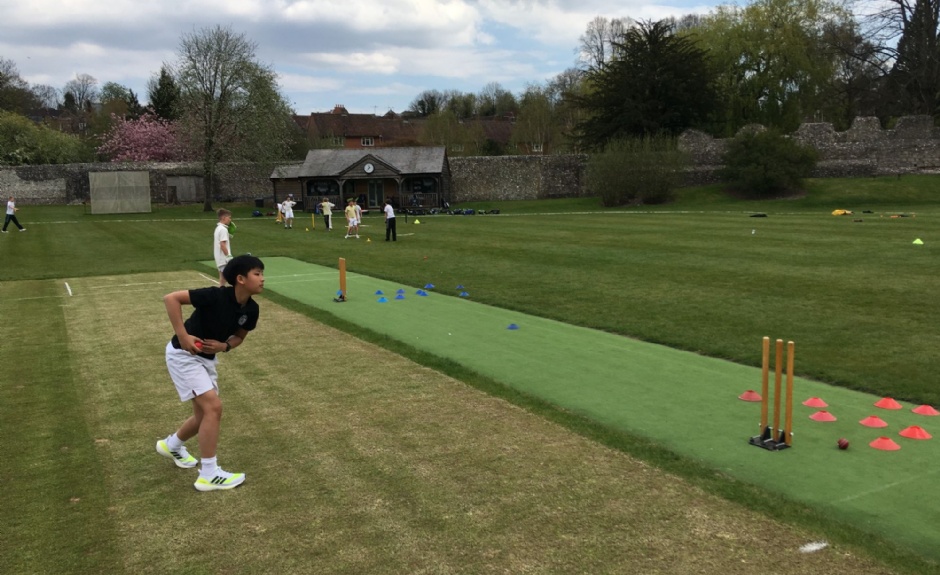 for Saturday 22 May
U13A v Twyford Home
25 Over Match
Pilgrims' lost by 61 runs
Twyford 133-7 J Kennedy 2-7, O Street 2-13, W Burnand 2-35
Pilgrims' 72-5 T Gordon 31*
On a day uninterrupted by rain Pilgrims' U13A showed considerable improvement since their last match. Bowling from the Halliday Pavilion end, James Kennedy produced such a hostile first delivery he had Twyford's opening batsman treading on his own stumps as he tried to fend off the bouncer. A great start. The bowlers all managed to create chances and induced many unconvincing shots but we didn't take our second wicket until the twelfth over with the score on 57. Twyford continued to accumulate runs steadily until a flurry of three wickets in four overs left them on 100-5. Twyford ended up with 133-7 as some late order hitting gave them a respectable total. James Kennedy finished with 2-7 from his five overs, a stoic effort.
Pilgrims' batsmen were always under pressure from the Twyford bowlers and sharp fielding. We struggled to 24-4 from twelve overs. Enter Thomas Gordon who hit 2, 6, 4 from his first three shots. Supported by the obdurate Ben Hardman they put on 46 runs before Ben fell for 11 to sharp catch at square leg. Pilgrims' posted 72-5 which despite being 61 runs short was vast improvement on the batting unit's last outing. Well done Tom for an exciting innings, I hope to see more intent from our batsmen as we continue the season. AW
U13B XI vs Stroud
20 over pairs match
Pilgrims' won by 70 runs
Stroud 230 for 12
Pilgrims' 300 for 5
As Gerald quite rightly said afterwards, 'It was fun and entertaining!' The Pilgrims' side enjoyed a good match with Stroud. The team fizzed with possibility and were on the front foot throughout. Fielding first, we restricted Stroud quite tightly with several wickets which hampered their progress. In reply, in the pairs format, the boys batted well to reach their winning score. Throughout, the game was played in the true spirit of cricket. AJS
U12A v Twyford Away
25 Over Match
Pilgrims' lost by 7 wickets
U12A 81 – all out (O Maclay 37, T McSheehy 15no)
Twyford 85-3
Put in to bat on a juicy pitch, Pilgrims' struggled somewhat early on to get the ball away. Regular chipping away at the wickets didn't help, but on 18 for 3 off 7 overs, it looked like we might struggle to post any kind of total. However, Ollie Maclay (37) and Teddy McSheehy (15) batted nicely together to get us back into the match, and at 72 for 5 with five overs left, it looked like we might get over the 100 barrier. However, an attempt to increasing the scoring rate saw both batsmen perish and some very good Twyford bowling cleaned up the tail. In their reply, we didn't bowl at the stumps often enough, and our fielding was strangely off. However, taking it to the 23rd over was a good performance and on another day, with a few more wickets, there could have been another story. However, in the end, Twyford made the total fairly comfortably.
U12B XI v Twyford Away
20 Over Match
Pilgrims' lost by 50 runs
Twyford 94 all out
Pilgrims' 44 all out
Pilgrims' met Twyford for the second time this term at Prince's Mead and it was fantastic to have parents back in attendance. Twyford won the toss and elected to bat first. There were some new faces amongst the opposition, having moved down from their As, so it was important we started well. This we duly did, with Nikheel Dutta and Felix Coleman sharing the new ball with devastating effect. Wickets fell regularly, and although Twyford kept the scoreboard ticking over throughout, it was a Herculean team effort to bowl them out inside 14 overs for 94. Despite feeling like we were very much in the match at the change of innings, any thoughts of a victory quickly dissipated; Jinmo Koo missed a straight one early on, which was an infectious problem as many others followed suit. However, it was the inability to put the bad ball away that really cost us, and not hitting any boundaries at all will always be an issue when posting or chasing a target. The boys' bowling was genuinely brilliant, the batting needs to get to the same level. Things to work on but it was played in the right spirit and we're heading in the right direction. Well done to all. WD
Colts A v Twyford Away
20 Over Match
Pilgrims' lost by 4 wickets
Pilgrims' 80/6 from 20 overs (R. Kennedy 16)
Twyford 81/6 from 13.4 overs
It was a bold move by Pilgrims' to choose to bat first which reflected the inner confidence of this week's captain, Rory Kennedy. Pilgrims' made a fair start, but far too many dots balls had been conceded by the fifth over leaving the score 18/1. The Pilgrims' run-rate rarely surpassed four an over, and so 80 was a predictable total, but at least 20 runs short of a truly competitive score. Twyford managed a brisk start, but after five overs they had been pegged back to 30/4. Pilgrims' continued to bowl with pace and accuracy, and with the score at 45/5 Pilgrims' were gaining control of the match. Unfortunately, securing the sixth wicket became harder and harder as the run started to flow. In the end, Twyford had time to spare, but it was a much closer contest than many would have expected. The Colts must build on this positive loss and continue this momentum into the second half of the season.
Colts B v Twyford Away
20 Over Match
Pilgrims' lost by 131 runs
Twyford 209
Pilgrims' 78-6
The Colts B team enjoyed a good afternoon of cricket at Twyford on Saturday. Our hosts requested that we play with a hard ball in the traditional format, and so our boys had a fine opportunity to put all they have learnt into practice. Pilgrims' won the toss and elected to field first. Although there has been some improvement evident in the bowling, too many loose balls and many extras saw Twyford set an unassailable target of 209. The Pilgrims' boys then went into bat, and some good defence of his wicket saw Conrad Bowyer bat through 12 overs before being given out LBW for 5 runs. Wickets fell fairly regularly after that, and the Pilgrims' team posted a brave reply of 78 for 6. Much was learnt from this game and I look forward to monitoring the boys' progress in the weeks to come. CC
Foals Lords vs Twyford Home
20 Over Match
Twyford won by 5 runs
Twyford 117 for 7 (B. Dobson 3-15, O. Punnett 3-16)
Pilgrims' 112 for 3 (A. Shah 25*, B. Dobson 24)
In a remarkable turn-around, we pushed Twyford right to the limit. Every aspect of our game was better - the bowling was accurate and aggressive, the fielding much sharper and the batting showed determination, skill and intelligence. Every boy contributed but special mention should be made of Barnaby and Aditya's all-round efforts, Tristan Soon for playing at the very last minute, George Steen for his keeping and Fraser Noble for massive improvements in his fielding. All a coach can ever ask of a team is to play in good heart and look to improve. These boys did that with bells on. We're all very proud. MS
Foals Oval v Twyford Home
20 Over Pairs Match - soft ball
Pilgrims' lost by 81 runs
Pilgrims' 221
Twyford 302
Pilgrims' were again soundly beaten by Twyford, but as always, gave their best. There were glimpses of some good cricket, especially in the field. Sam Holmes bowled very well and also played some nice shots when batting. On the whole however, Pilgrims' struggled to score fluently. Twyford were stronger and eased to 300 runs. An enjoyable afternoon none the less. JB
U9 A XII v Twyford Away
20 Over Pairs Match
Pilgrims' lost by 83 runs
Twyford 389
Pilgrims' 252
Pilgrims' enjoyed the challenge of their first hard ball cricket game on Saturday. We played a strong Twyford side who batted confidently against the hard ball. Pilgrims' bowled well, Teddy Eagleton and Jacob Hartwright kept their run-rate down when passed the ball. Twyford took advantage of some miss-fields to accumulate a tough target. I was proud of how the boys conducted themselves against a fast bowling attack. Although our batsmen put up a good fight, led by Charles Nield, too many communication errors, resulting in run outs let us down. We enjoyed the experience and know what we need to work on. MTG
U9 B X v Twyford Away
20 Over Pairs Match
Pilgrims' lost by 89 runs
Twyford 320
Pilgrims' 231
This was an interesting game. On the very first ball, James Buckland bowled Twyford's opening batsman out! Pilgrims' hoped this could be start of a glorious afternoon's cricket. But alas, it was not to be. Twyford had quite a few good batsmen and benefitted from some rather wayward Pilgrims' bowling techniques which gave away a lot of wides and no-balls. At the crease, Pilgrims' ran many brave and daring singles, a notable highlight of their game. However, not enough to secure them a victory. PB
U9 C XII v Twyford Away
20 Overs Pairs Match
Pilgrims' lost by 73 runs
Twyford 331
Pilgrims' 258
What an exciting prospect this was! It was a ceremonial team coach journey as we made the short journey across the metaphorical Stanley Park of the M3. Mr Short waxed lyrical about the 'corridor of uncertainty' and 'you could hit that with a stick of rhubarb!' and before we knew it, we'd arrived at Twyford. They won the toss and elected to bat. We gamely fielded - carefully adding an extra man to the downhill area of the pitch. Twyford batted well, making 331, we took just the solitary wicket - through Addison Jarvis' bowling. Zach Mehta also enjoyed a tidy over, Twyford just gaining one run and one wide. In the reply, we ran between the wickets very well, always looking for that cheeky single. However, it was also our undoing as we didn't always check before setting off and submitting to the inevitable run out that followed. Timothy Cheong displayed some batting quality with several driven fours. The main difference between the sides - number of wickets. With five runs deducted for every wicket, we effectively gifted Twyford 50 runs. Have lessons been learned? Undoubtedly. AJS