Bringing the SCARF programme to Pilgrims'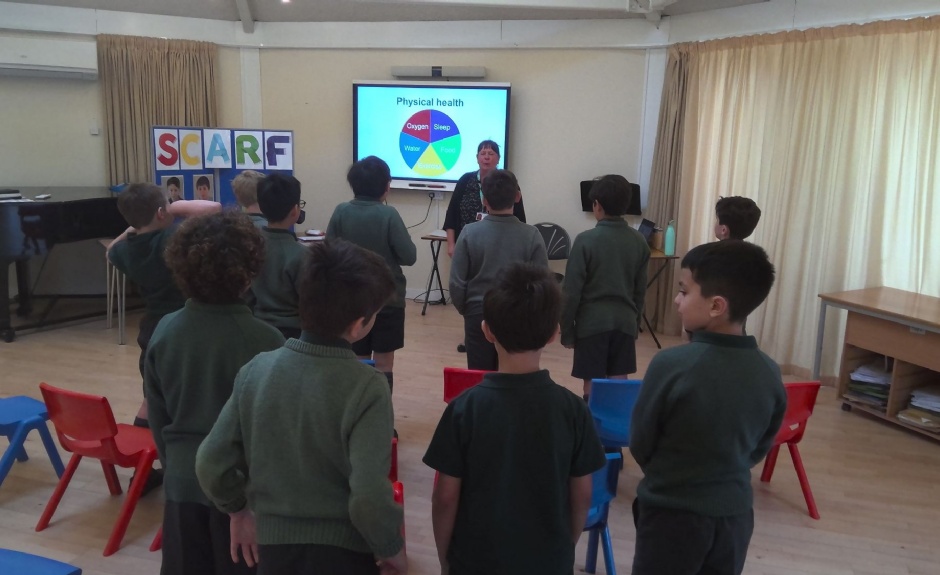 SCARF stands for Safety, Caring, Achievement, Resilience and Friendship and is the backbone of the PSHEe programme in Reception through to Year 6 at Pilgrims'. But what is it? Read on to find out.
SCARF is a programme of lessons, resources and workshops that support the aims and objectives of the PSHEe curriculum and also the school's values and attitudes we want our boys to adopt. Over the year we cover the topics of:
Me and my relationships
Valuing difference
Keeping myself safe
Rights and responsibilities
Being my best
Growing and changing
SCARF comes with many resources, and favourite, especially with the younger boys, are the characters Harold (giraffe), Kiki (kangaroo) and Derek (penguin). They often pop up in lessons to help tell stories and lend context to the themes being explored.
The workshops have taken place during the first week of the Summer Term, with all classes in Reception to Year 6 involved. Below is an example of the reception class content, and then the main headings for the other year groups.
Reception: All About Me
We meet Harold the Giraffe who is very excited about going to his grandparents' house. The children help him check he has everything in his bag including the items in his wash bag. Using a specially designed body tunic, the children learn about the functions of some major internal organs. Harold gets plenty of exercise at the park and the children all join in exercising their bodies too. Later, Harold is feeling sad and calls us for ideas to cheer him up. Everyone feels a lot better after a sleep under the stars and Harold comes out to thank us for our help before singing one of his favourite songs about being happy and healthy.
Year 1: My wonderful body
Year 2: Feelings
Year 3: Meet the brain
Year 4: It's great to be me
Year 5: Friends
Year 6: Decisions
SCARF is a very well regarded programme used across the UK. What is wonderful is that it is designed for children, about children and teaches them about themselves and the world around them. PSHEe is a wide-ranging subject that includes emotional literacy, values and attitudes, health and wellbeing, diversity and inclusion, safeguarding and keeping safe and many more areas. I would say this, but PSHEe is very exciting and more important than ever.
A special mention must be made of Lucy, the wonderful presenter, who spent a great three days at the school. Thank you very much!
If you get the chance, please do talk to your son about his workshop, and Harold, Kiki and Derek.
Matt Shroff
Director of Wellbeing