Choirs unite at Evensong in memory of William of Wykeham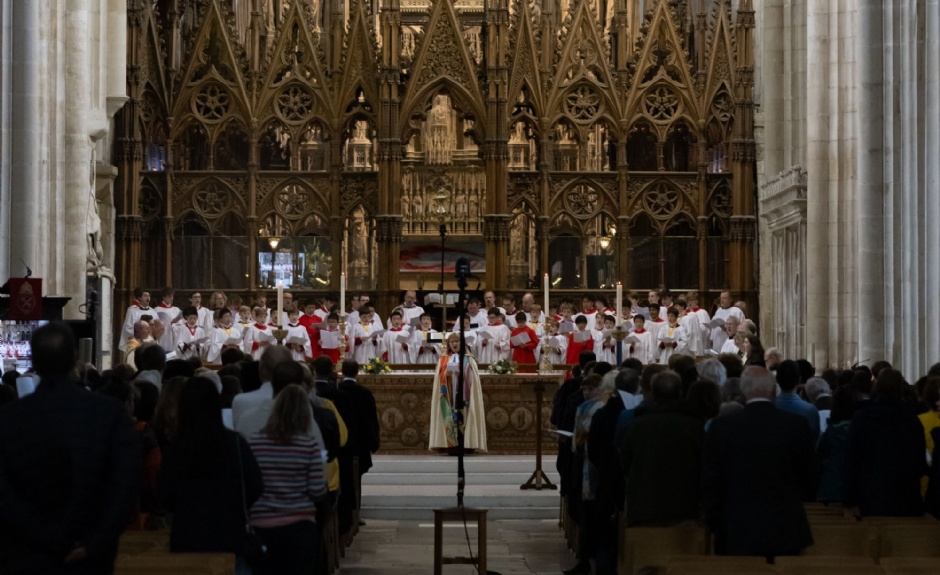 On Wednesday, the Cathedral held a special Evensong commemorating the death of William of Wykeham, Bishop of Winchester in 1404.
It was a vibrant occasion, with some 150 proud new Wykehamists, their parents and members of the general public. Wykeham not only founded Winchester College and New College, Oxford, but also substantially rebuilt the cathedral. This is one of the few occasions when the Cathedral and Chapel choirs, including Pilgrims' own Cs and Qs, come together to celebrate his achievements.
The choirs processed in together, their beautiful voices echoing around Wykeham's nave. Psalm 84, 'O how amiable are thy dwellings', seemed especially appropriate, as did both readings, which emphasised the education of the young and the role of the master builder laying strong foundations: Wykeham, born poor but with great ability, was himself a builder by trade before rising to be Chancellor of England. Between the readings, the hymn of the teenage Virgin Mary – the Magnificat – floated up with the incense in Wykeham's nave. The Headmaster of Winchester College spoke in her address both of Wykeham's faith in the young in a time of crisis (he lived through the Black Death of the 1340s) and of God's as shown in his choice of youthful prophets.
During the Anthem, flowers were laid in Wykeham's chantry chapel and the service ended with the joyous singing of the final hymn.
William of Wykeham was a true visionary whose achievements are evident 600 years after his death, both in the youthful congregation and in the magnificent setting of this glorious Evensong.
George Haidar