From the Head
To be a Pilgrim … is to be active, Episode 13
Pilgrims' is a busy place, whether now in lockdown or when we are altogether as usual at school. The Pilgrims have been active both in mind and in body over the last few weeks.
Commoners
We were thrilled to kick off so many wide and varied Virtual Commoners this week. Huge thanks to the teachers who have contributed their time, passion and creativity to provide everything from construction, debating, epic skills, decisive battles, photography, Scattergories, touch typing, sketching, bicycle maintenance, the Copernicus Society, and so many more. There really is something for every boy of every age and interest. It has been wonderful to see all the photos and hear about the start we have made to the Virtual Commoners programme this week. Do see the article below.
PE
I have been enjoying PE on Zoom. Just a couple of examples: last week, the Pre-Prep were learning and performing lovely gymnastics routines with Mr Buck including balances, pikes, tucks and the most adorably named, teddy bear rolls and sausage rolls! And Mr Short's and Hugo S's Year 7 warm-ups were shared on the School's social media leaving me with a 'to do'. I must, I must, I must … I must get better at burpees.
The Pilgrims' 365 Challenge
Lots of boys and families were active over the holidays running or walking to raise money for The Pilgrims' 365 Challenge. The challenge was to raise money for the local charity Allegra's Ambition, which you can find out more about here: https://www.allegrasambition.org.uk/ . The Pilgrims' 365 Challenge was the brainchild of Ben H in Year 8 who, along with the rest of the Year 8 Charity Committee, organised the event. As you may recall, the challenge was for Pilgrims and their families to run a total of 365km before the end of the year (ideally wearing a splash of pink, the charity's colour). With a suggested donation of £1 per km, the boys hoped to raise £365. They smashed their target, raising £466.50 which means the charity will get £568.88 with Gift Aid included.
Allegra's Ambition is named after Allegra, a St Swithun's pupil and sister to two former Pilgrims. She was passionate about life and sport and dreamed one day of representing GB at the Olympics. She sadly died very suddenly at age 16. The charity her parents set up works in partnership with other charities to enable, engage and empower young, disadvantaged people to fulfil their potential through participation in sport and outdoor activities.
Well done to the Charity Committee on an excellent initiative! Keep up the great work. Well done too to everyone who took part, and thanks also to Mrs Bailey and Miss Erasmus for their support. Raising money and keeping active at the same time is surely a win, win. It is lovely to see all the pictures and read about so many family runs and walks. See the article further down this newsletter by Ben H.
Wellbeing
No-one pretends that lockdown is easy but when we work together and care about each other, things do feel easier. Boys have tutor groups, optional tutor groups, Group, and evening Cocoa sessions as well as other opportunities to catch up with tutors and other adults if they are worried about anything. I am also delighted to let you know that from this weekend, Mr Shroff, our Director of Wellbeing, will host a Wellbeing 'drop in' on Zoom at 1200-1230 every Saturday (details below)
for any parents who want to join and ask questions or share thoughts about any aspects of wellbeing or parenting. To enable this, my Head's Open Zoom will be at the new time of 1230-1300 from this Saturday for any parents who want to drop in. The details for both of these are below.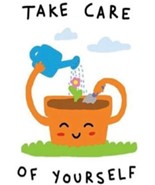 Change
Change is something that growing boys of all ages and especially adolescent boys have to cope with, whether there is a global pandemic or not. However, this is a time of particular and enormous change to our normal routines. Some change is good. But change is stressful whether it is good or bad. My Head's assembly this week included seven ideas to help boys cope with change at this time. I think these are just as important for adults so I wanted to leave you this week with the same tips:
1. Strive for balance. In periods of change, keep as many other things in your life the same as possible
2. Think of change as a mixture of uncertainty and opportunity. For instance, I understand that the Chinese word for change is made up of two characters which encompass both of these ideas. Do let me know if I am wrong!

3. Take care of yourself. Keep your usual routine. Get regular exercise. Eat a balanced diet. Get enough sleep.
4. Learn to relax. Relaxing is one of the best tools for handling stress. Relaxing helps your body unwind. It helps undo the negative effects of stress.
5. Try to find the humour in situations when possible. Humour goes a long way to reduce stress.
6. Look for support from family or friends. Do not try to weather every change alone.
7. Think about your emotions. If faced with a sudden change, take time to think about your emotions. Are you happy, sad, scared, angry, excited? After you know what you are feeling, ask yourself if your emotions are justified or have you misinterpreted something? Can you control the situation or your emotions? Would more information help?
Have a safe weekend, everyone. Take care.