From the Head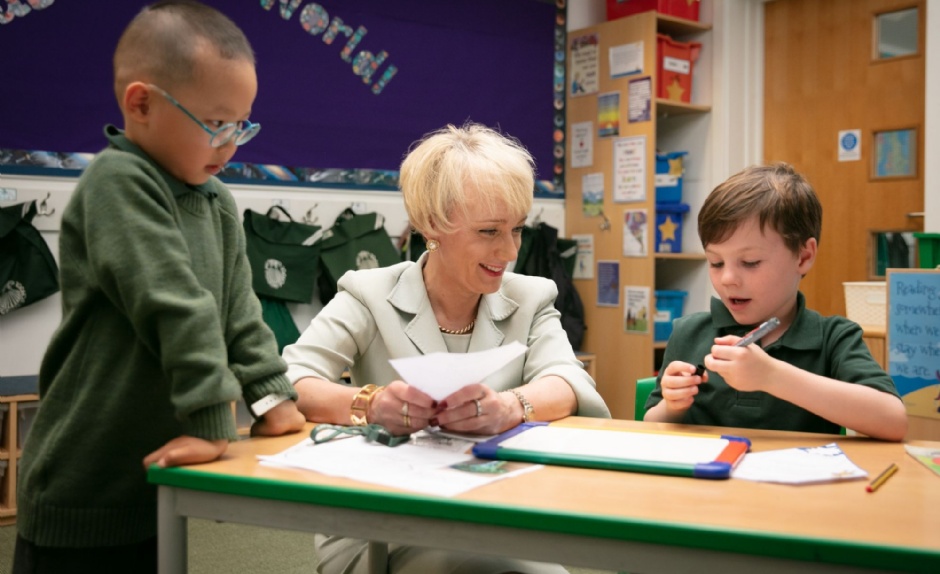 To be a Pilgrim is to Challenge inequality, Episode 20
Re-opening the physical Pilgrims' School on 8 March
It was wonderful to welcome the boys and staff back into on Monday! With enormous thanks to staff, parents and of course the boys who have made this happen. Thank you so much to the PPA for bringing two huge buckets of daffodils for the staff. So kind and thoughtful of you to think of staff at this time. There has been palpable excitement all week, purposeful learning in classrooms across the school, the wonderful sounds of boys' chatter and giggles everywhere, and so many games of cricket on the quad and yard both in daylight and at dusk, as well as breaktimes. Music practice is again to be heard from the windows of the Priory and ensembles are back together making music. Year 7 and Year 8 boys have had two lateral flow tests, all taken in their stride, and they seemed to get down to their exams well this week. We welcomed back on the 'screens' those boys who are still further away and who were not able to get back this term due to travel restrictions or because it would be too onerous to quarantine for three weeks in school.
Challenge Inequality
This year, race and gender, as well as social and economic inequality, have been at the forefront of debate and political and societal change including: Me Too, Black Lives Matter, Marcus Rashford's free school meals campaign and most recently, Reclaim These Streets (after the tragic murder of Sarah Everard on 3 March).
Monday 8 March was International Women's Day. I used my assembly that day to return to the topic of inequality and specifically to the role of Pilgrims to challenge inequality. Not to diminish gender inequalities, I set International Women's Day in the context of discrimination of all sorts. I told the boys about the 2010 Equality Act protecting citizens against discrimination because of age, disability, race, religion, gender, gender reassignment, orientation, marriage/civil partnership status and parenthood. On the UNICEF day of Education on 24 January, I introduced the boys to Article 28 of the UNCRC which says that children and young people have the right to education no matter who they are regardless of race, gender or disability, if they're in detention, or if they're a refugee.
I gave the boys some statistics and some food for thought. I asked them how many Chief Executive Officers of FTSE-100 companies are women today: 7, 11 or 24? One thought 24, many were surprised to know it is just 7 today. Indeed, there were more CEOs in the FTSE-100 called "Peter" than there were women, until July 2020 when Amanda Blanc became CEO of AVIVA. In 2018, globally women earnt 23% less than men on average, and in 18 countries women still need permission from their husband to work outside the house. Just over 3% of the Chair, CFO, CEO positions at FTSE-100 companies are held by ethnic minorities, while ethnic minorities represent 14% of the UK population as a whole.
But we are a boys' school
Pilgrims' is proudly a boys' prep school. Pilgrims' is the ideal place for boys aged 4-13 to grow, learn and thrive. "Our goal is to help boys find their passions and nurture them" – whether that be in the Mathematics or Latin classroom, as a singer or musician, on the cricket pitch, chess board, art or drama studio, or running the Charity or the Environmental Committee (and often doing many of these at the same time).
I am regularly asked by prospective parents about the benefits of a boys' only setting. We are a boys' school, yes, but there is no place at Pilgrims' for gender stereotypes. Boys can be anything they want to be. Just to name a few examples: we have a sewing Commoner this term, last year's Year 8s knitted scarves and sold them to raise money for charity, and unlike many co-ed settings, we have no problem getting Pilgrims of all ages to sing. More than 80% of Pilgrims sing in one of our choirs.
In addition, it can be difficult for boys, both academically and pastorally, when girls (who typically go through their growth and development spurt earlier than boys in around Years 6 and 7), pull ahead in co-ed settings. This can far too often hamper the confidence of boys and a dip in confidence impacts wellbeing, happiness and academic progress.
Comic Relief
Next week, the boys will be learning about the charity Comic Relief, raising money by wearing mufti and red noses next Friday (Red Nose Day - we will supply the noses in School) and making each other smile with magic, jokes and performances into the bargain. Our in-school campaign is being run this year by the PPA in partnership with teachers and the Year 8 Charity Committee. With many thanks to all involved! You will have seen this in last week's To be a Pilgrim, and there is more below.
Comic Relief is a UK charity which I am sure you are aware of. It makes a difference to the lives of millions of people across the UK and around the world. The goal of Comic Relief is to create a just world, free from poverty. Conscious at this time that the COVID-19 pandemic has made many disadvantaged peoples' lives even harder, they are working this year to tackle four key challenges that society faces: improving mental health; having a safe place of shelter for everyone; creating a world in which children thrive and survive (every year millions of children around the world die before their 5th birthday or grow up in poverty and neglect); and promoting freedom from gender-based fear, violence and discrimination. The boys' participation next week is part of our work on serving others.
And finally
As a boys' preparatory school, we are in a very unique and special position of trust, preparing boys aged 4-13 for their senior schools and life beyond, academically, pastorally and socially. All the staff and I consider this a responsibility and privilege. Through age-appropriate conversations and learning about discrimination, equality, poverty, neglect, service, history, world issues and challenges, as well as through our ethos of treating others as we would like to be treated, all Pilgrims are learning that they have a responsibility to contribute to society and to others. Pilgrims are learning that they, like all of us, are accountable to create change for the better, and to treat others with kindness, dignity and respect. My colleagues and I are very proud to have this opportunity.
Happy Exeat!