From the Head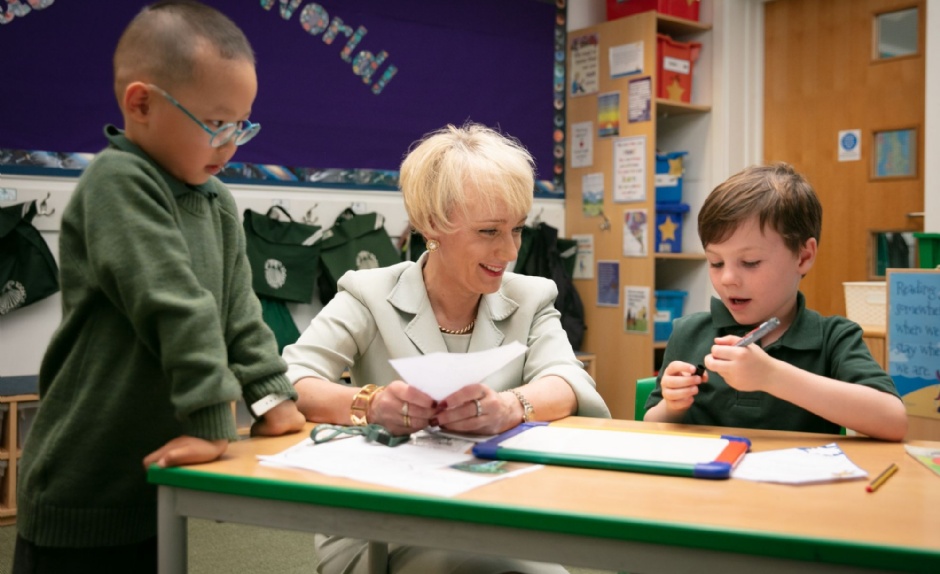 To be a Pilgrim ... is to put your hand up and pledge to put an end to bullying, Episode 3
In the six weeks I have lived full-time in Winchester there has been never a dull moment. I have experienced a portfolio of weather and other physical challenges: heat waves, torrential rain, flash floods, and, last Monday, a full-scale power cut (I know that is not weather but the feeling was similar!). And now, Storm Alex is threatening.
On 27 August, Tom Burden had booked a 2100 crossing to the Isle of Wight to drive with a car full of boxes of personal effects as he moved out of the Close. This was my seventh full day in Winchester. The rain started at about 1630 and, as Tom put it, was "of biblical proportions". He put on his crocs and carried on packing. An hour and a half later, there was a four centimetre deep river running through the school, past the Dining Room, and almost as far as the Old Library. Neither Miss Dennett nor I felt adequately prepared to deal with this (especially in our footwear) as we went in search of the "source". We found it! The yard had flooded, the drains were not coping adequately, the water was coming in through the door in (of all things) an attractive waterfall. A waterfall. It flowed in smaller waterfalls down various steps and along corridors and stopped a few feet from the Main Hall and the Old Library. Was this some sort of initiation process? Our first flood.
Then came the power cut. On Monday at 0825, as I was getting ready for one of the most important assemblies of the year – The Big Anti-Bullying Assembly 2020 – the school, and a large swathe of Winchester, lost power. It was restored in ten minutes, but it took a lot longer to reboot the IT and communicate to every classroom, so we had to reschedule. It was a real shame we couldn't go ahead last Monday as Mr Burton and I had planned it to take place at Pilgrims' concurrently with thousands of schools across the UK. But tomorrow (Saturday), we will have our anti-bullying assembly with Year 4-8, and on Monday, Year 2 and 3 will see it. (Later, we will present live to Reception and somehow Year 1 managed to go ahead last Monday – well, they do call me Dr Electric.)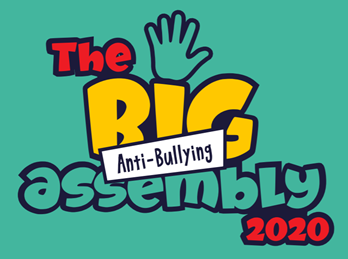 The School's anti-bullying policy is available to read on the school website. In the policy we define bullying as the "intentional hurting, harming or humiliating of another person. It can take the form of racial, religious, cultural, sexual, sexist, homophobic, SEN or disability related bullying. It could involve physical (including sexual) intimidation, verbal, cyber (including chat room, email, e-photos and SMS messages), and emotional means (by excluding, tormenting or spreading malicious rumours)."
Bullying can happen anywhere – including at Pilgrims' – which is why we all need to raise our hands in a pledge to put a stop to it.
The BIG Anti-bullying Assembly 2020 is a joint venture between the Diana Award charity (named after the late Princess Diana) and the Nationwide Building Society. They created a 23 minute film and lots of resources to allow children to learn "how to identify and tackle bullying behaviour" through "a whole load of personal stories, messages and special performances from our famous friends including, Richie & Mwaksy, Will Poulter, Twist & Pulse, Katie Leung, James Mcvey, Peter Andre, Cel Spellman and many more." We will share this film with your son(s) along with introductory words from me. During the assembly, the boys will be asked to put their hand up and identify on each finger who they would call on as part of their support network if they were being bullied, as in the example below.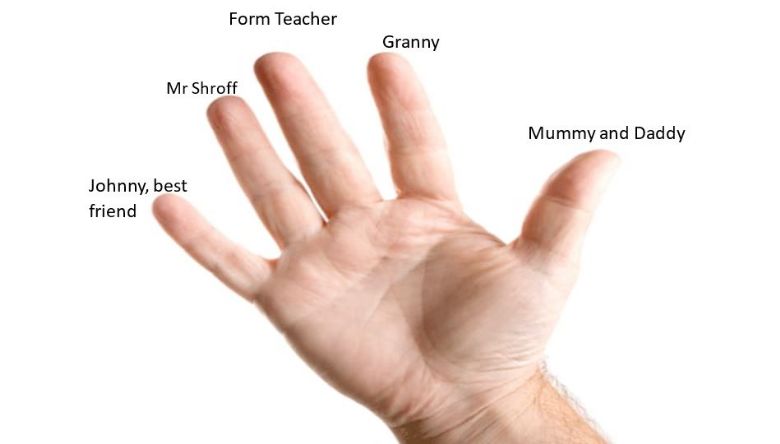 Then, we will introduce to the idea of anti-bullying ambassadors and ask the boys to put their hand up if they would like to be one. A day or so after the assembly, each form will take part in a workshop designed by Mr Shroff to reflect on what bullying might look and feel like and to think about what a boy who is being bullied can do.
Please join everyone at Pilgrims' as we put up our hands and pledge to put an end to bullying.