From the Head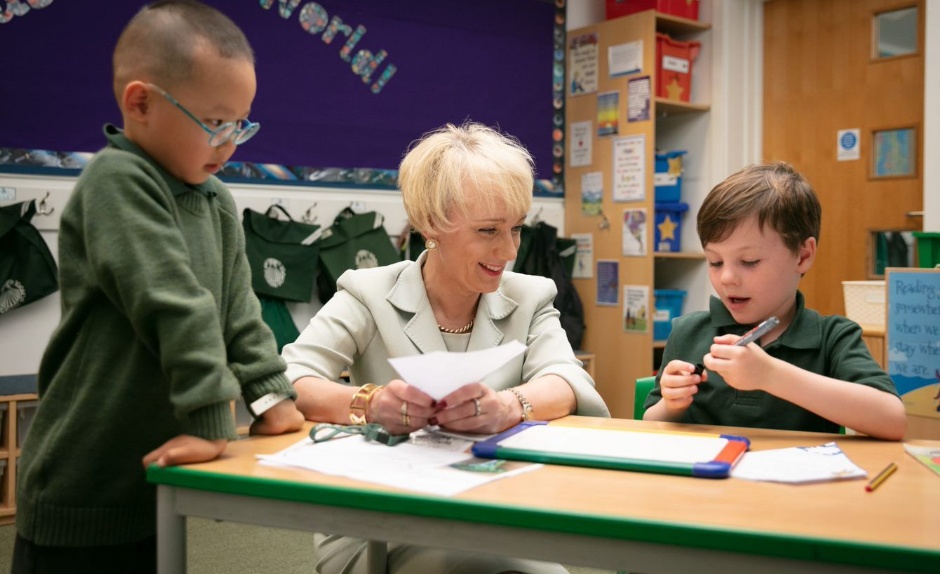 To be a Pilgrim is to celebrate, Episode 32
This week Pilgrims have celebrated! A lot…
On Tuesday evening, Pilgrims celebrated with gusto, cheers, jumps in the air, hugs, and forward rolls (even one or two cartwheels) on the new astro grass on the Quad at minute 75 of England's UEFA Euro 2020 group match against Germany when Raheem Sterling put the ball in the net. It was 1-0 and the Quad erupted! Just 11 minutes later, when Harry Kane scored his first goal of the tournament and put the ball in the back of the net, the celebrations reached a crescendo. The GAP teachers who were off duty ran down from their flat (they realised after the first goal that the signal to the TV in the GAP flat was one minute ahead of the one in Octagon) and arrived just in time for the goal. Everyone was cheering and jumping up and down. I am sure that from the Quad we could even hear the diaspora of Pilgrims all around Winchester and Hampshire cheering and celebrating at home. What a night! What a result! 'Football's coming home ... it's coming.'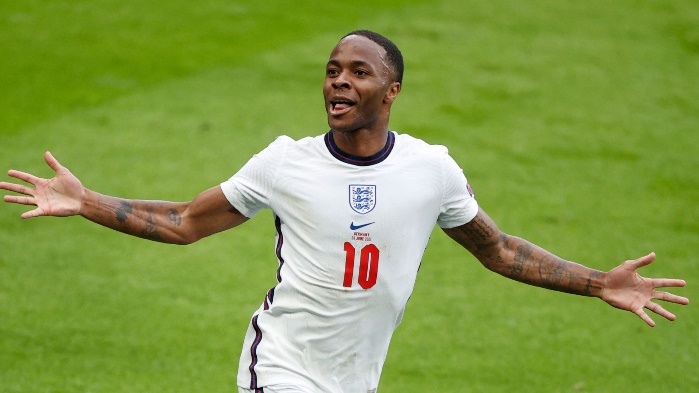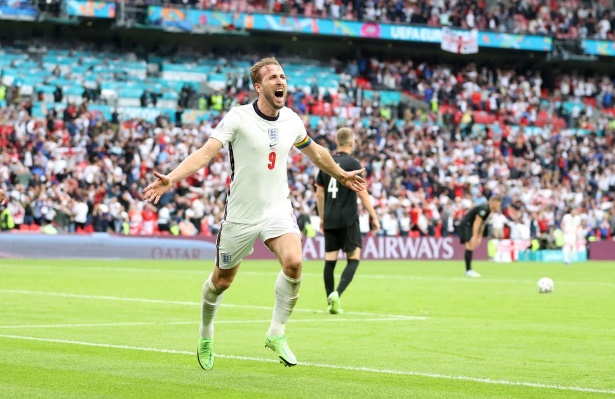 There was excitement in the air earlier in the day on Tuesday when we celebrated Moving Up and New Boys' Day. Boys who will be next year's Pre-Prep and Juniors got to experience their new classrooms and tutors and all boys from Reception to Year 6 met their new peers who will be joining Pilgrims' next term. Boys in Year 1, 3 and 4 met teachers who will be new to the school in September: Mr Halliday, Miss Di Bella and Miss Kunzer.
On Monday, Year 3 enjoyed spending time with their much older friends who live at St John's, a vibrant care community in Winchester, and celebrated meeting them in the garden. The boys were able to speak to friends they had made earlier during lockdown on a zoom St John's - Pilgrims' social event. Alfie O asked after one resident called Caroline whom he remembered from that session. She was not feeling well and so was not going to join them in the garden, but when she heard that Alfie was asking after her she came out to see the boys. Caroline and Alfie had a lovely long conversation about fossils and dinosaurs. It turns out it is her specialist subject too! What a lovely impact we can have when we take time to think of others! See them chatting on the left-hand side of the lovely picture below, taken by Mrs Brown. Is there anyone you can bring some happiness to today?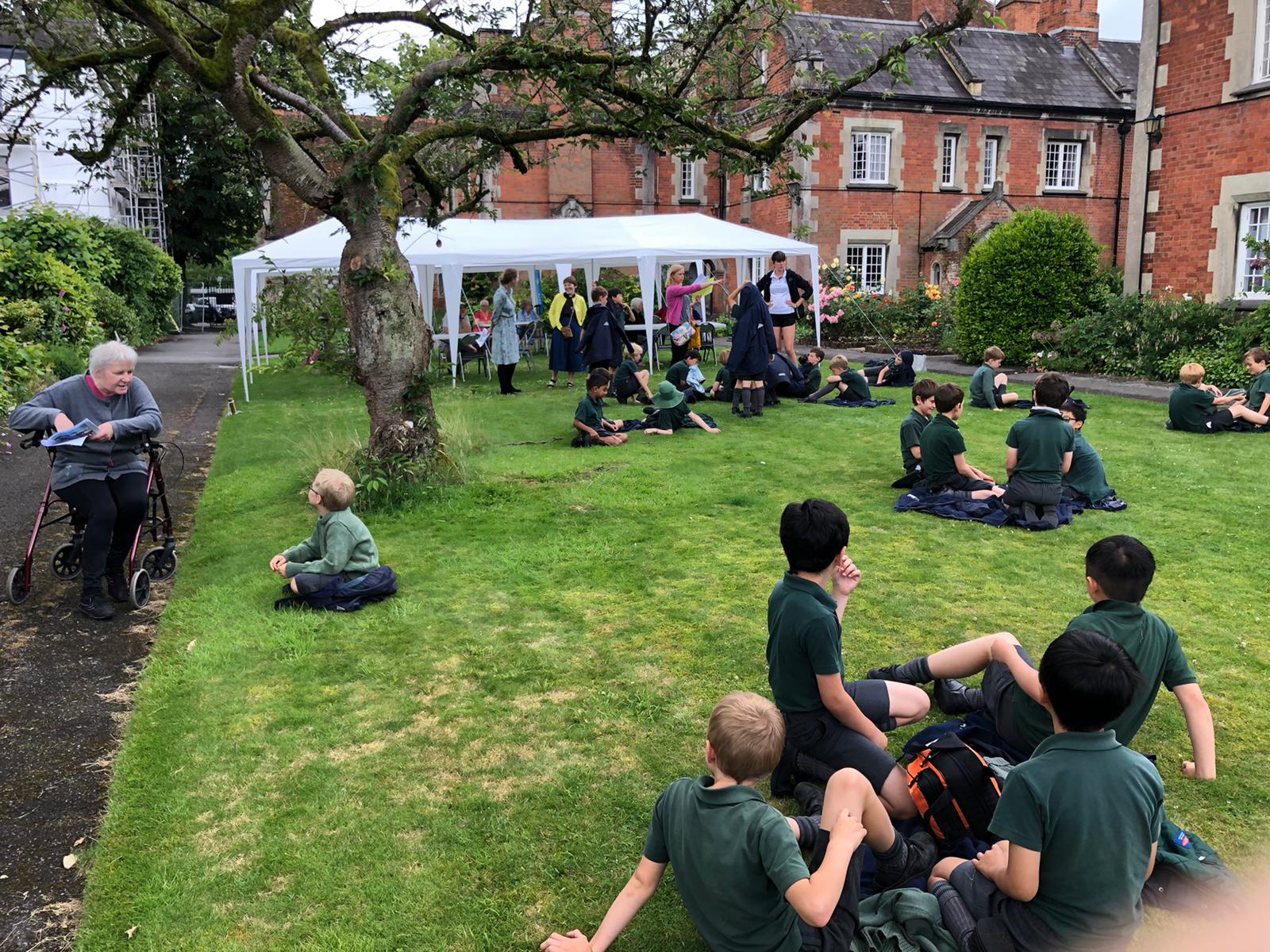 The Pre-Prep celebrated their Sports Day on Thursday afternoon, with parents and younger siblings watching in 30s in Fanzones. Even the sun had his hat on. Complete with the egg and spoon, three-legged, sack, relay and sprinting races, we all had a wonderful afternoon. There were lots of cheers and support for each other which was lovely to see. Well done to the Reds who were narrowly victorious, but I am sure you will agree that all the boys were winners. A huge thank you to Mr Buck for organising a superb Pre-Prep Sports Day and for announcing races and performances in fine style (I am sure you have a future as a sports commentator if you ever give up the day job), and to Mrs Ross, Mr Greenwood and all the Pre-Prep teachers, as well as parents. Thank you, parents, for joining us; you were the most wonderful support to the boys. See the Pre-Prep section for more information and, of course, pictures!
As I write, Year 8 are celebrating their last night at the Bushcraft camp, around the campfire. The Bushcraft Company's tagline is 'Great things happen in the great outdoors' which is something that, after years of Forest School, Pilgrims understand very well, of course. However, the camp took the boys far outside their comfort zones: from the basic (ahem) facilities, to building their own shelters, following wilderness trails and even stalking and gutting fish. All the boys coped well and many have thrived. It seems that one Ben H perhaps had skills he could build on when it comes to fish, or maybe it is in his DNA(?). The teachers did request a very special home (school) comfort: an emergency order for marshmallows and toasting forks was made up and dispatched to Bushcraft on Tuesday … in case there was any doubt that great things happen in the great outdoors! With enormous and heart-felt thanks to Mrs Bailey, Mrs Beaumont, Mrs Brill, Mr Bryant, Mr Cuyler, Miss Jones, Mr Schultz, and Miss Pacey for leading the residential trips this year and all the other staff who have contributed to the exciting 2021 Year 8 Leavers' Programme. The final and most thanks goes to the wonderful Mrs Bailey, who masterminded it all with unfaltering hard work and passion and unwavering determination. We salute you, Mrs Bailey. See the pictures in Mrs Bailey's piece below. Well done, Year 8, as you celebrate a year where you have all achieved so much academically, pastorally and socially. Well done, Year 8, as you celebrate the end of your Leavers' Programme and your last week at prep school. Once a Pilgrim always a Pilgrim.
It is now coming to that time when we turn our minds to the end of the Summer term and the closing of the academic year. We will celebrate with lots of events as you know but for now, I want to congratulate Alfie L in Year 7 for his amazing painting which was chosen for the invitation to the Art Exhibition which opens this evening. Look out for his amazing abstract painting depicting 'fire' at the exhibition. Abstract art is a new challenge. We congratulate Alfie on this piece, but especially for his grit and perseverance as he worked on it in his own time, seeking inspiration from other artists while constantly seeking to improve his technique until he got to this most impressive painting. Perhaps this painting will go into the portfolio he is preparing to accompany his application for an art scholarship to his senior school?! Well done, Alfie.