From the Head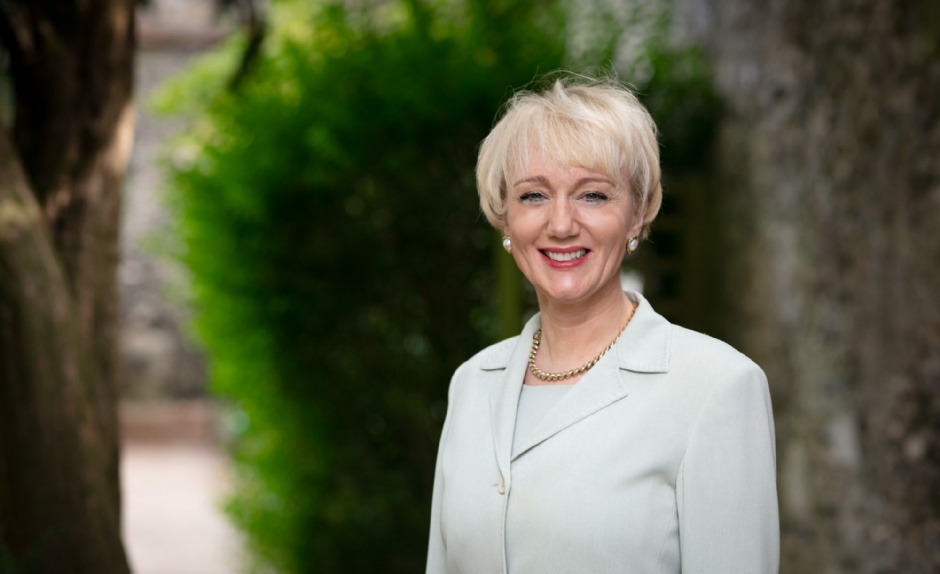 To be a Pilgrim is... to be together, Episode 1
Welcome back to School to all the Pilgrims' boys, staff and parents! A particular welcome to those who have just joined our community. I hope you have all had a lovely summer however far (or close) you travelled, with some rest and family time too.
The beginning of term is always exciting in schools and this year at Pilgrims' it has certainly been exciting but also full of joy, energy and purpose. It has also been emotional as there is a palpable feeling of us being back together! Now that we are in Step 4 of the UK COVID-19 Recovery Plan we no longer have to have split breaks (Junior and Senior) or year group bubbles, parents are able to drop off and pick up on site, and we were able to have our first Junior and Senior assembly in over 18 months to kick off the academic year. Monday 6 September was the first time I addressed our whole staff face to face (which is astonishing as it is almost 20 months since I accepted the role of Head of Pilgrims') and yesterday was the first time I was able to address the Junior and Senior assembly in person. After so many Zoom assemblies, it was an incredible feeling to be able to stand and look out at a sea of Pilgrims in green, red and blue and smartly turned out in their start of year haircuts and uniforms, sun-tanned and taller, and a joy to see their faces smiling back. Year 3 were at the front (in the shallows) with Year 8s (on the horizon) in the Gallery.
With thanks to Mr du Plessis for his rousing accompaniment on the grand piano, we began with our School hymn, To be a Pilgrim. We sang it together for the first time in 638 days! Singing the School hymn altogether was truly emotional for the teachers and I am sure for many boys too. You will be pleased to know that despite being a bit rusty and unpractised, we reached a good number of decibels. From Saturday morning, hymn practice will return.
Yesterday, the Quiristers were thrilled to attend a very important and prestigious event at Winchester College: Ad Portas. Ad Portas is the highest honour that the College can bestow on a Wykehamist. General Sir Nick Carter, Chief of the Defence Staff since 2018, was received Ad Portas in honour of his illustrious career in the British Army. He is the only soldier to have been honoured in this way and one of only two Wykehamists to be received for a second time. The College community gathered to pay tribute to General Sir Nick. After speeches in Latin and English, there was a one-minute silence, the last Post and Reveille, and then those gathered then remembered the 800 Wykehamists who have fallen in conflict and whose names are engraved of the War Cloister in College. General Sir Nick and the Head of Corps then laid wreaths in the War Cloister. The Quiristers were enthralled by the speeches and the importance of the occasion as well as General Sir Nick's story of how he struggled with his studies 45 years ago when he was at the College.
There has been a lot to take in for the boys over the last two days. New forms, perhaps new teachers, new timetables, new routines, new instructions, new changing rooms, new lockers and so much more. In our first assembly I read the poem New Beginnings by Tony Walsh which I felt captured a lot of the emotions and thoughts boys and staff have at the beginning of this school year (see below for the text). I am delighted to say that the boys have done really well. They have helped each other, and we have hit the ground running. We have a busy weekend coming up too. Pilgrims are very much looking forward to the football festival on Saturday and the Boarders "all in" weekend with activities and an excursion, as well as the Chorister dubbing and the Chorister Medal Ceremony on Saturday and Sunday, respectively.
Well done, Pilgrims. What a great start to the year! The journey begins.
New Beginnings by Tony Walsh
Welcome to your new school
Welcome to your future.
New beginnings here and new rules.
New classrooms, new computers,
New timetables, new faces here,
New corridors, new signs.
But some things change, some stay the same.
And some truths last all time.
You'll take out what you put in,
You'll reap just what you sow.
So face the test and do your best,
Work hard, play hard and grow.
And play a full and active part
In school and its community.
Be pleased to say, 'I seized the day.'
'I used this opportunity.'
Remember that you're different,
There's no-one quite like you.
But make good friends, the ones who lend
A hand to get you through.
Remember – keep your head up.
Even if you fear you'll drown.
Achieving is believing mixed
With never looking down.
And think about your future;
And find a hope, a dream.
Put action in your action plan
And build yourself a team.
Made of parents, made of teachers,
Made of family and friends.
From this position make a mission
For a trip that never ends.
And so always keep on learning;
There's always more to know.
It may sound strange but you can always change,
It's never too late to grow.
So don't let anybody
Try and sneer and hold you back,
Your history is not your future,
So don't ever feel like that.
Because our town has a history
Of producing boys and girls
Who, from humble roots, pull up their boots
And go on to change the world!
And so people just like you and me
Can do very special things!
Aim higher! Be high-flyers!
And be bold, unfold your wings!
And so gain an education;
Learn skills, gain facts and knowledge.
And then take the inspiration
Through to jobs, careers and college.
And so make the most of these days,
The school and these facilities
Take off the brakes, be sure to make
The best of your abilities.
Respect yourself and others,
Have confidence – it's essential.
If you keep a burning urge to learn
You'll reach your full potential.
And so do things that you're proud of!
And let everybody see:
You've passed the test, you've done your best,
To be the best that you can be.
Tony Walsh has risen in recent years to become one of the UK's most widely recognised and most in-demand professional poets. Walsh was born in 1965 in Manchester.