From the Head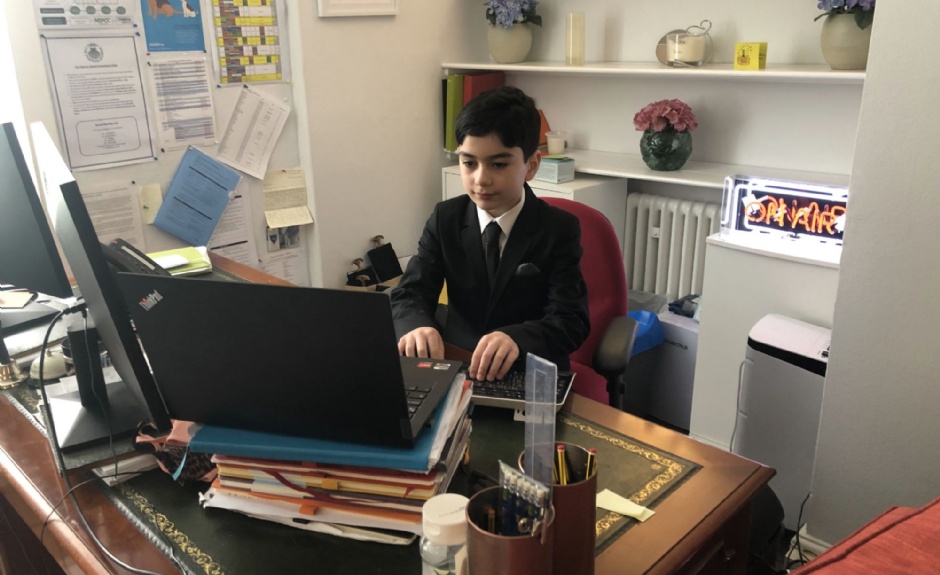 To be a Pilgrim is to be Head for the Day, by Mr Farid A (Year 4)
Mr A had the wonderful opportunity to be Head for the Day on Friday 4 February, following a silent auction prize last summer. Read on to find out how he enjoyed the experience.
Was today what you expected? Yes, very much. Better than I expected. It was fun walking around the different classes
What was the most fun part of the day? Grid football – I nearly scored! But the teachers were way better than I expected. Man of the Match was Mr Rainer and Boy of the Match was Toby – well done to all the players. I selected my team with one boy representing each year. I hope all the players of table tennis had just as much fun.
How was your lunch? Lunch was really nice. I enjoyed sitting at the top table. The staff sang the first verse of Food Glorious Food very well. Thank you to Mrs Razza and all the kitchen staff for lunch and for the cupcakes at break.
What have you learned? There are lots of hard questions a Head has to answer, and it's difficult to know how to please everyone all the time. For example, one of the Senior Leadership Team asked me my opinion on Juniors wearing shorts vs long trousers. I suggested that we could perhaps wear trousers when we wear grey shirts and shorts when we wear polo shirts, but it's hard to know if that would be best for everyone. I also think we should appreciate how hard our teachers work.
How was your learning walk with Dr Essex? It was really fun. I saw the Pre-Prep, Y3, Y4, Y7, and Y8. There were lots of jokes; some were high quality. Best one? Can a kangaroo jump higher than the Empire State Building? Of course, because the Empire State Building can't jump!
How did you find the discipline in the classroom? Discipline was good – boys were learning quite well. I think the reading I did last week in preparation was helpful! (smile)
What do you think is a Head's hardest job? Dealing with all the problems that are brought to you to solve is the hardest – and being polite all the time.
Do you think you would like to be a real Head one day? No, I've got other plans, but schools need good Heads and I would encourage others to consider it.
Would you do it again? YES!
Thank you to the catering team, cleaning staff, all the boys and all the teachers for making it fun for everyone. Thank you too for wearing mufti today and donating to WaterAid.
Comment from the Head, Dr Essex:
I got the impression he had fun … just a little bit! His newsletter interview was superb and I was impressed and so proud of him all day from start to finish. He mentioned before 10am that it was tiring but brilliant … he had read jokes and listened to quite a few by then, welcomed the boys and been to so many classes up and down stairs on the learning walk.
Comment from Farid A's mother:
Farid loved yesterday. Thank you very much for your support. I knew he was a bit nervous at the beginning, but you comforted him so well. I think this opportunity allowed me to see my own child from another angle! Thank you very much for this.