Introducing the new Gap students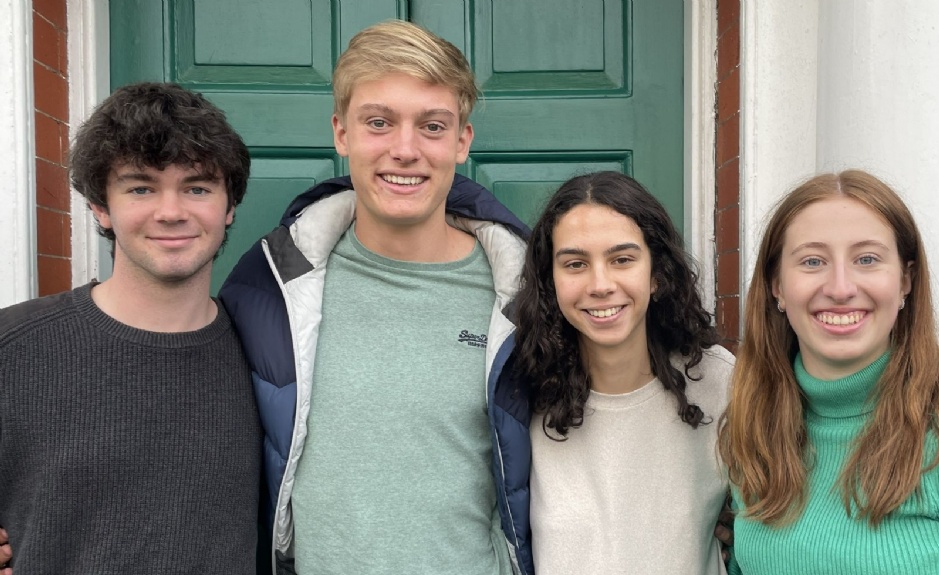 Left to right: Mr Gough, Mr Guild, Miss Duggan and Miss Skeels
At the beginning of each year, four new Gap students arrive from overseas to join in with all aspects of school life and to experience life in England for a while. The boys and staff gain extra support, often from talented school-leavers specialising in sport and the arts, and these students also have the opportunity to travel to Europe in school holidays. A win-win situation!
Ethan Gough
I was born in Australia in a town called Bowral, about 2 hours outside of Sydney. Aged 3, I moved to the UK and lived in Alton, Hampshire, until I was 9. Leaving the UK my family moved to the Netherlands to a town called Wassenaar, about 30 minutes from Amsterdam. At 16, I moved back to Bowral with my parents and finished my high school education at a school called Oxley College.
It was here that I heard about the gap programs offered back in the UK. Always wanting to go back to the UK (and Europe) to experience it on my own, I put my resumé out there. Luckily, I was recruited by Mr Shroff last year and started to plan my move to Pilgrims'. My interests revolve around sport and music. I love to play the guitar and sing with my family, and basketball and football have been my main sports since I was a kid. I am very excited to start my new journey at this school and can't wait to see what this year has to offer.
Max Guild
I am from Sydney, Australia, so travelling to the opposite side of the planet has been a significant step in my life. Despite the weather not being such a warm welcome, I was delighted to be greeted at Pilgrims' by a very kind and positive staff and student body.
Sport has always been a central aspect of my life, so I have been particularly loving the opportunity to help out on the football fields. Adapting to the Pilgrims' busy day-to-day life has not been easy, however I am happy to have eventually found my feet and am greatly looking forward to the rest of the term and to the broader year ahead.
Emma Duggan
I have always known that I wanted to do a gap year. Pilgrims' has provided the perfect opportunity to be a part of a new and exciting community where I can share my knowledge and learn a lot in return.
Having been involved in many areas of school life back in Sydney, Australia, I am keen to be involved in the diverse opportunities Pilgrims' has to offer. I have always given everything a go - from tennis to sailing to saxophone and am happy to see Pilgrims' boys getting involved in lots of activities so passionately. It's been a pleasure to be welcomed into such a friendly and genuine community and I look forward to seeing what is in store for the rest of the year!
Eliza Skeels
Having just finished my last year of high school in Australia, moving into my gap year at Pilgrims' has provided the perfect environment for me. I applied to work at Pilgrims' as a Sports Gap in order to continue my passion for sport, having competed in Artistic Swimming at a National Level for most of my time at high school.
I have enjoyed my time so far due to the welcoming and accepting environment that is provided by both the staff and boys. A gap year at Pilgrims' will give me the opportunity to learn and develop important new skills and knowledge, through a wide range of activities and co-curricular activities available. I'm excited to see what the rest of the year holds and where my experiences will take me.