One team, two matches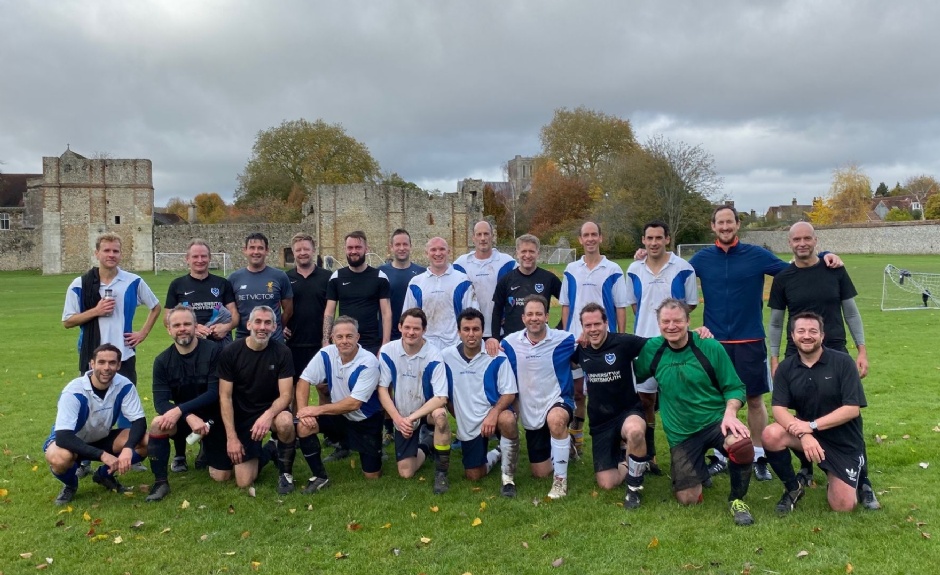 Pilgrims' Parents v Western School Parents 2-5
The new fixture on the list this season posed an unknown quantity. Alarm bells should have rung when prior to the match the opposition stated they practise twice a week.
The match started well for Pilgrims' with an early lead via an Alex Gulliford header from a corner. Western's preparation started to show and their short passing game had Pilgrims' chasing the ball in midfield. Two goals were conceded in the first half. The second half was a similar affair, Pilgrims' struggled to string passes together and create chances. Three further goals were conceded before an excellent consolation goal from Maxim Crewe. A humorous moment was a rugby tackle from David Hartwright on the Western captain; David harking back to his rugby roots was made all the more amusing when their captain confessed that he had undergone surgery under David's care a few months before!
Gorav Datta (Pilgrims' parent)
Pilgrims' Parents v St Faith's School Parents 3-4
Pilgrims' struggled to put a team out for this fixture, this was all the more emphasized when the opposition turned up with four substitutes!
A goal was conceded in the first few minutes following a through ball which created some indecision from the goalkeeper. From then on, the Pilgrims' passing game started to gain momentum. Chances were created, and an excellent equalizer from Mike Hanson with a long-range shot from the left side of the pitch. A calamitous goal was conceded following another completely missed clearance from the goalkeeper, giving the advantage to St Faith's again. A third goal was conceded from a cross that was difficult to clear.
The second half had Pilgrims' once more in the ascendancy, Simon Liddiard pulled a goal back following persistent work in the box. Pilgrims' conceded a penalty mid-way through the second half, but thankfully their penalty taker put the ball wide from the spot. Following the missed penalty, St Faith's scored a very fortuitous goal where a speculative long-range shot took a big deflection leaving our goalkeeper stranded.
Pilgrims' then chased the game late in the second half and scored a third through Simon Liddiard. St Faith's at this point had all men behind the ball and Pilgrims' should have equalized.
I was very proud of the way Pilgrims' played; our passing game was much better than the previous fixture, and we played with an excellent team spirit.
We have one last fixture remaining; Twyford on Sunday 1 December. If we play in this fashion it will be a good game, I do not plan to play in goal again!
Gorav Datta