Commoners: Chess match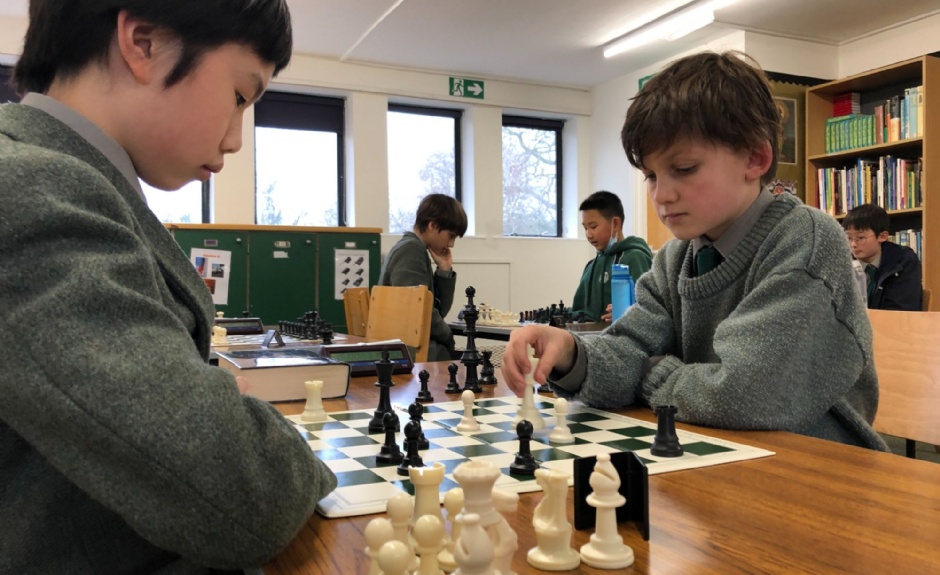 On Friday 11 March, we welcomed a team of eight strong chess players from Yateley Manor School, led by their full-time chess teacher and coach, International Master Andrew Martin.
Yateley Manor has a long-standing reputation for excellence at chess and is the home of the famous South of England Junior Tournament in October 2022. We knew that we were up against it!
Our team consisted of some the best players from the Thursday and Friday Chess Commoners:
1. Giovanni S
2. Marc W
3. Daniel D
4. Zachary S
5. Yan Z
6. Hector W
7. Neil C
8. Edward W
At 4.25pm the first round games were ready to start, but we needed to decide colours. Our team captain was Giovanni, and he shook hands with the Yateley Manor Captain before tossing a coin. Yateley Manor chose the white pieces on board one.
Each team member played two 15 minute games with his Yateley Manor opponent, so a potential 16 points were up for grabs. Unfortunately for Edward, his opponent did not arrive and so Edward received a personal lesson from International Master, Andrew Martin instead. That meant we were 2-0 thanks to Edward!
At 4.30pm the players sitting opposite shook hands and all the chess timers were re-started, so the games could begin again. After around 10 minutes the first game was decided on board 3, when Daniel D checkmated his Yateley Manor opponent. We were 2-0 up. In the next 20 minutes or so the remaining six first round games were decided and, incredibly, we had an 8-0 start!
At 5pm we started round two and the pairs of opponents swapped colours with the Pilgrims' team feeling quite pleased and confident with themselves. Another thirty minutes ticked by, and all games were now completed.
Pilgrims' had won the match 16-0!
All players went off for well-earned refreshments of biscuits and fruit juice; we then thanked Yateley Manor for visiting us and wished them a safe journey home. I'd like to thank Paul Bryant for his help in organising the match and we have offered Yateley Manor a return match in the Summer Term at their home venue.
Dr. John Upham, Chess Tutor