St Mark Passion at Glee Club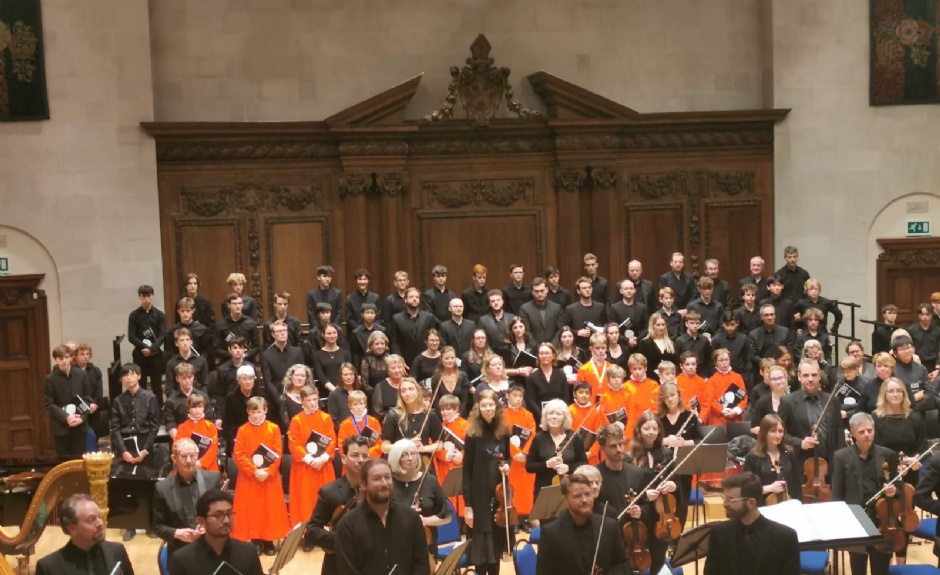 The Quiristers perform in Oliver Tarney's St Mark Passion at Winchester College
It can be tempting to overlook the true horror of the Passion, but Oliver Tarney's setting of St Mark's version with its libretto by Lucia Quinault delivered the story without any romanticised gloss.
Last Sunday evening, a packed New Hall saw the second performance of this exciting new work, following its premier in 2019 at St Endellion. Under the diligent direction of Ben Cunningham, the Quiristers, as part of Winchester College's Glee Club, were joined by SANSARA and an impressive line-up of soloists.
The soloists took on their pivotal characters with great conviction, the bass James Holliday giving a particularly shocking depiction of Barabbas. The choir matched this intensity, providing not only the strength needed for Tarney's vast walls of sound but also precision for intricate details. The performance was marked also by imaginative use of physical space (the dialogue between Peter and the Maid across the orchestra stood out especially), giving events an immediacy without allowing their inherent drama to become overwrought.
For the audience, listening was uncomfortable at moments, but this just goes to show how brilliantly Tarney and Quinault together conveyed the stark realities of the Passion, and how impressively the combined forces executed their performance.
Verity Sawbridge