Cricket match reports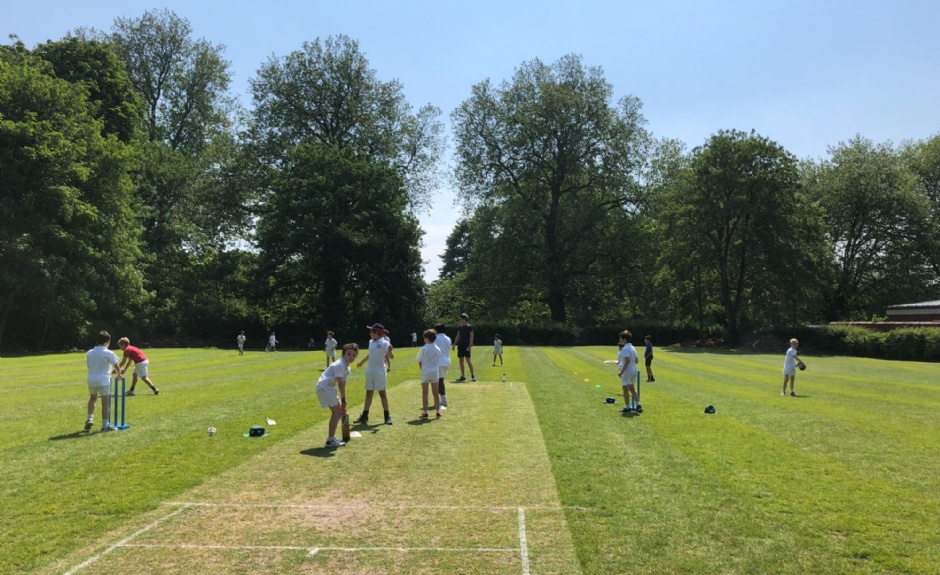 for Wednesday 9 June and Saturday 12 June
(library photo from 2018 season)
U13A XI v Elstree Away
Pilgrims' Lost by 33 runs
20 Over Match
Elstree 143-4
Pilgrims' 110 all out James K 68, Seb K 23
Elstree batted first and helped themselves to a fistful of runs on an excellent wicket and a large, fast outfield. James K struck early to remove one of the openers, clean bowled. Thomas G struck in his second over to send back the other opener, also bowled. Elstree's next three batsmen piled on the runs as our bowling gave away too many friendly deliveries. Half of our overs went for eight or more runs. Olli Johnson took a great catch on the long on boundary from a hard hit skier off Walter B for our third wicket. We tired in the heat and conceded eighty runs in the last nine overs, taking only one more wicket. James K, 1-14 and Ben H, 1-21 were the most economical of our bowlers. We were set 143 to chase.
James K played the most composed and elegant innings hitting 68 from 49 balls as he tried to steer Pilgrims' towards the total. Seb K contributed a battling 23 before perishing to the spinner. Our middle order crumbled under the run rate pressure, numbers 4,5 and 6 all failed to bother the scorer! When James departed LBW for 68 our innings fizzled out leaving us 33 runs short. Our batting techniques need much work - it's hard to post or chase down a total when over half your batting line up gets a duck. AW
U13B XI v Elstree
20 over match
Elstree won by 6 wickets
U13B XI 70-10 (Michael J 23)
Elstree 73 - 4
The U13B had every man available for this encounter with a serious Elstree 3rd XI side. We batted first, making runs at a good rate until progress was halted by a couple of mini-collapses - a double wicket maiden in the thirteenth over and the loss of three wickets over the sixteenth and seventeenth overs. Arun S took a lovely caught and bowled, the U13Bs taking four wickets before Elstree scored the winning runs. Well done to the team, who made a good contest of this match. AJS
U12A vs Elstree Home
Pilgrims' Won by 62 runs
20 over match
Pilgrims' 119 - 3 (George C 58*, Ollie M 26, H Short 21*)
Elstree 57 all out (S Kendall 2-10, Archie C 1-5, George Coles 1-1, Harrison K 1-3)
On a baking hot day, it really felt like summer had arrived. Winning the toss and electing to bat, the boys set about putting up a strong total. George C (58*) and Ollie M (26) set a strong foundation and some lusty hitting at the end (including this seasons' first 6!) from Hugo S ensured that we got to 119, setting a run rate of 6-an-over. Pilgrims' bowled with discipline and, despite turning over the strike regularly, Elstree struggled to hit the big shots that would keep them up with the rate. Our ever-reliable opening pair of Archie C and James Z were particularly miserly. It helped that we regularly chipped away with wickets. However, at the halfway mark Elstree, on 45-3, were in with a sniff. A strong spell from George and Ollie ensured we closed the game down, and then some nice bowling from Harrison K, and a couple of good runouts, meant that we comfortably won the game. Well done, boys. ASD
Colts A v Elstree Away
20 over match
Pilgrims' lost by 13 runs
Elstree 137-8 (Rory K 3-32; Nikheel D 2-22)
Pilgrims' 124/8 (Thomas R 52*, Rory K 29)
Pilgrims' started this match brightly, but they failed to capitalise on the chances they created. More pressure could have been placed on the Elstree batting line-up, but a healthy middle-order partnership considerably boosted the Elstree run-rate. Pilgrims' reply got off to a very slow start, 13 runs from the first four overs. Rory K again batted with power and purpose, but he could not build upon a very good start. The onus was on Tom R to sustain the momentum, which he did, but as each over passed the run-rate gradually rose. Whilst it was mathematically possible for Pilgrims' to win the game in the final over, we did not have the fire-power needed to sneak the victory. This was a great match which ebbed and flowed both ways, and one which, on another day, Pilgrims' should have won. AA
Colts B v Elstree
Pilgrims' Lost by 69 runs
20 Over Pairs Match
Elstree 167
Pilgrims' 98
The Colts Bs were treated to superb conditions for their match against Elstree on Saturday. The boys gave an excellent account of themselves, in spite of only playing with six men. It was decided that we would play a game of pairs cricket, which would allow for more flexibility in terms of batting and bowling. Pilgrims' won the toss and sent Elstree in to bat first. The Elstree batsmen used the opening overs well and scored rapidly. The first wicket fell in the 5th over off an excellent full delivery from Seb N, soon to be followed by a wicket from Michael Z in the 6th over. Elstree then steadied the ship and the next wickets only fell again in the 14th and 15th overs off the bowling of Michael and Henry B respectively. Elstree posted a respectable 167 runs for the Pligrims' boys to chase.
Timothee H scored a very explosive 18 runs off his initial four overs, which included four fours, and set the tone for one or two others to follow. Seb N scored 23 runs off his first four overs, and entertained the spectators with four well-struck fours and a six. Seb and Timothee were able to continue in fine fashion later on in the game and scored another 13 and 12 runs each. Although the Colts Bs did not win the game, they posted a commendable 98 runs in their 20 overs for the loss of only 5 wickets. Elstree therefore won the match by 69 runs. It has been a delight to watch the boys grow in confidence and in their love for the game. CC
Foals Lords vs Elstree Home
Pilgrims' lost by 5 wickets
20 over match
Pilgrims' 73 all out (Aditya S 25)
Elstree 74 for 5
Another tough game and a real test of our depth. Batting first, we were reduced to 1 for 3, but good partnerships from Aditya S, George S, James P and Fraser N meant we at least posted a total to chase. Seven bowled out does indicate we are not playing straight enough, however. Again, our slow bowlers were impressive, with Felix F, Ben A and Fraser all being difficult to score from, and Seb B being dangerous. Although we lost, there was significant improvement in the fielding compared to the start of the season, and we used nine bowlers in the match. Very pleasing. The better side won, but we are BECOMING a better side. Well done, boys. MDS
Foals Oval v Elstree Home
Pilgrims' Lost by 125 runs
Soft Ball Pairs
Pilgrims' 200
Elstree 325
Unfortunately, Pilgrims' struggled in this fixture and the score reflected the performance. Elstree were very strong and bowled extremely well, making it tough for Pilgrims' to notch any runs. Harry K batted well and scored a few, but the wickets soon followed and any runs that did make the score board were soon eliminated. Pilgrims' showed great spirit and continued to battle on. The fielding and bowling was once again very solid. Kevin G in particular showed great fielding ability. The better team won on the day, however, so congratulations to Elstree. JB
U9 Bears v Elstree Away
Pilgrims' lost by 5 runs
Pairs Match
Elstree 124
Pilgrims' 119

Elstree must be one of the most picturesque locations for a cricket match. Especially when the sun is shining and there is not a cloud in the sky. Having lost the toss, Pilgrims' batted first. There were several fine batting performances, but Cole H deserves special mention with a handful of fours and one six. He put the team in a strong position on 119. In bat, Elstree did not look especially dangerous. Pilgrims' bowled reasonably well. However, there is a lot of work to be done on bowling accurately. Seth T had the best bowling average of two overs for only 6 runs. PB
U9 Sharks v Elstree Away
Pilgrims' Lost by 58 runs
Soft Ball Pairs
Elstree 374 - 2
Pilgrims' 316 - 1
It was great to head over to Elstree on Saturday afternoon. They batted first, working their way in 18 overs to 374, from a 200 run start. The pick of the bowlers was Jago C, with a lovely action and tight line to the batsman. In reply, we were going to have to beat just over 9 runs an over. Despite an early 6 from Zach M and several 4s from Nathan Z, our run rate ended up being just around 6 an over. The boys acquitted themselves well and enjoyed the afternoon. AJS
U9 Hawks v Elstree Away
Pilgrims' lost by 62 runs
Soft Ball Pairs Match
Elstree 302
Pilgrims' 240
Pilgrims' lost the toss and were put in the field on a very hot afternoon. The team started strongly, containing the first two Elstree pairs to just 26 runs in 8 overs. Some attacking play and costly extras saw the score rise towards the end of the innings. Pilgrims' started batting sensibly, picking gaps in the field and putting away the bad ball. Unfortunately, Elstree hung on to all their catches as they started to pick up some wickets. This match would have been in the balance if we had looked after our wickets a little more - our job in training over the next few days will be shot selection. Good effort on a tough day out! MTG
U9 Sharks v Farleigh
Pairs match
Farleigh' won by 34 runs
U9 Sharks 308 - 3
Farleigh 342 - 2
It has been lovely to see the progress of this side, when I think back to the first match of the season. The Sharks have made many improvements. For a change, we batted first and the boys played some very good cricket. There were plenty of boundaries, in particular by Yashk P, on this occasion, and some smart running between the wickets. Farleigh bowled well, but the Sharks were not phased. We steadily reached a total of 308. Defending their score, Farleigh came racing out of the blocks. Backing up well, in the batting sense, the first pair ran everything possible. Yash, who has to be the man of the match here, caused both of the Farleigh wickets - bowling and a run out. Late drama was caused by this, but the Sharks couldn't get the wickets to bring Farleigh's score back down.
We could be more competitive by matching Farleigh's three teams of eight with only 24 players, but that would mean leaving a team excluded at home. That would be fine if we wanted to win the U9 cricket world cup. I'm very pleased we had the whole year group of 33 boys playing, as they have all shown such progress. AJS
Soft Ball Pairs
Farleigh U9s - 364-4
Pilgrims U9s Bears 268-8
With some strong opening batting from the Farleigh squad, the Pilgrims' fielders initially struggled to prevent balls from reaching the boundary however, under the skilled captaincy of Ike C, they improved their form and communication to ease the number of runs and gain a few wickets. Zain C had a notable bowling performance, getting 2 wickets from one over and James B should also be commended for his bowling accuracy and consistency.
The Bears Batting was in good shape with some long-range hits leading to a few 4s and one 6. Unfortunately, the opposition had been practicing their catching, with most of our wickets coming from caught outs. Not our day in the end, but the boys had a good afternoon away in the sunshine. ASD
U12B: Storm vs Thunder
20 over match
Storm won by 18 runs
Storm – 108 for 9
Hurricane – 90 for 11
It was good to see boys out playing in the nearby, but unfamiliar, surroundings of Gater Field, on the River Itchen. Storm batted first gaining a solid total. Good batting performances from Freddie D, Gabriel O, Felix M, Charlie P, Monty W, Felix C, and Raffy C showed they were alert to the quick single. Raffy and Abbas A did a fine job of keeping wicket. The close finish in this pairs format kept everyone on their toes right up to the final ball in this enjoyable match. ASD
U12A: Lightening vs Hurricane
20 over match
Lightening won by 36 runs
Lightening – 110 for 3 (Ollie M 31 ret, Teddy M 32ret)
Hurricane – 74 for 6
With the game against Walhampton cancelled, and internal fixtures for the As and some Bs players was arranged at the last minute, thanks to Winchester College lending us one of their pitches. Hurricane won the toss and opted to field, wanting to know what a good score was to chase. Lightening got off to a cracking start, with Ollie M quickly getting to 31 retired. The scoring rate then slowed, but some excellent hitting towards the end by Teddy M (32 retired), and a late flurry from Archie C (9no) saw them to a decent total. The bowling from Lightening was superb, with Archie C (3 for 1 from his three overs) and Ollie M (2 for none from three overs) particularly miserly. Every time it seemed Hurricane had a foothold in the game, a wicket was lost, and so they never really managed to get near to the total. However, a lovely afternoon was had by all, and as all the commentators have said about professional sports, it was just lovely to play in front of a crowd again. ASD