Cricket match reports - Saturday 8 May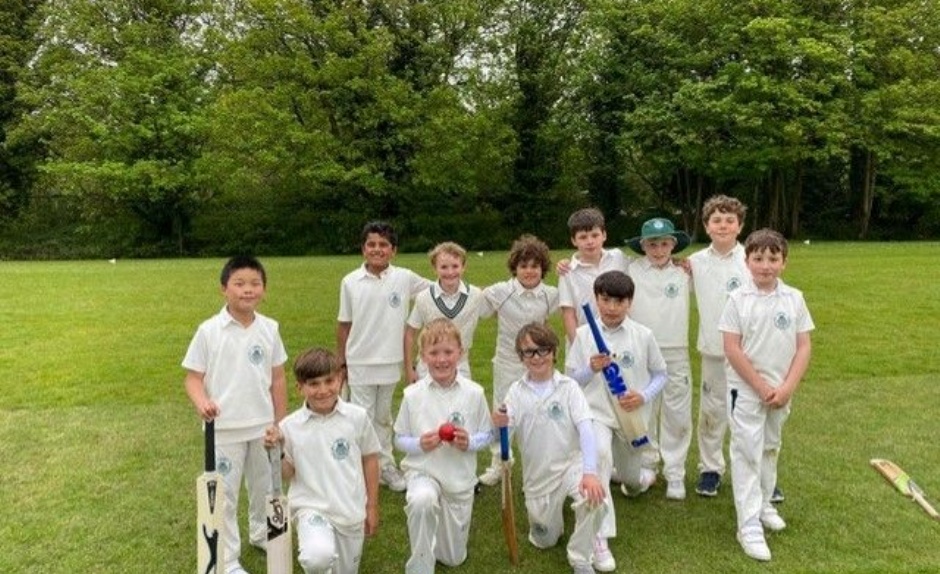 1st XI v FSM Away v Forres Sandle Manor;
U12A v FSM Home;
Colts A v FSM Home;
Foals Lords v FSM Away;
U9 Hawks XII v Forres Sandle Manor;
Colts A v Twyford
1st XI v FSM Away
20 Over Match
Pilgrims' won by 114 runs
Pilgrims' 154-2 (I Corrie 50* retired, J Kennedy 41, B Hardman 24*)
FSM 40-6 O Johnson 3-5, B Hardman 2-1
Despite the weather gods attempting to ruin our opening match of the season we completed the game, albeit damply and somewhat chilled. My respect to the boys for enduring pretty poor conditions.
We were asked to bat after losing the toss and duly responded with a century first wicket partnership between Ivo Corrie (50*) and James Kennedy (41). After Corrie was retired, reaching a hard hitting 50 in only 39 balls, Kennedy soon went mistiming a drive to mid off. Captain, Ben Hardman, kept the run rate flowing with a mixture of chips, nurdles and quick singles making 24* from 25 balls ably assisted by Oliver Street (9). We posted a hefty 154-2 for FSM to chase.
We could not have had a better start as Ollie Johnson (3-5) took a wicket with his first ball and two more in quick succession, all bowled. With FSM at 4-3 we were able to rotate our bowlers with everyone getting a chance to turn their arm over. FSM dug in and resisted for 10 overs with a 27 run partnership until a mix up resulted in a run out. Ben Hardman brought himself on at the end and picked up two wickets, both bowled. FSM stuttered to 40-6 from their allotted 20 overs falling short by 114 runs.
Well done all concerned.
U12A v FSM Home
20 Over Match
Pilgrims' won by 148 runs
U12A 166-3 (O Maclay 33no, S Kendall 32no, H Short 26)
FSM 18-9 (J Zawoda 3 for 1, H Steen 2 for 5)
Pilgrims' U12's started their season with a comfortable victory over Forres Sandle Manor. Winning the toss and opting to bat, Ollie Maclay (33no) and Guy Punnett (10no) made a strong start with a 62 run opening stand. When Guy fell, and Ollie retired, the baton was picked up by Silas Kendall (32no) and Hugo Short (26). Later flurries from Teddy McSheehy (9no) and Henry Steen (11) saw us to a commanding total. In Forres' reply, we bowled superbly, giving away little. Forres played few attacking strokes, but dug in bravely. Wickets were hard to come by, but James Zawoda bowled beautifully to take 3 wickets for 1 run (!), and Henry Steen was the other bowler with more than one, taking 2 for 5 runs.
All-round, a very good performance and an encouraging start to the season. Stronger challenges lie in wait.
Colts A v FSM Home
20 over match
Pilgrims' won by 7 wickets
FSM 107/10 from 20 overs (O Grant 3-8)
Colts A 109/3 from 18.1 overs (H Huxley 22, R Thakrar 16)
Bizarrely, this was the first home cricket game the Colts A have played since 2018 (their new strip it was laid down in early 2019)! Their new Astroturf surface saw them get off to a winning start and in convincing style. The playing conditions were more suited to the tail-end of a decaying hurricane in the mid-autumn, but this did not thwart their power and dominance. Pilgrims' made a convincing start in the field with an excellent low diving catch in the covers from Otto Grant to see FSM slip to 4/2. Some aggressive middle-order batting saw their run-rate rise rapidly, but frequent bowling changes kept the FSM batsmen guessing. The FSM innings finished with a remarkable hattrick for Otto Grant as he happily mopped up the tail. In reply, Pilgrims' looked solid with Harry Huxley digging in for an hour scoring a useful 22. He was well-supported by Rohan Thakrar (16) and Tom Richards (10*) who guided the team to victory with a smidge under two-overs to play.
Foals Lords v FSM Away
20 over match
Pilgrims' won by 9 wickets
FSM 53 all out (F Freeth 3-3, F Noble 2-3, S Barda 2-2)
Pilgrims' 55-1
A surprisingly one sided game, as the boys went into the field for the first time in almost two years. Although we've practiced hard for several weeks, they really hit the ground running, with everyone having an over each. They bowled excellent lines and regularly took wickets, meaning no one from FSM got going. Everyone did well, but special mention of Felix, who proved the adage of bowling full and straight is accurate.
We knocked off the runs with ease, with clever running between the wickets from Ollie and Barnaby.
Well done and welcome back!
U9 Hawks XII v Forres Sandle Manor
Pairs match
Pilgrims' won by 49 runs
Forres Sandle Manor 194 - 11 (A Leyland 4-2, I Crew 2-10)
Pilgrims' 243 - 9
The 2021 Season is underway! Despite damp conditions, the game went ahead and Pilgrims' U9 took full advantage of conditions, winning the toss and putting Forres Sandle Manor into bat. Alfie Leyland was the pick of the bowlers, taking 4 wickets in his over. Teddy Eagleton led the way in the field, playing a pivotal role in two run outs! Depleted numbers for the opposition meant that some of our boys played periods of the game for Forres Sandle Manor. Thank you for efforts and great attitude in doing so. Although a low run chase, Pilgrims' batted sensibly, only losing their first wicket in the 9th over. A partnership from Charles Nield and Charlie Shi added to our total and made for a comfortable finish. Well played! MTG
Colts A v Twyford
20 over match
Pilgrims' lost by 87 runs
Twyford 148/2 from 20 overs
Colts A 61 all out from 19.5 overs
Twyford batted well from the first over, taking quick singles and timing the ball with accuracy. The Pilgrims' bowling attack showed some good defence, but they were unable to thwart the high scoring Twyford sustained throughout their innings. The Pilgrims' reply started poorly with 3 wickets falling in the first over. Pilgrims' really lacked the power and fluidity that Twford played with, and the result was a very fair reflection of the ability of the two teams. The return fixure, next Saturday, is a good chance to show some signs of improvement.