November visit to the Dorset coast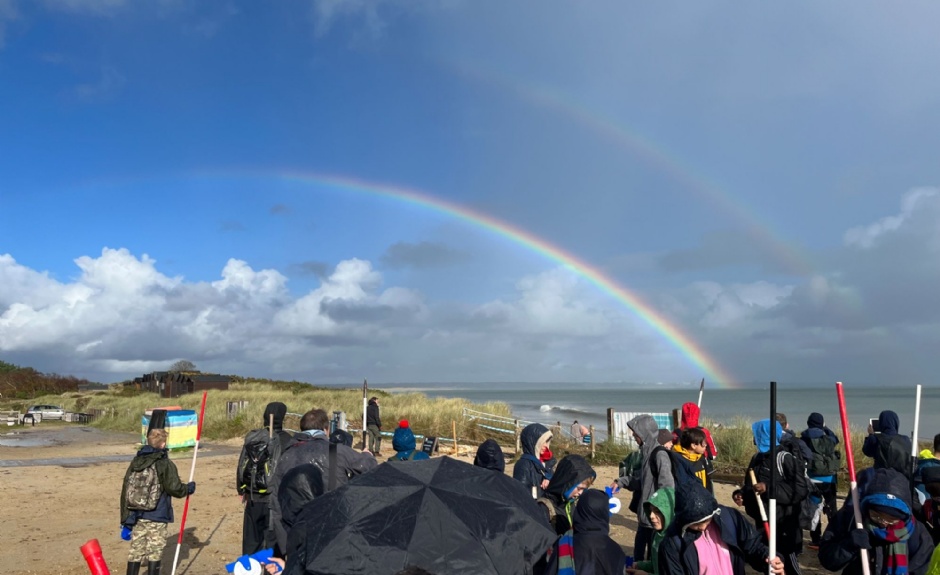 Year 8 visit the Dorset Coast near Swanage for their Geography Field trip.
Having to postpone the trip due to a weather warning in October, I was confident that although it may be slightly colder, we would find ourselves with better conditions for collecting data and improving the boys' geographical knowledge. However, Storm Ciarán appeared in the forecast, and I began to wonder if we were ever going to get to the coast!
Three days before and a 'weather window' appeared just after the storm, with safe conditions, so we were delighted to be going…BUT Storm Ciarán had selfishly decided to remove a vast amount of beach material from Swanage beach making measurement impossible. Plan B! We headed north a few miles to the National Trust site at Knoll beach, to find they still had a beach, hurrah!
For the most part, the weather was kind and the waves gentle, and the boys could collect measurements of width, gradient, and particle size on the natural beach. They quickly got into the swing of it and worked well displaying plenty of cooperation and organisation within their groups. Whilst at Knoll beach we took the opportunity to explore the dunes and discuss the sequence of vegetation there. Not only had the dunes withstood the storm waves better than the managed beach in Swanage, but surprisingly the storm activity seemed to have brought out some newts which were everywhere.
With some good data, a little sand, and some damp trainers to return with, Pilgrims' boys beat the storm and will have plenty to write up in their projects.
Steve Leslie
Head of Geography