The World Cup gathers us all together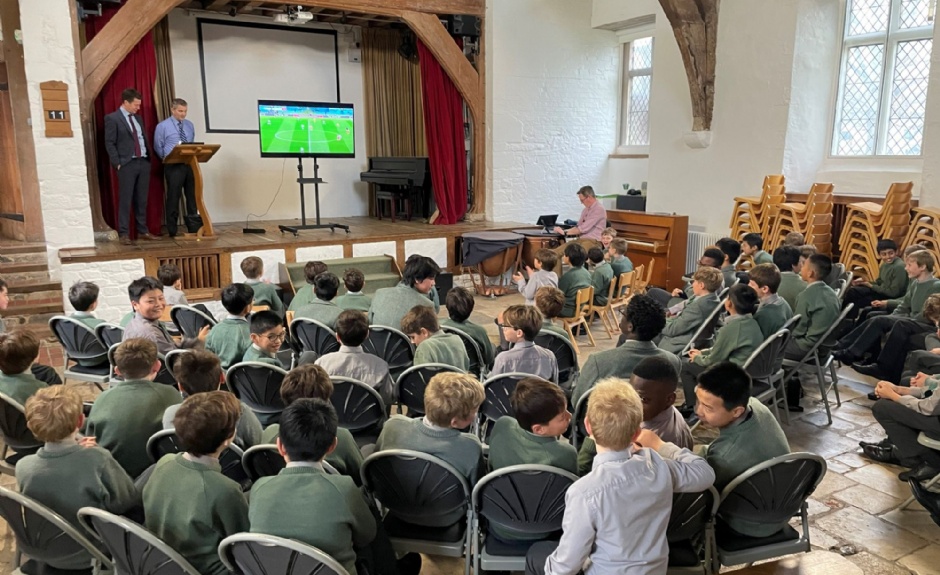 I hope that you have been enjoying the first week of the World Cup. There is, of course, some controversy around the staging of this World Cup that has perhaps made it difficult to feel as enthusiastic about it as we might normally do.
However, seeing the boys' excitement on Monday when they watched England's first game at school, it was hard not be drawn in. It helped that it was a brilliant performance and a very comfortable victory (I told the boys that they were lucky not to experience England's usual scrappy draw or loss for the first game in a World Cup!) However, it was simply the joy of a shared experience which again struck a chord.
The tournament has also been good because there have already been a couple of superb underdog shock results: Saudi Arabia beating Argentina, and Japan beating Germany. There are superb games to look forward to in the coming days, not least the much anticipated England vs Wales (Mr Rainer is getting very excited at the prospect of an underdog performance!)
I enjoyed the Japan result, not only for the score line, but also for that fact that the Japan fans tidied up after themselves after the game: Japan tidy up
Apparently, this is a thing they do (and the team clean the changing room too), but to still do it after a huge result like that is classy. I think football fans around the world can learn from this; England especially!
The actions of the Iran players and supporters was also inspiring, and for me showed that there is room for politics in sport.
Despite the controversy surrounding this World Cup (which I do not dismiss), it is also important to remember that it is a unique gathering of people from all around the world to watch the most widely played sport in the world, and we should celebrate that, because anything which breeds cultural cross pollination has intrinsic value and benefit, and has got to be a good thing. By watching this cross pollination play out in front of them, our boys will learn to embrace the difference, rather than fear it.
I spent some of Monday's assembly asking the boys some quiz questions about the World Cup, and my research turned up some crackers. I present them here for those of you who are interested. The answers are in small type below this article: no peeking! They get harder as they go on, and I will be seriously impressed with anyone who can get all five!
Which is the only team to have been to every World Cup?
Which counties have won the World Cup, and how many times?
Who is the all-time World Cup finals scorer?
Who scored the most in a single World Cup?
Which club, with 128, has provided the most players to go to the World Cup?
Alistair Duncan
Interim Head