Welcoming a former Chorister to Pilgrims'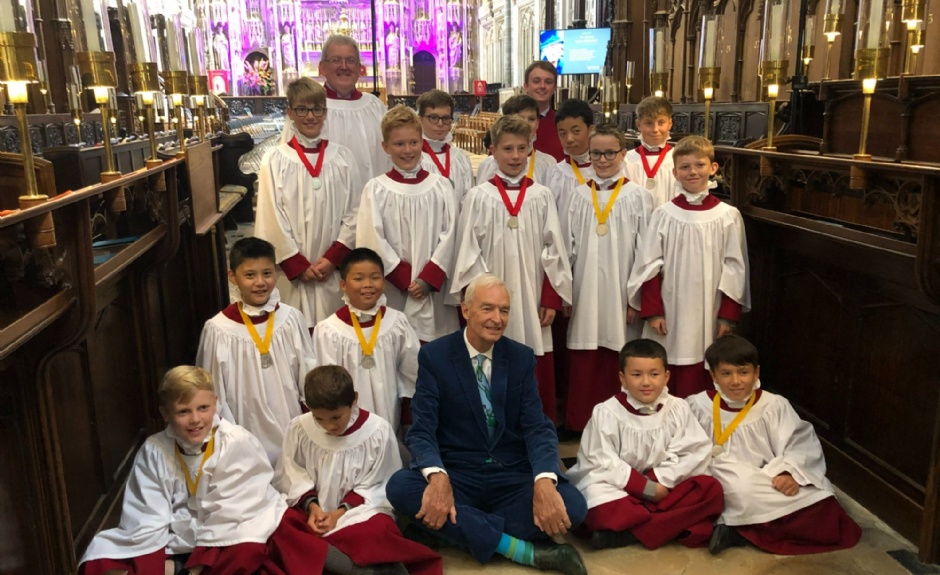 Today we welcomed former Chorister and journalist, Jon Snow, into the Pilgrims' community.
The morning started with Jon having an informal chat with the Choristers in The Pilgrims' Hall. After initial nervousness, the boys were soon confidently responding to Jon's questions and asking questions themselves. Jon even got on the stage and enjoyed playing the piano briefly, probably feeling like a young boy again.
From there, he walked through the door into the quad, in awe of the new buildings that stood in front of him, that once were fields. He really was thrilled to be going down memory lane, which included a walk through the dorms and music block.
After visiting us, he had the joy of experiencing the Choristers sing around him at the Cathedral, a moment I'm sure will stay with him.
The boys were impeccably behaved and enjoyed meeting a famous journalist for the day, who started as a stranger and left as a friend.
His visit was filmed as part of a Channel 4 documentary about his life, so photos from his visit are embargoed from sharing on social media until after the film is released - date as yet unknown.
Following his visit he wrote, 'Coming back to Pilgrims' after an absence of over sixty years was so rewarding and uplifting - I felt so warmly welcomed you could not have been kinder.'
Teresa Ingram
Marketing & Communications Manager