Wine Blast Podcast and Summer Drinks party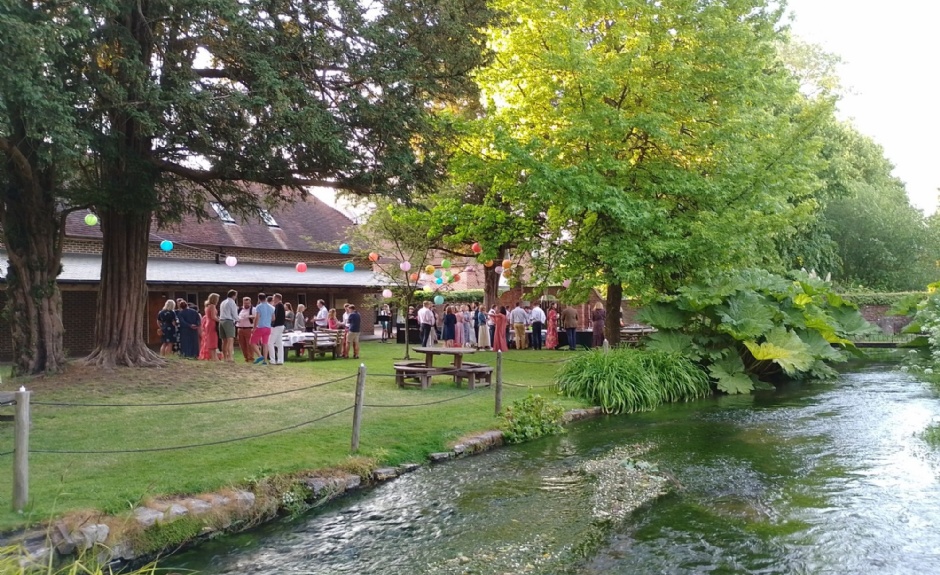 The PPA Wine Blast podcast and Summer Drinks party were a great combination of events, enjoyed by many parents last Friday night. The drinks were accompanied by the babbling river and the delightful music of a group of senior boys, all in the most perfect setting!
The Pilgrims' Hall has held another world exclusive! I am not sure what the others have been, but I am sure that the room has seen a thing or to over the last 700 odd years. Susie (Barry) and Peter Richards who are Pilgrims' Parents, Masters of Wine and generally thoroughly brilliant people, were persuaded to try their internationally listened to podcast 'Wine Blast' in front of a live audience.
I am pleased to say that it didn't disappoint. After everyone had been given a glass of the Hattingley Valley produced 'Hope and Glory English Sparkling' which was commissioned by them for charity, Susie and Peter opened the evening with a brief explanation as to how they would like to start and finish the podcast and after a practice or two we were ready to go.
They rather bravely gave me a microphone (Pete pointing out, I would likely be cut out of the published version – charming!) and after a brief introduction from them and some extremely kind words from me about them, we moved into an array of questions, starting in Hampshire and where they saw the industry developing over the next few years. They spoke about topics from what wines you should have at home, to what would work for a large dinner party, and 'Does sulphite free wine prevent a hangover' to what was their favourite wine-related trip? We even tried dipping our toes into non-alcoholic wines – stick to beer was the abbreviated answer!
For those wanting to know answers to all of these questions, we will let you know when the event will be published in the Summer.
A huge thank you to Pete and Susie and of course all those who came and asked questions.
George Burnand