Year 4 and Pre-Prep performance, Rock the Boat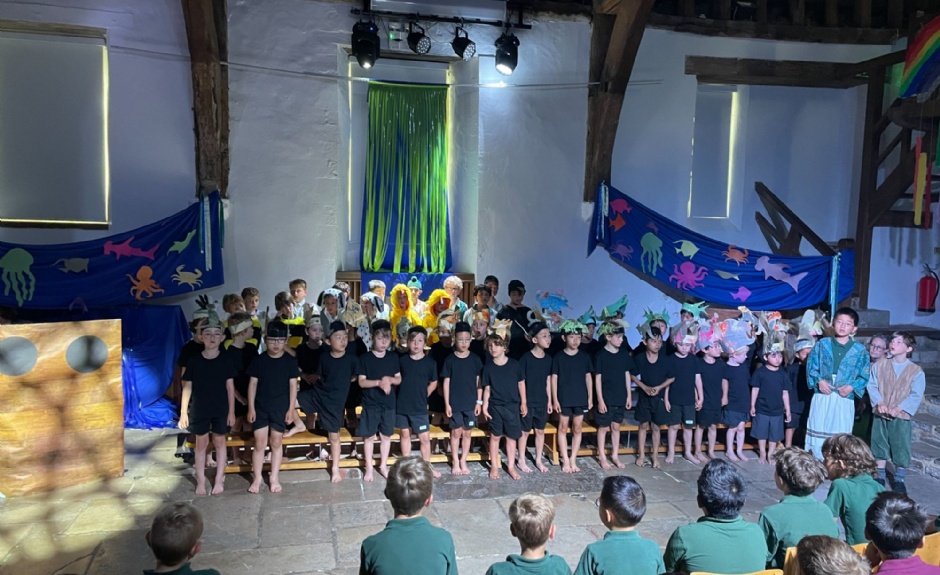 Parents of Y4 and Pre-Prep were transported back to biblical times with the performances of 'Rock the Boat', which is a tale of Noah's journey on the Ark.
The beautifully decorated Pilgrims' Hall was a riot of colour, with an ocean backdrop and a rainbow draped over the balcony- all the work of the Pre-Prep team.
'Rock the Boat' was a delightful, tuneful tale; both 4M and 4H took it in turns to play the lead roles, and Finlay N and William W put in charismatic performances as Noah, with Soichiro and Daniel M did wonderful comic turns as Mrs Noah. All boys sang beautifully and were many and varied characters from Noah's family members to animals such as the Raven and the Dove, and even a rather lonely dinosaur (Rio and William S).
Pre-Prep boys played the animal passengers in the Ark and Y2 wrote their own, very entertaining lines for when they were allowed on deck to stretch their legs, the Skunk (Isaac) being given a wide berth for obvious reasons...
All of Pre-Prep had designed and made their own animal headdresses to represent their characters.
Thanks must go to the Y4 and Pre-Prep staff, for their organisation and rehearsing, and of course to the maestro Mr Du Plessis, who was responsible for not only the wonderful singing and accompaniment, but the storm choreography to the storm sequence from 'William Tell'! A lot of fun was had by audience and cast alike.
Mrs Duncan
English and Drama Teacher