Year 7 French Trip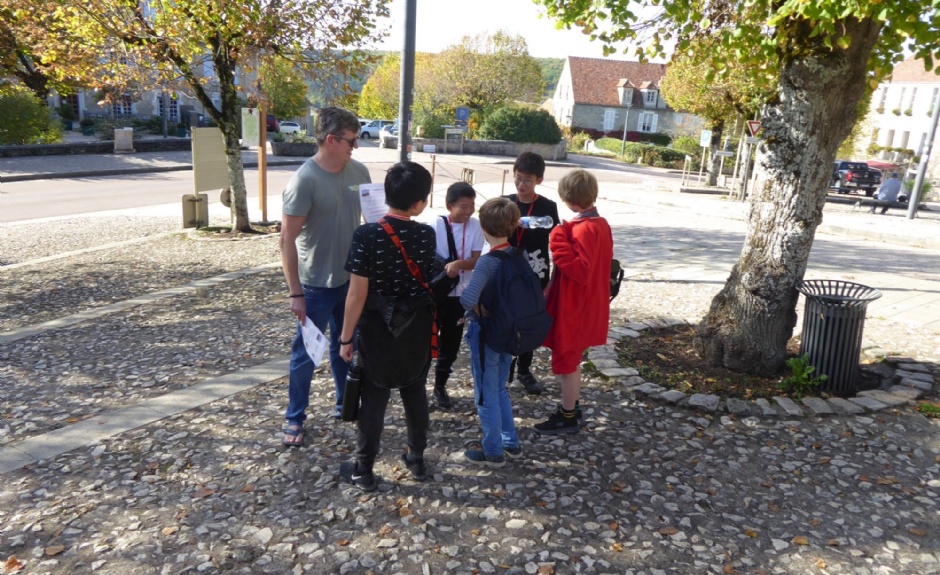 The French language immersion experience has been running from Sunday 16 October through till tomorrow, Thursday 20 October. Here you can see how the boys are getting on and having a wonderful time!
Day 1 - Safe arrival at Maison Claire Fontaine in Burgundy reported.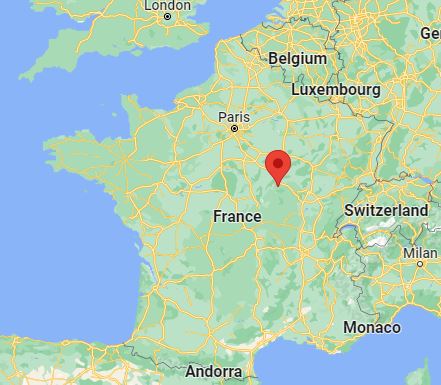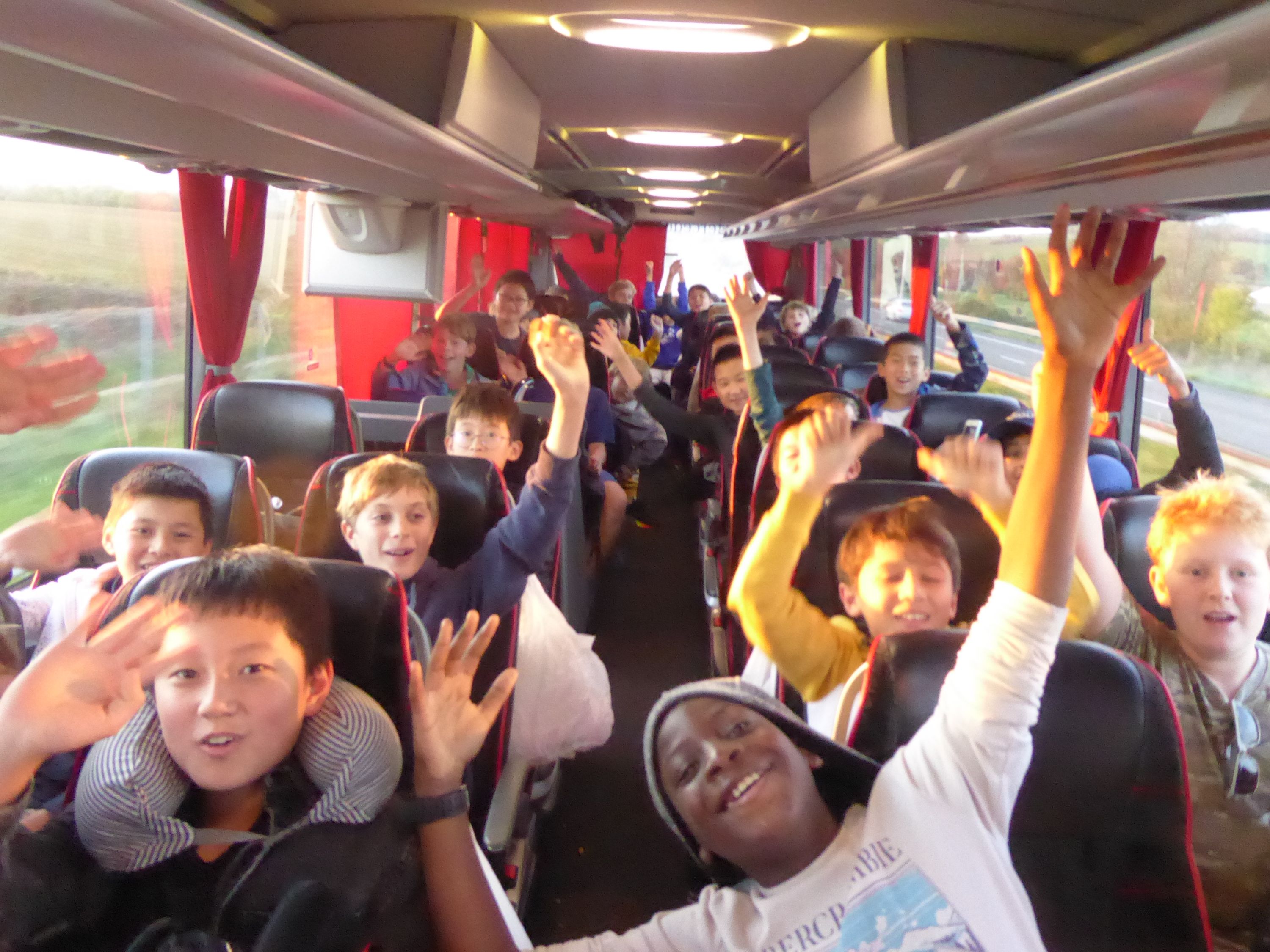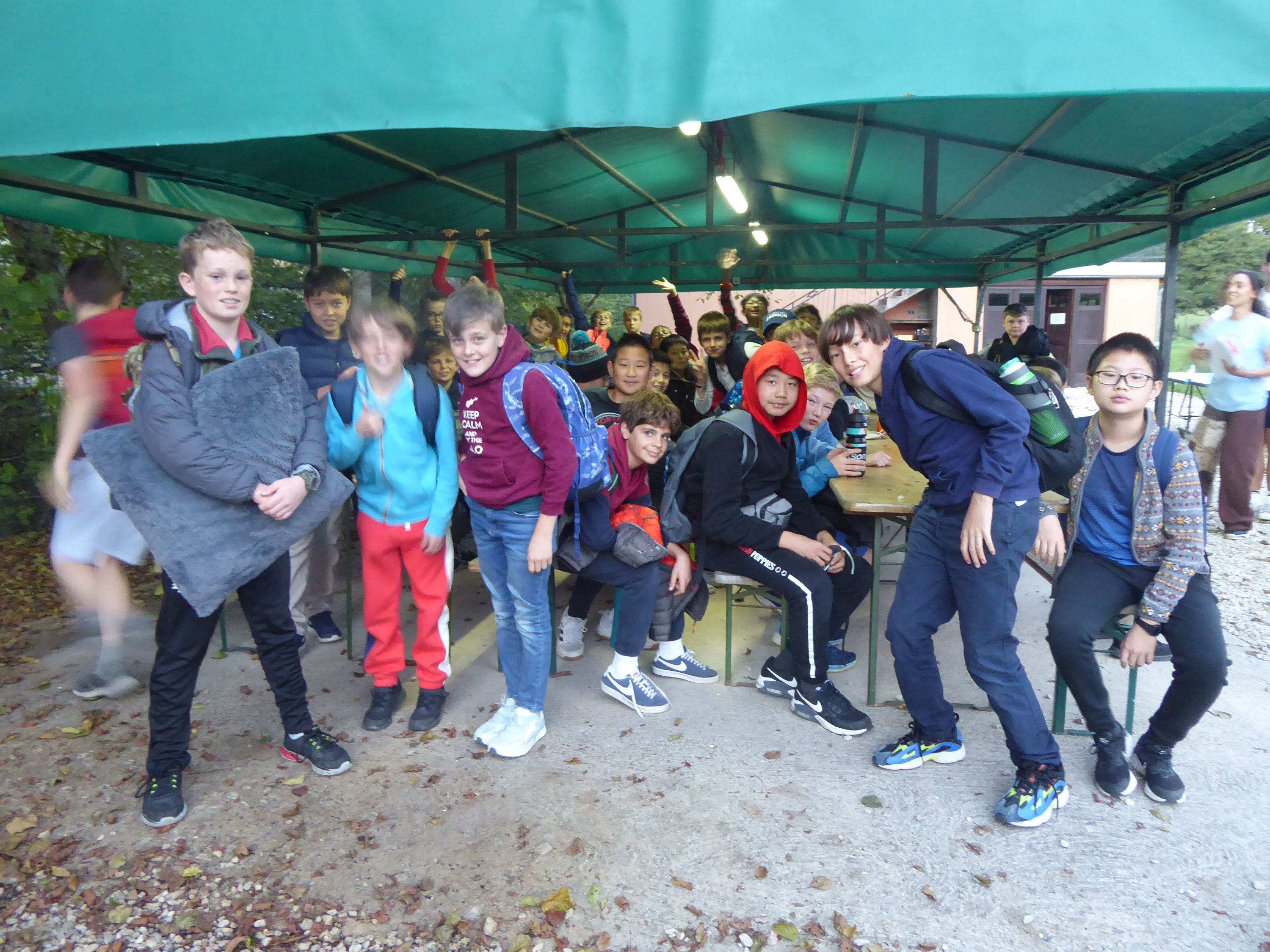 Day 2 - The hills of Méluzien were alive with the sounds of Year 7 Pilgrims today.
We started the morning with some lively French lessons and the Maison Claire Fontaine Bake-Off where the boys donned their chef whites and were tasked with producing a tartouillat to be judged later in the evening.
After lunch we set out on une randonnée and discovered about the local flora and fauna, along with the mining history of the village before letting off some energy with an MCF-style orienteering race around the forest, answering questions at each checkpoint. Returning to the centre, they then tried their skills at pétanque, whittling the teams down until only Ben and Balthasar remained to battle it out in the final!
Mr Uys and his team of tasters (the rest of the teachers) declared a tie for the competition of the tartouillat and the boys very much enjoyed tucking into the (apple) fruits of their labour.
A new MCF record has been set this evening in the compétition de puzzle, where the boys had to complete a 250-piece jigsaw puzzle of Europe, putting into practise the French geography they had learnt this morning. Sadly, despite a passion for puzzles, Mr Bryant could not out-puzzle Mr Orr's team!
The boys are now settling down for a restful night – happy, tired and very much looking forward to their trip to Vézelay tomorrow.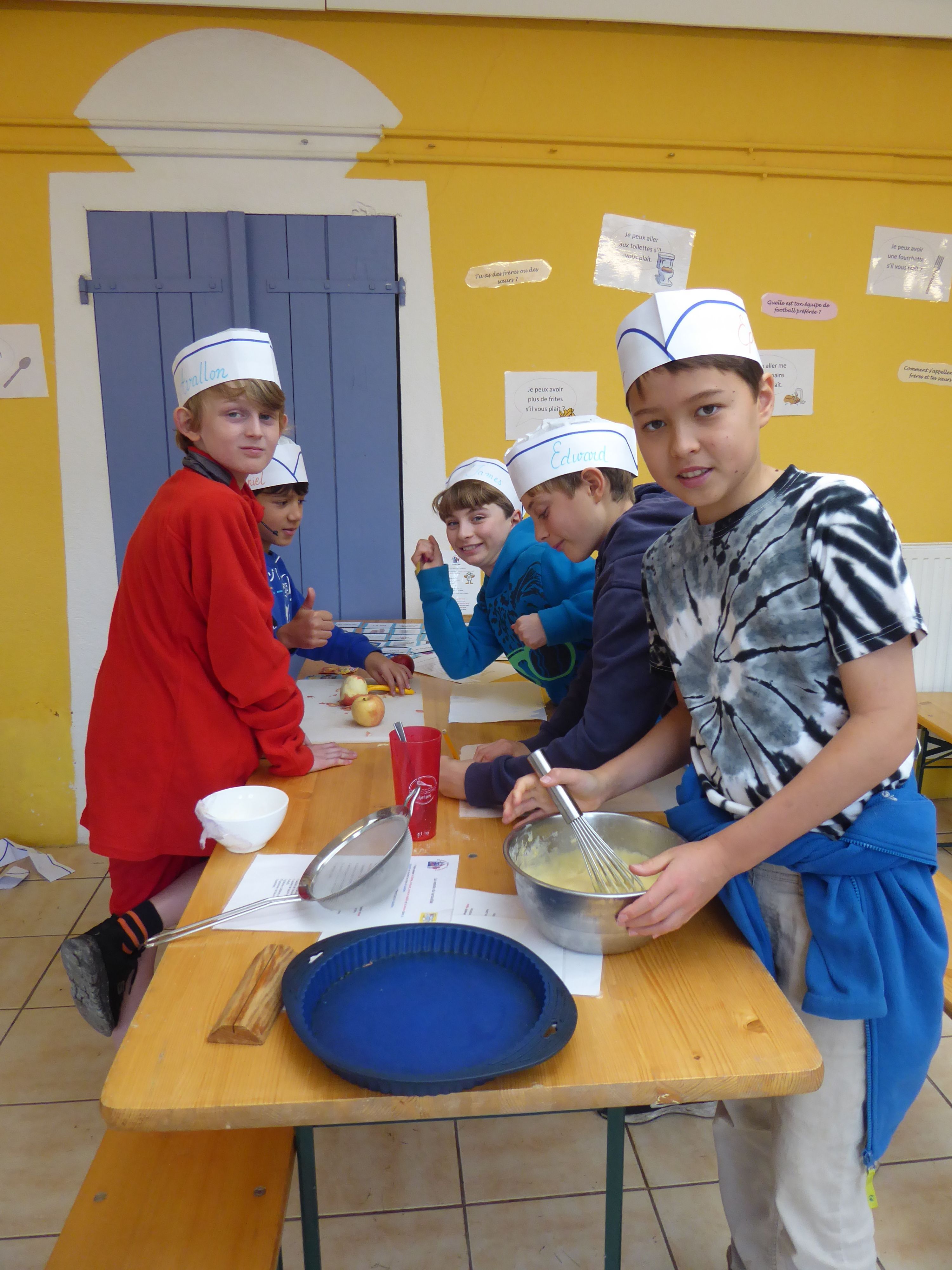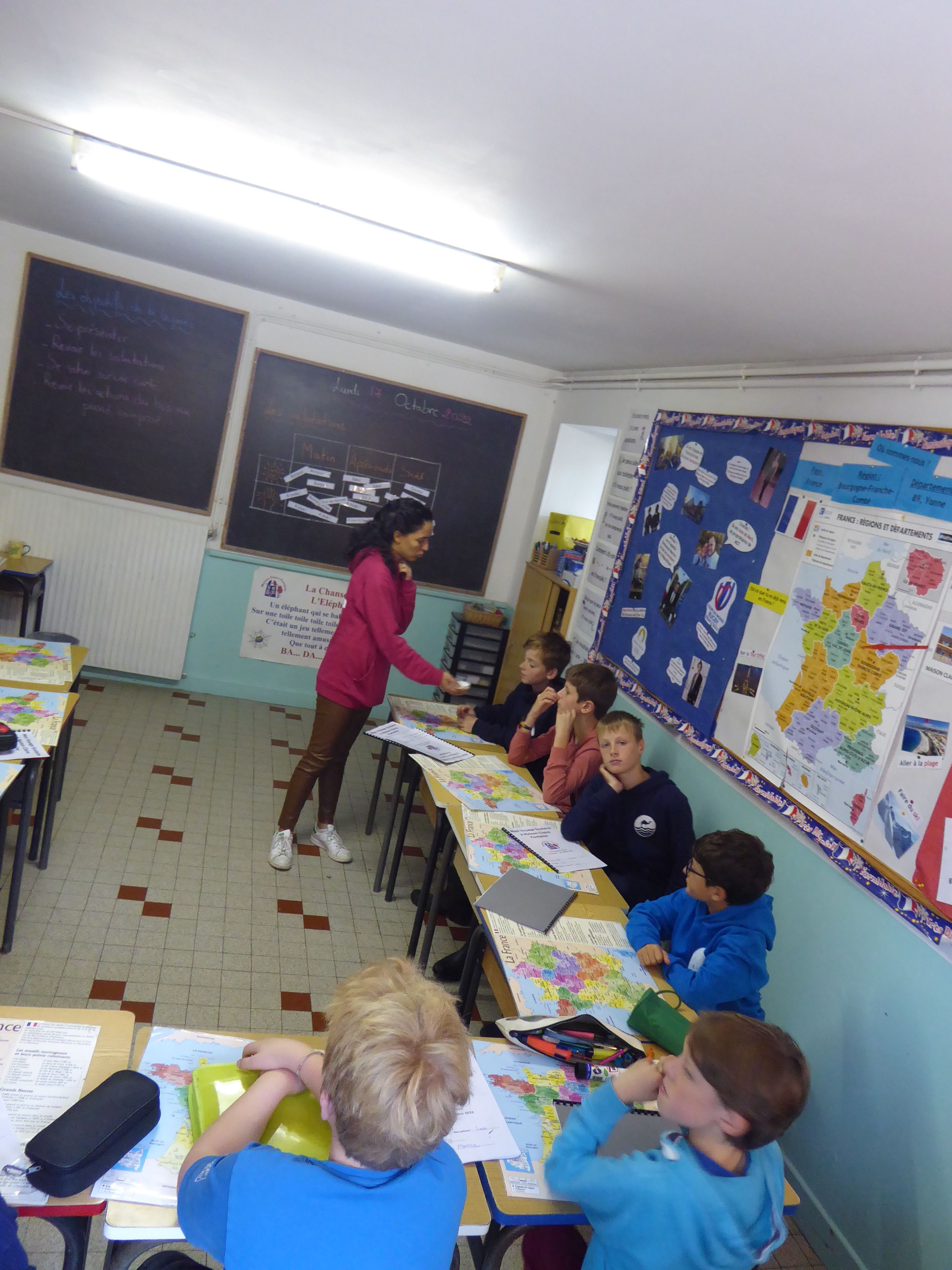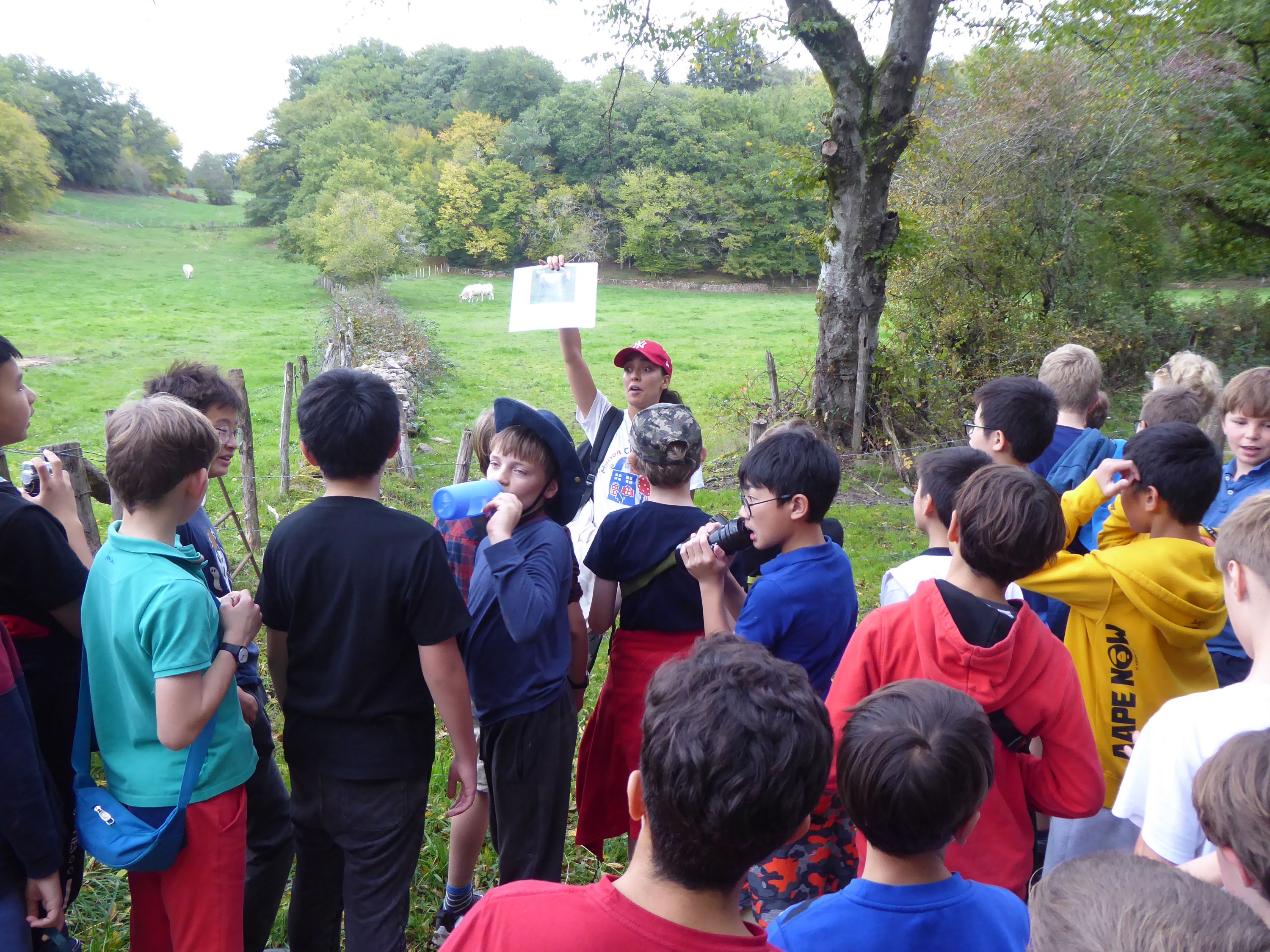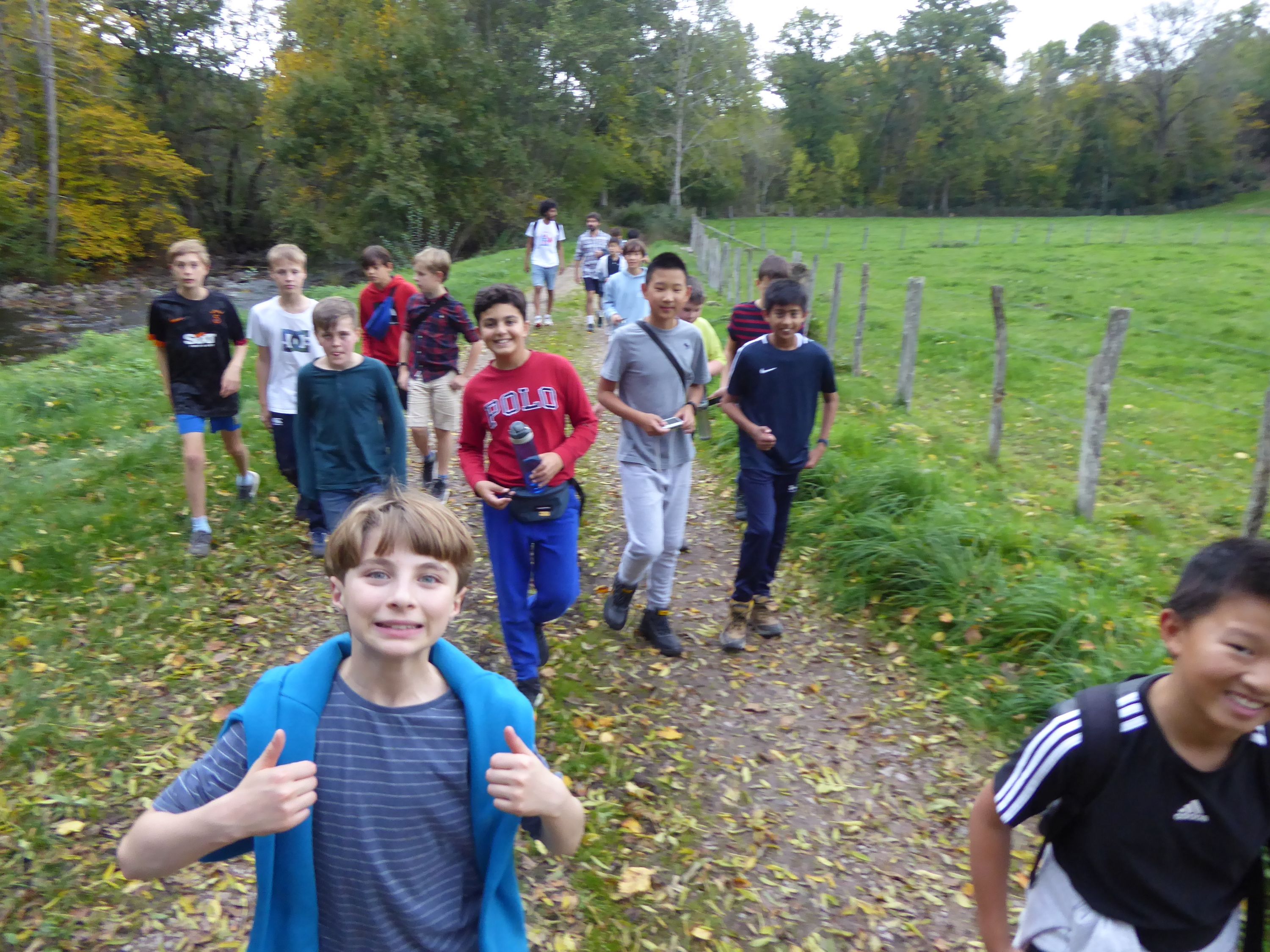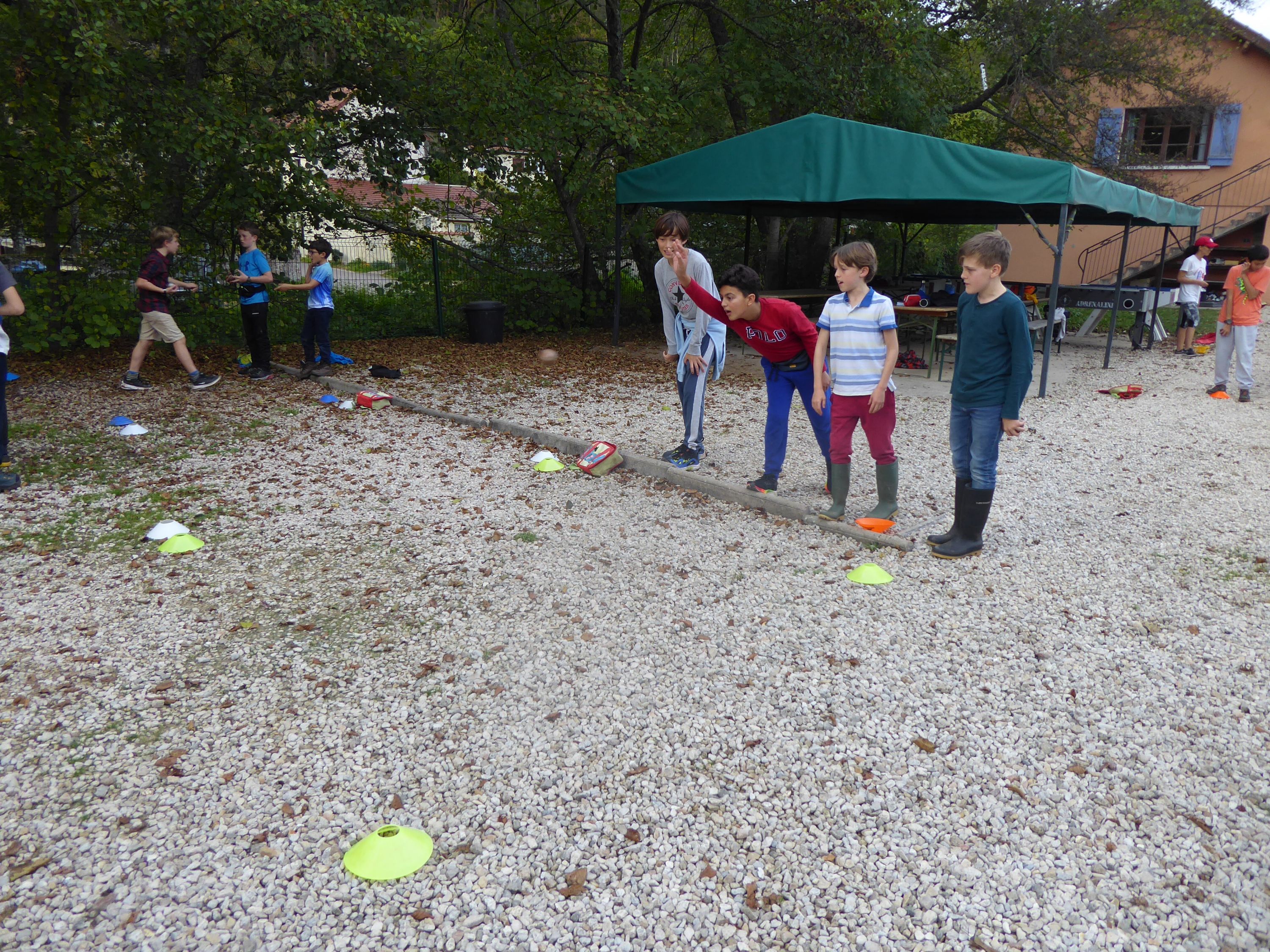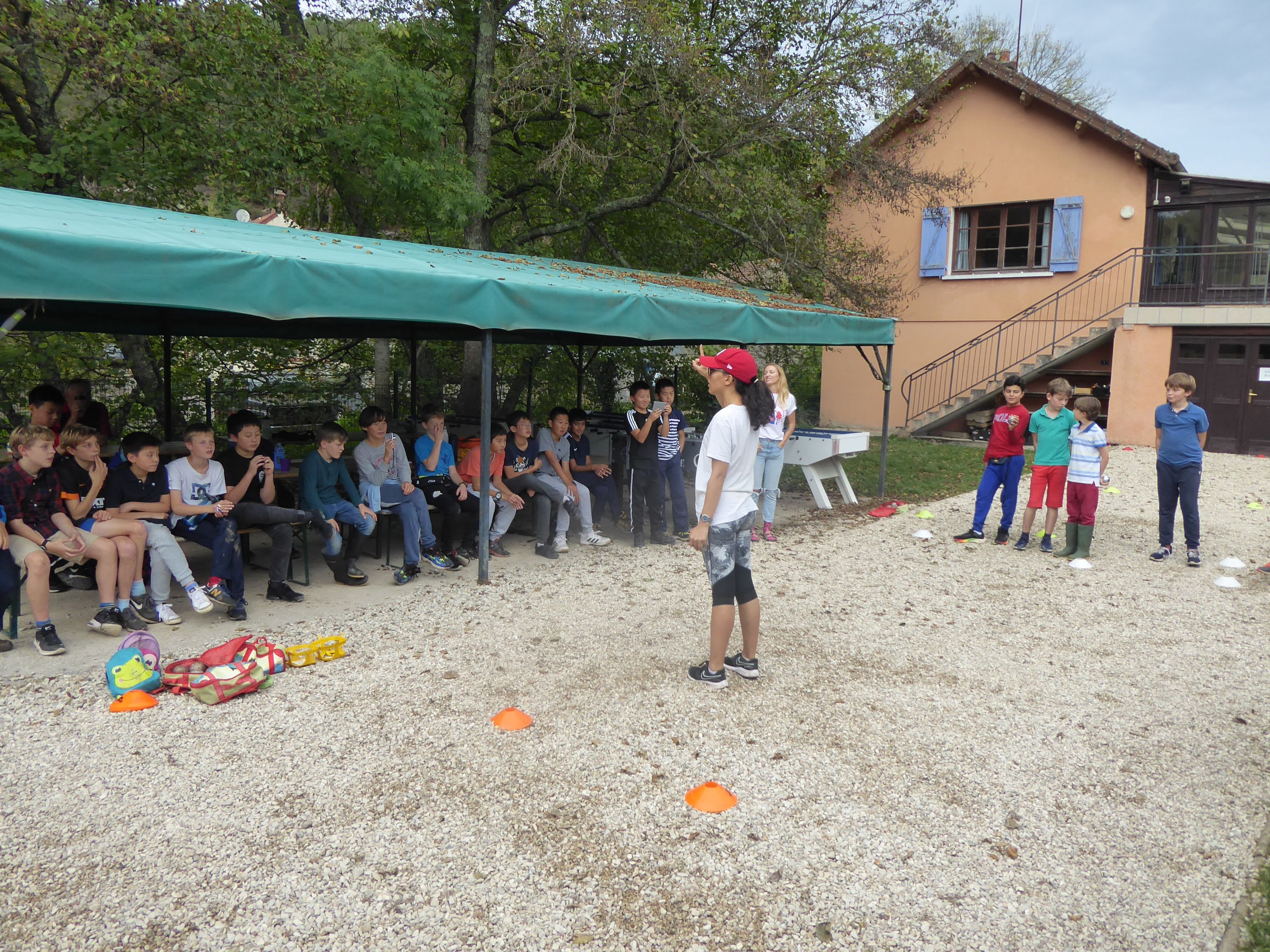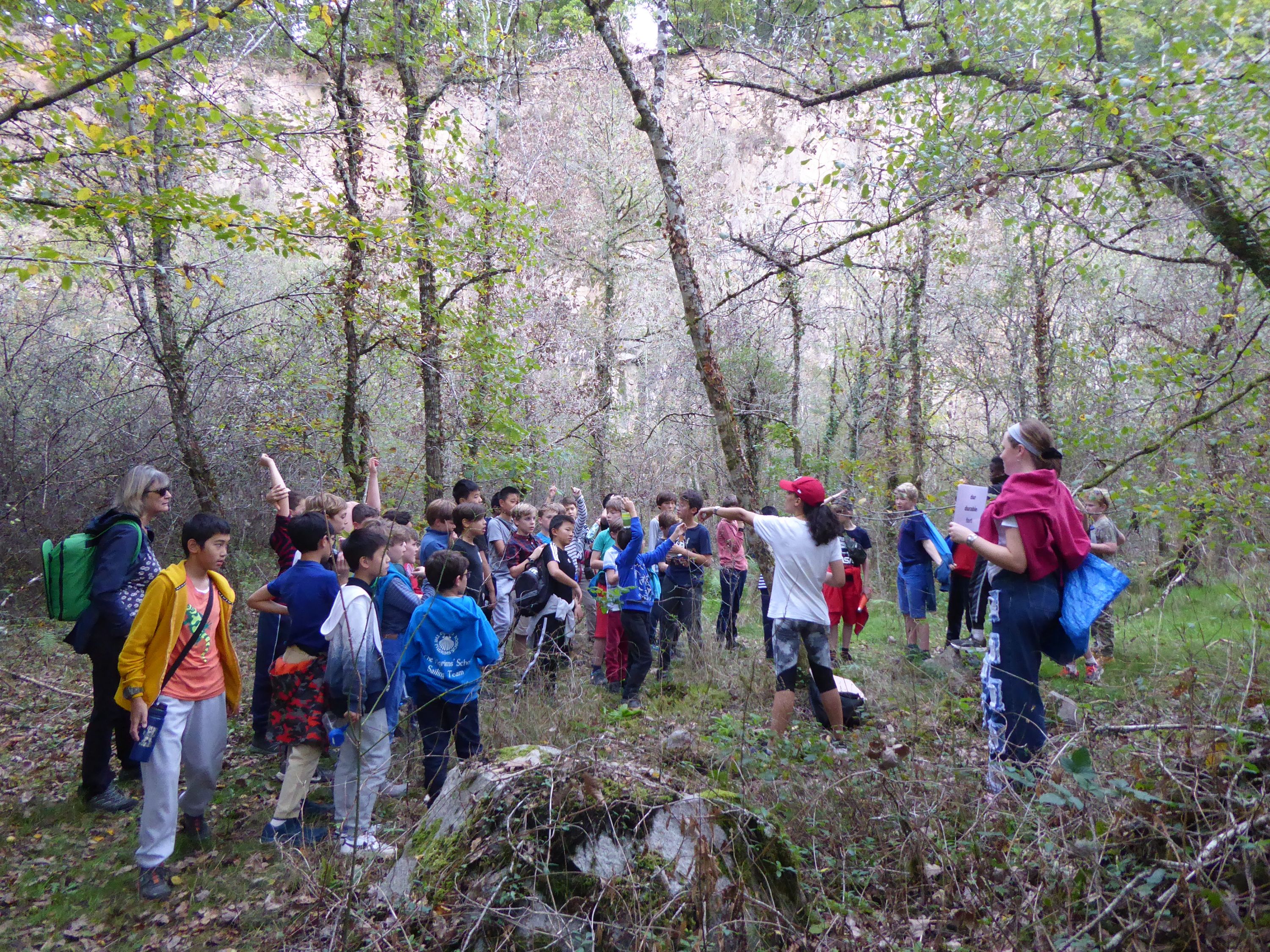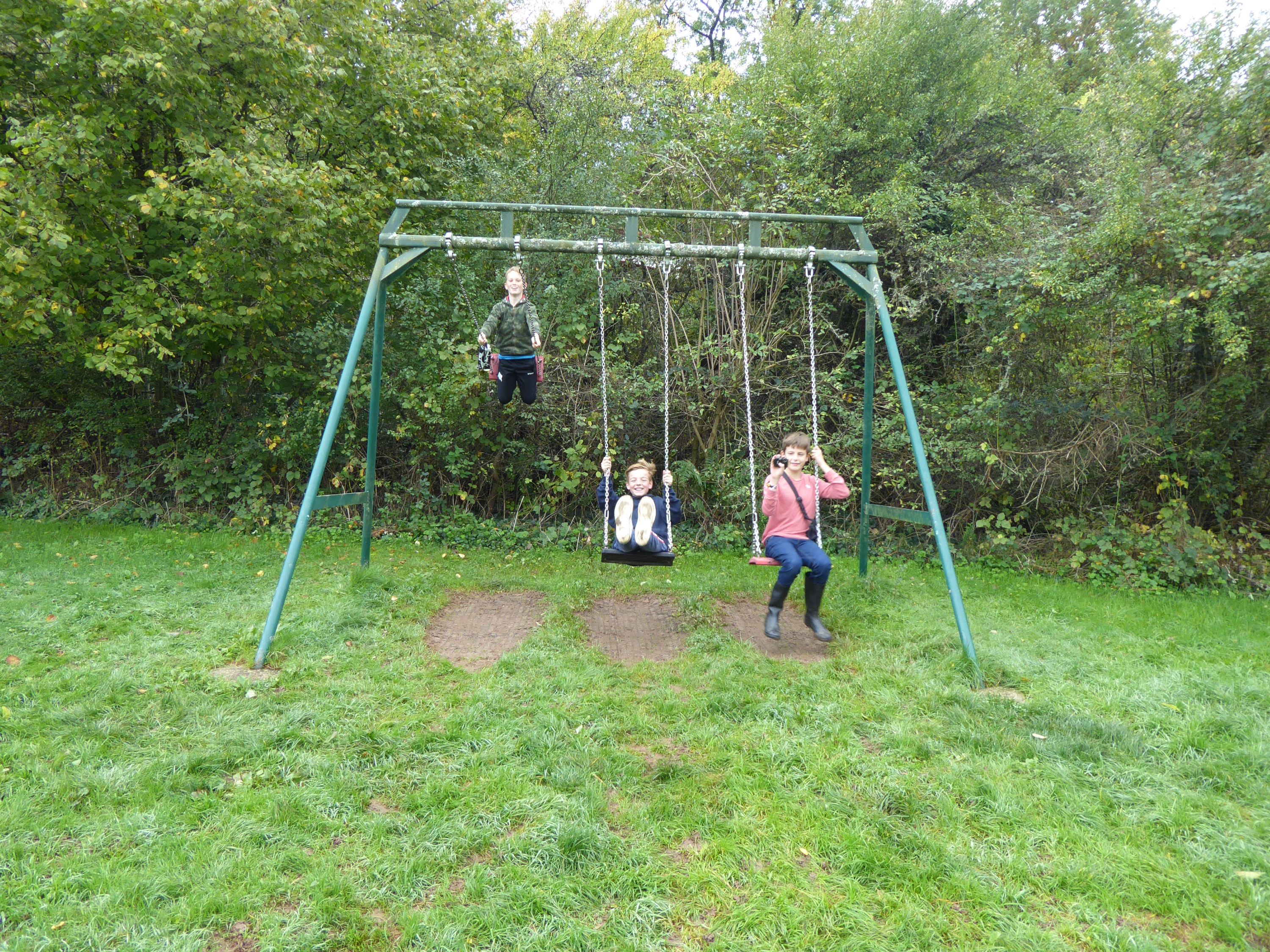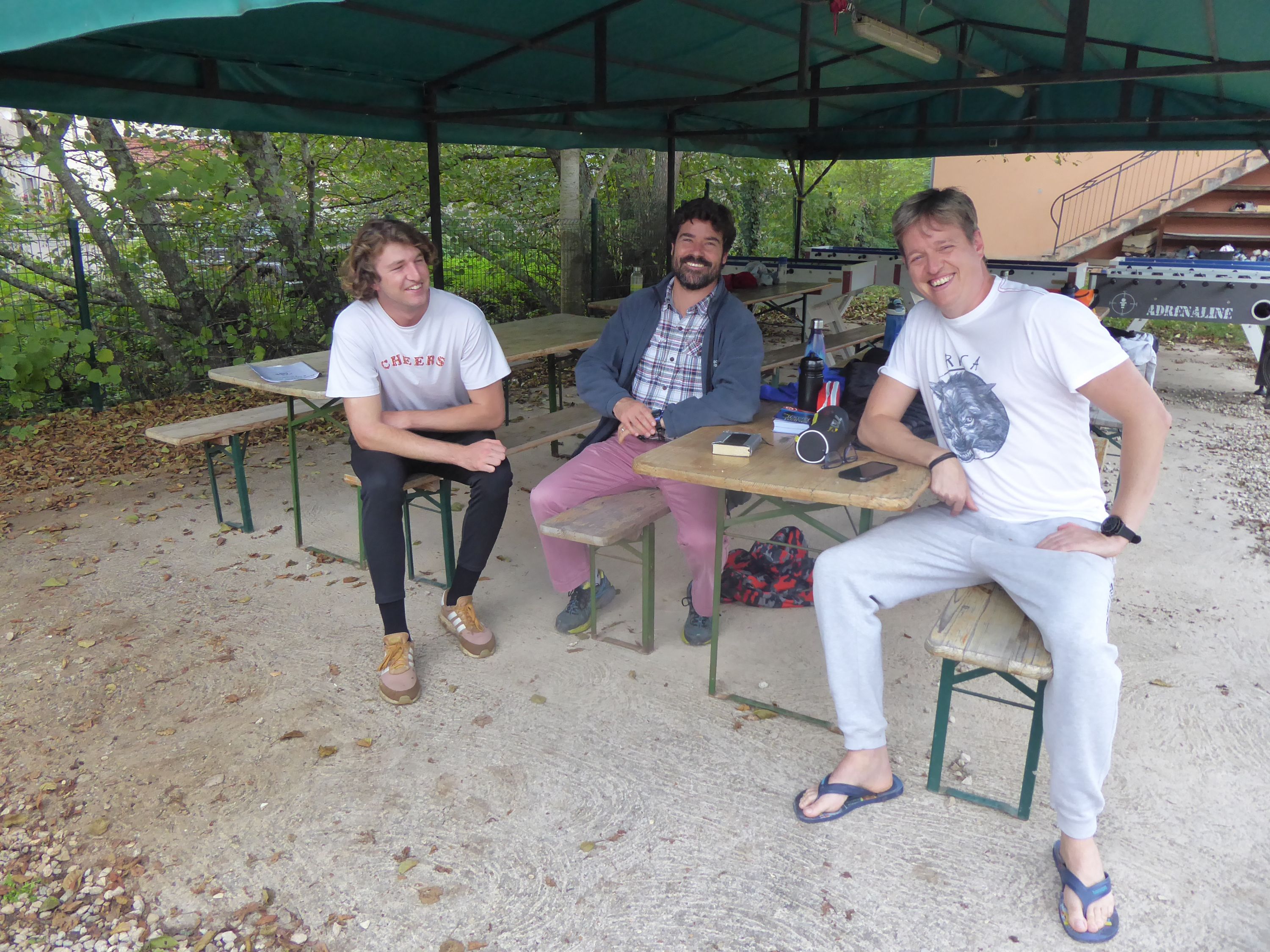 Day 3 draws to a close and the boys are all tucked up in bed, bellies full after a lovely evening meal in Avallon.
The morning was divided between class and the creation of a mosaic; the art, it seems, is to strike a balance between the tiles and cement and the results were – when the balance was struck – impressive. You'll be able to judge for yourselves as they will be coming home with us!
The French lessons involved vocabulary relating to Vézelay and the trip to the market tomorrow, whilst the staff polished up on their French phrases ahead of the afternoon…
The afternoon outing was a trip to the hilltop town of Vézelay, a pilgrimage site where, in the crypt, lies a relic – the rib of Mary Madgalene – and, as such, makes the town one of the most important pilgrimage centres in the whole of Europe. On their way up the steep street that leads to the basilica, the boys were given a series of questions they had to answer en français, requiring them to interview locals and visitors. The basilica's mix of Roman and Gothic architecture was quite breathtaking and I'm sure the boys will have many stories to tell you about what they learned on their tour.
The boys are all now long asleep and Mrs Beaumont and I are sitting in the communal area, looking at the weather forecast for tomorrow – another clear day. What luck we've had!
For now, au revoir.
Sarah Adkin
David Orr, Paul Bryant, Nicki Beaumont, Josh Uys
Trip Leaders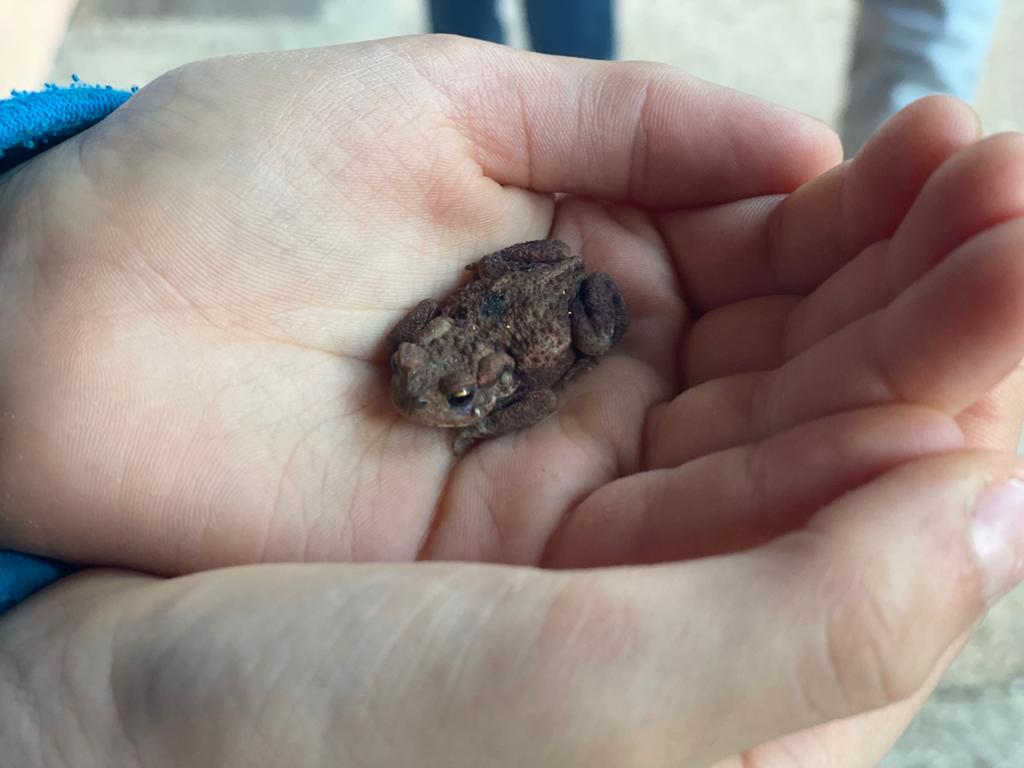 A new friend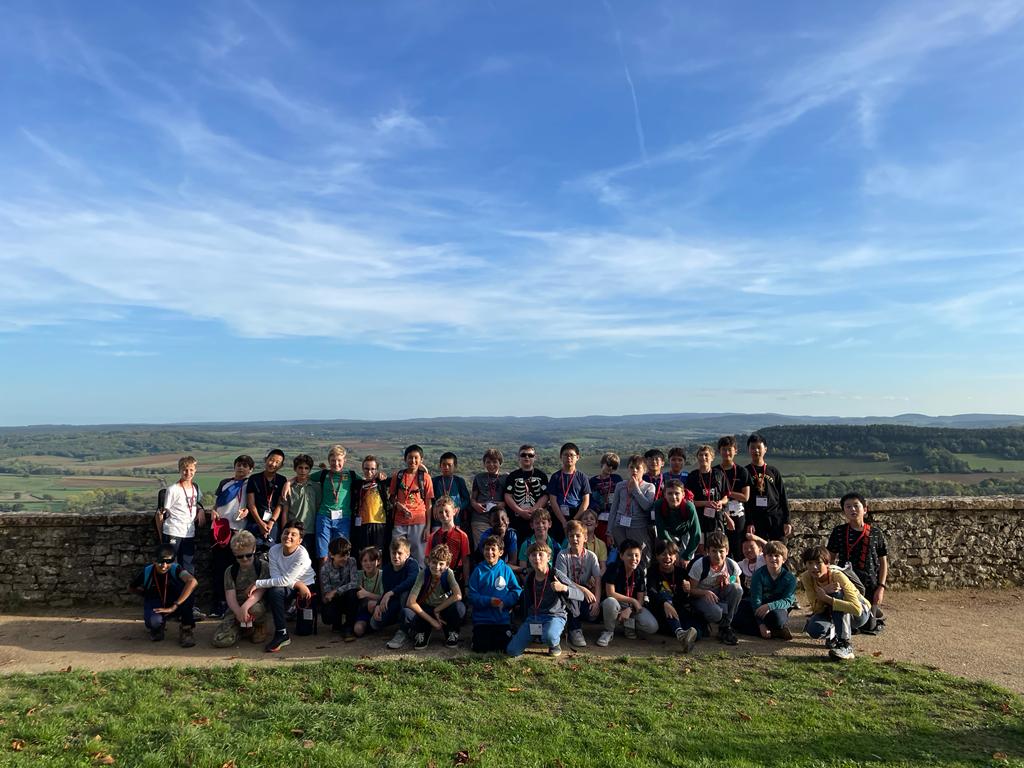 At the viewing point in Vézelay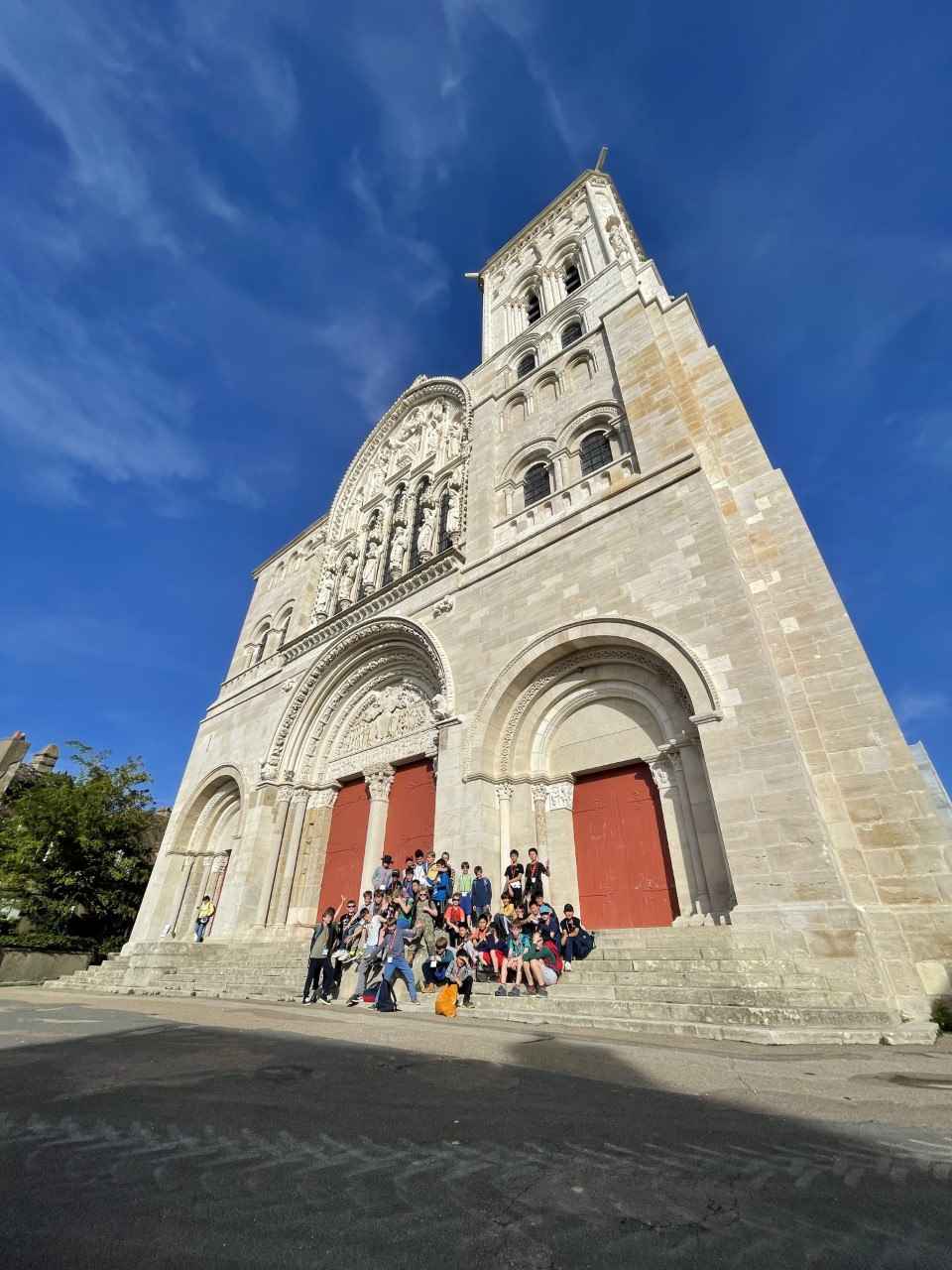 Basilica group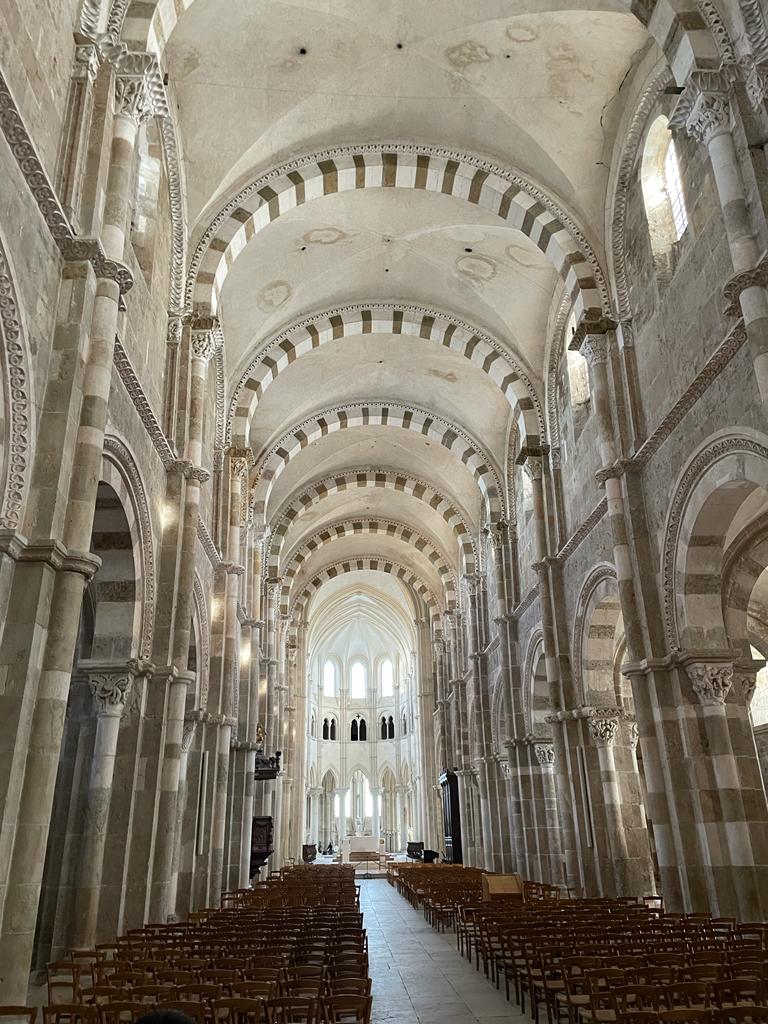 Roman and Gothic arches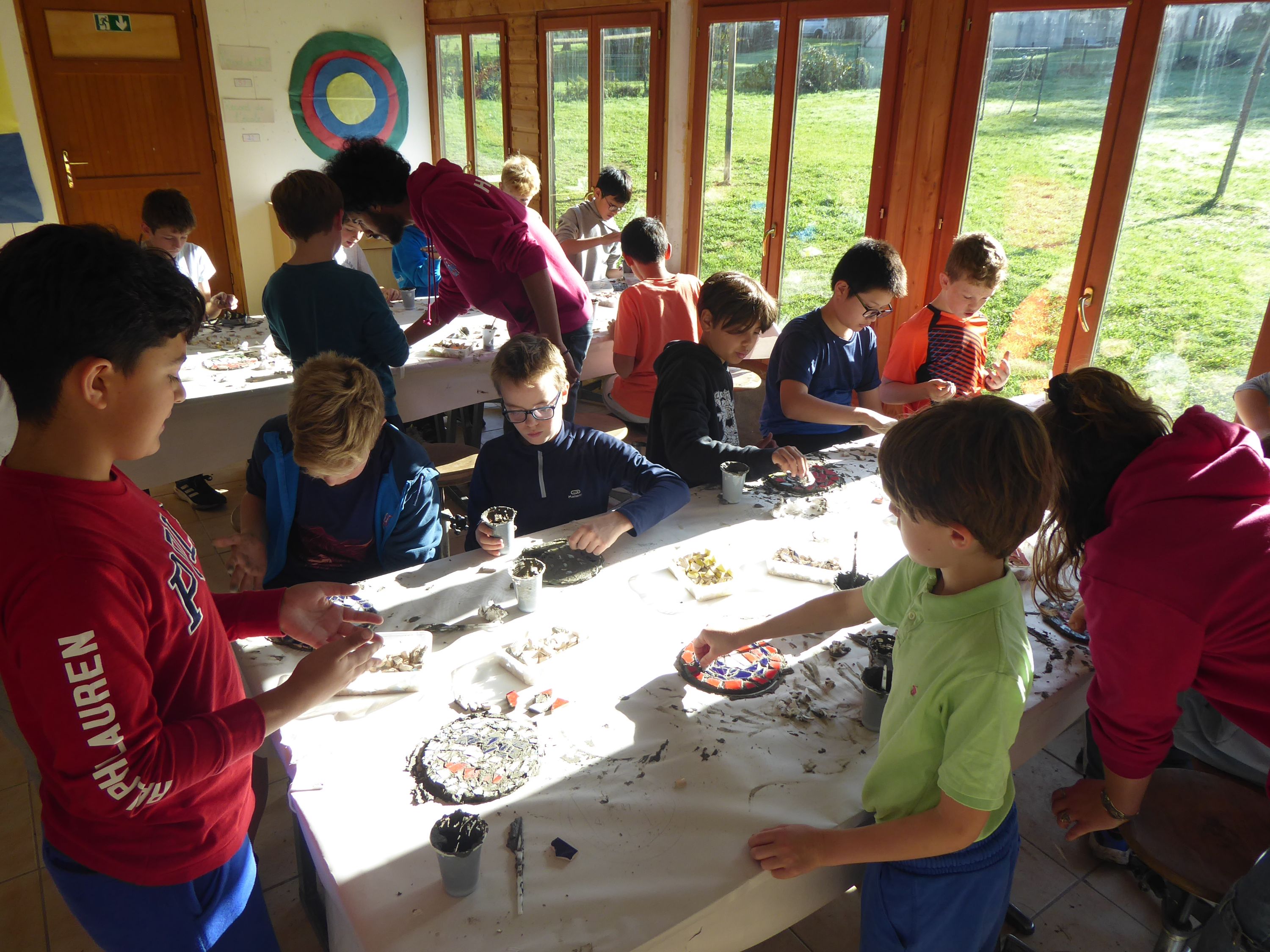 Getting creative at the centre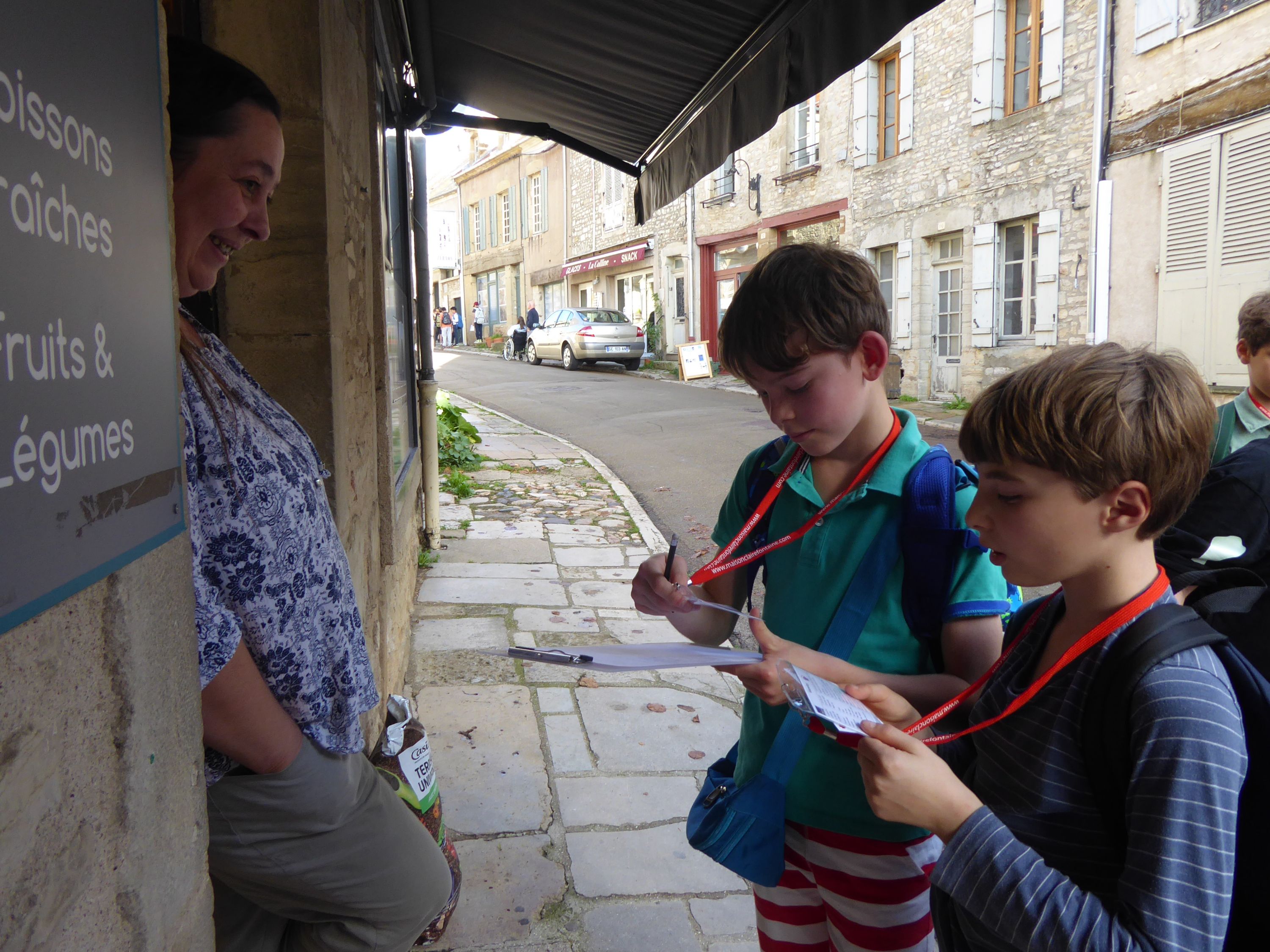 Interviewing a local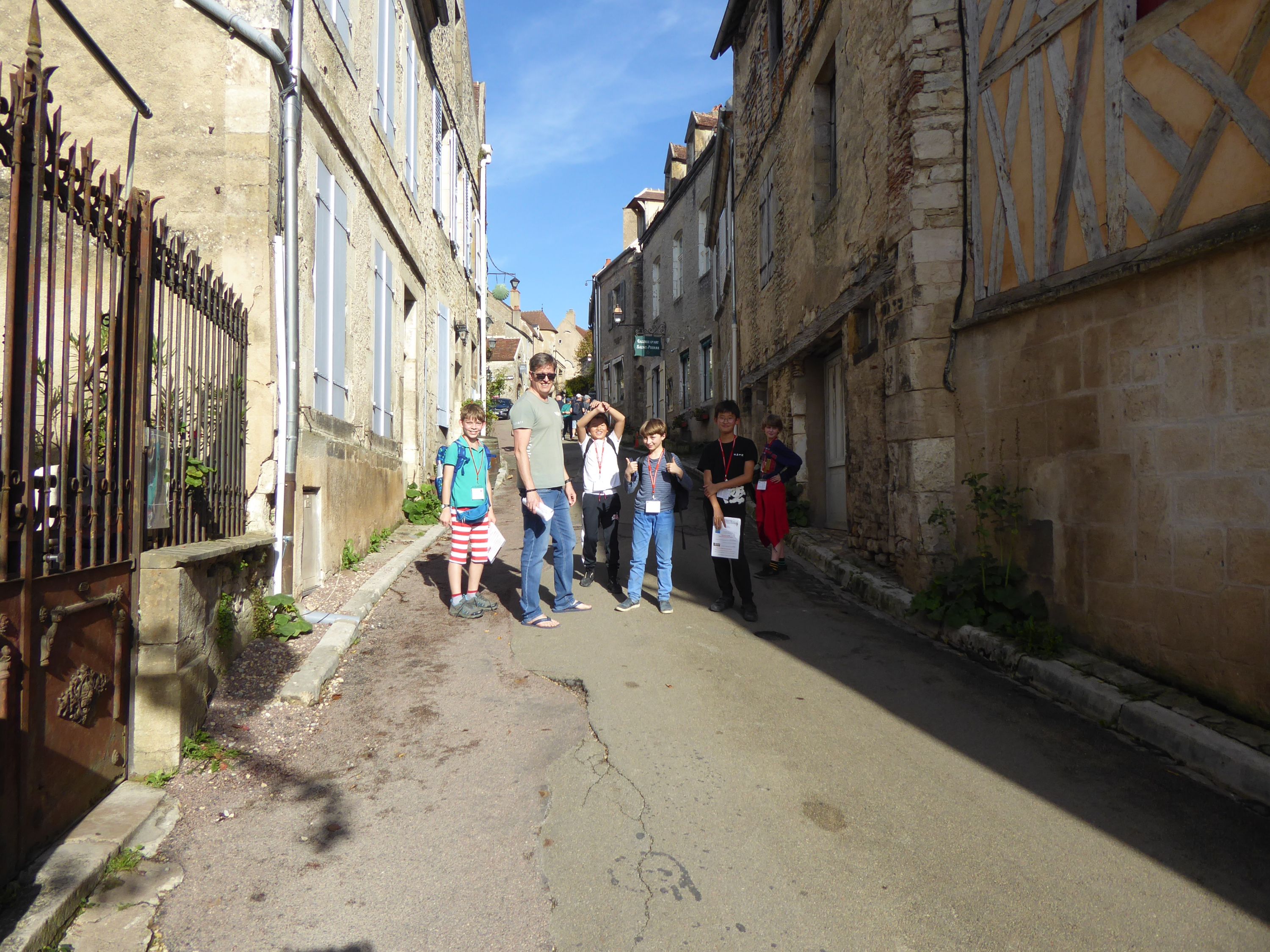 Mr Orr's group making their way up the hill in Vézelay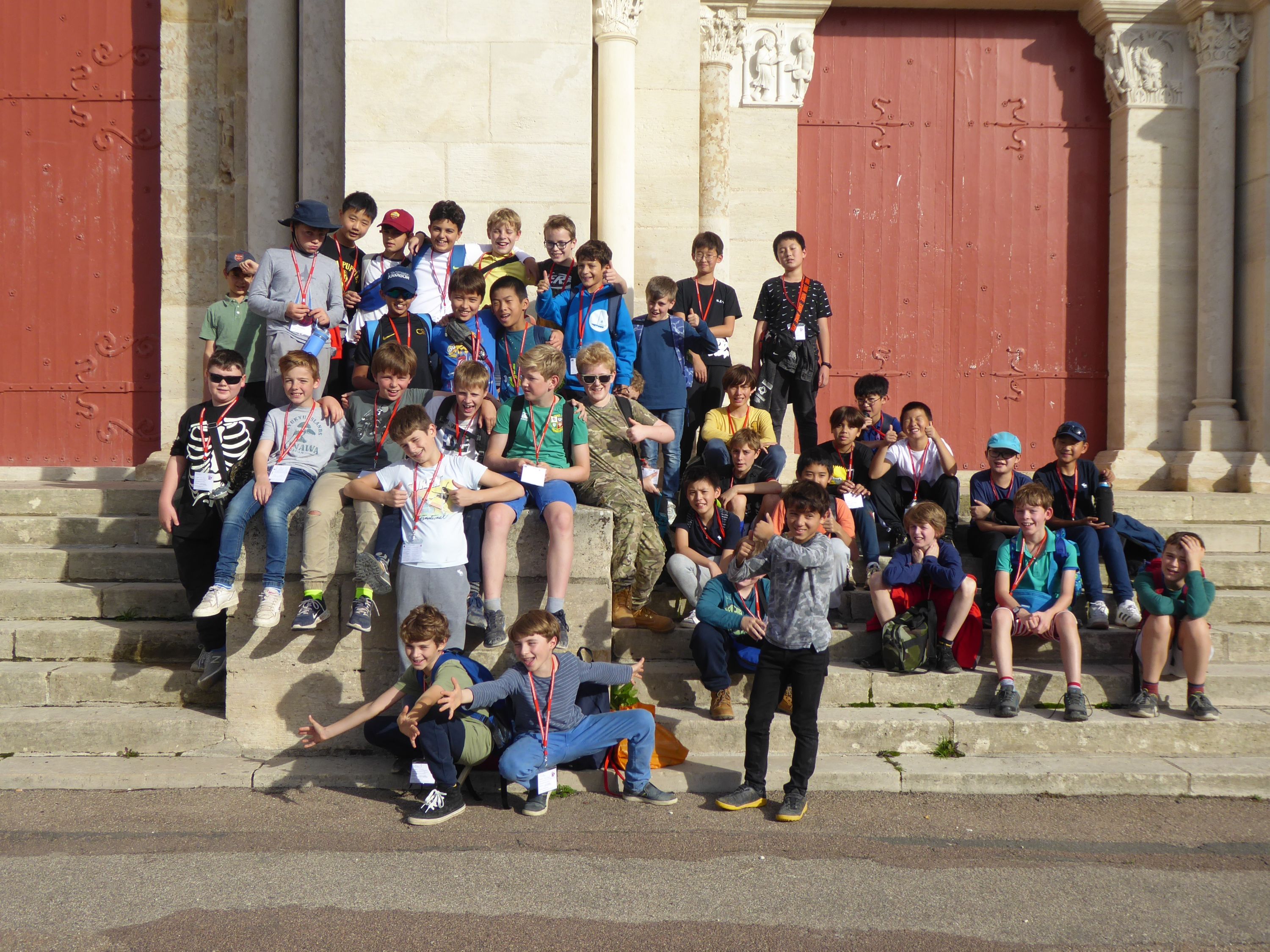 Vézelay
Day 4 - I can't believe this is our final dispatch from Maison Claire Fontaine – our time has gone so quickly and we have been blessed with sun, good humour and beautiful countryside.
Today we have been to a quintessentially French market town, Noyers-sur-Serein, and today's activity has undoubtedly been one of my favourite this week. The boys, in their groups, were tasked with buying ingredients for their lunch, negotiating their purchases with the stallholders, in French. But the challenge didn't end there – they had to prepare and present their wares to their peers and teachers and were judged for the appearance and choice of meal, as well as their oral presentation.
This afternoon the boys took to the stage and performed sketches of their favourite moments over the week – from cookery and the history of Vézelay to la danse de l'arbre on our randonnée around Méluzian, their French classes and le marché – laugh of loud moments!
The boys have done so well this week – they have progressed in their French, worked with their peers, and leave richer for their time in Burgundy. The MCF staff have been brilliant, and we cannot thank them enough for helping the boys to succeed this week. The MCF Ambassadeurs this week, chosen by the team here for their effort, participation, attitude, kindness and – of course – their spoken French, are George Sinclair and Yan Zhang, but so difficult a choice was it, that a special mention spécial was also made to Harry King and Arthur Hall. I can honestly say, though, that every boy has had a great week and should be proud of themselves.
It wouldn't be a school French trip, though, without les escargots (a firm non, merci from Mr Orr!) and the boys started their evening meal with fervour, followed swiftly by steak hâche avec frites – "Miss Adkin, please can you ask the chefs at school to cook this!" – and we can confirm, the food has also been a huge success… The way to a boy's heart is almost surely through his stomach!
Bags packed, clothes out for our early start tomorrow, the boys are settled down for the evening to watch Tin Tin. We have an early day tomorrow – 3.30 am – but hopefully will have passed the gates of the centre before the inevitable, "Miss Adkin, how long till we…?"
Au revoir.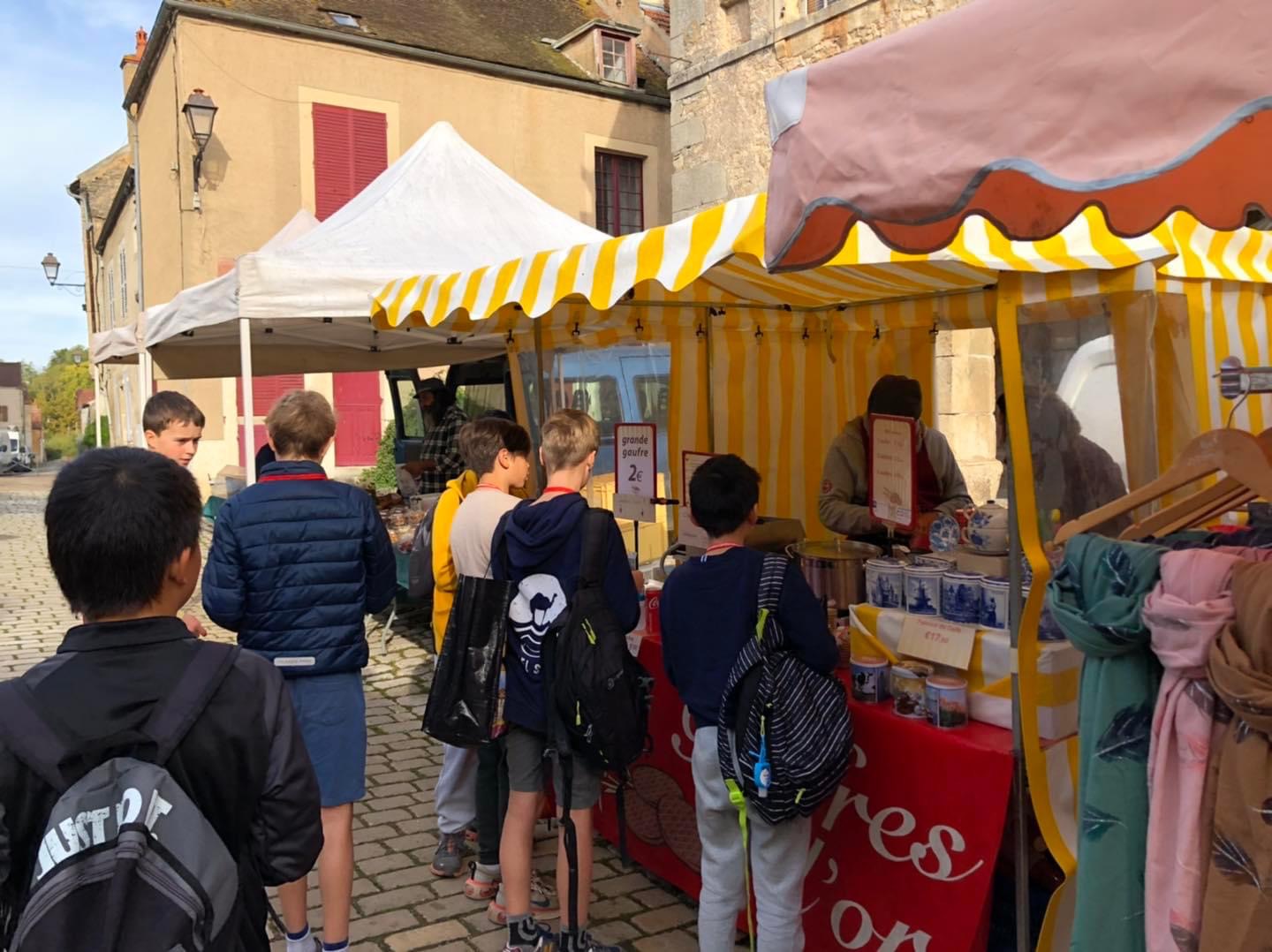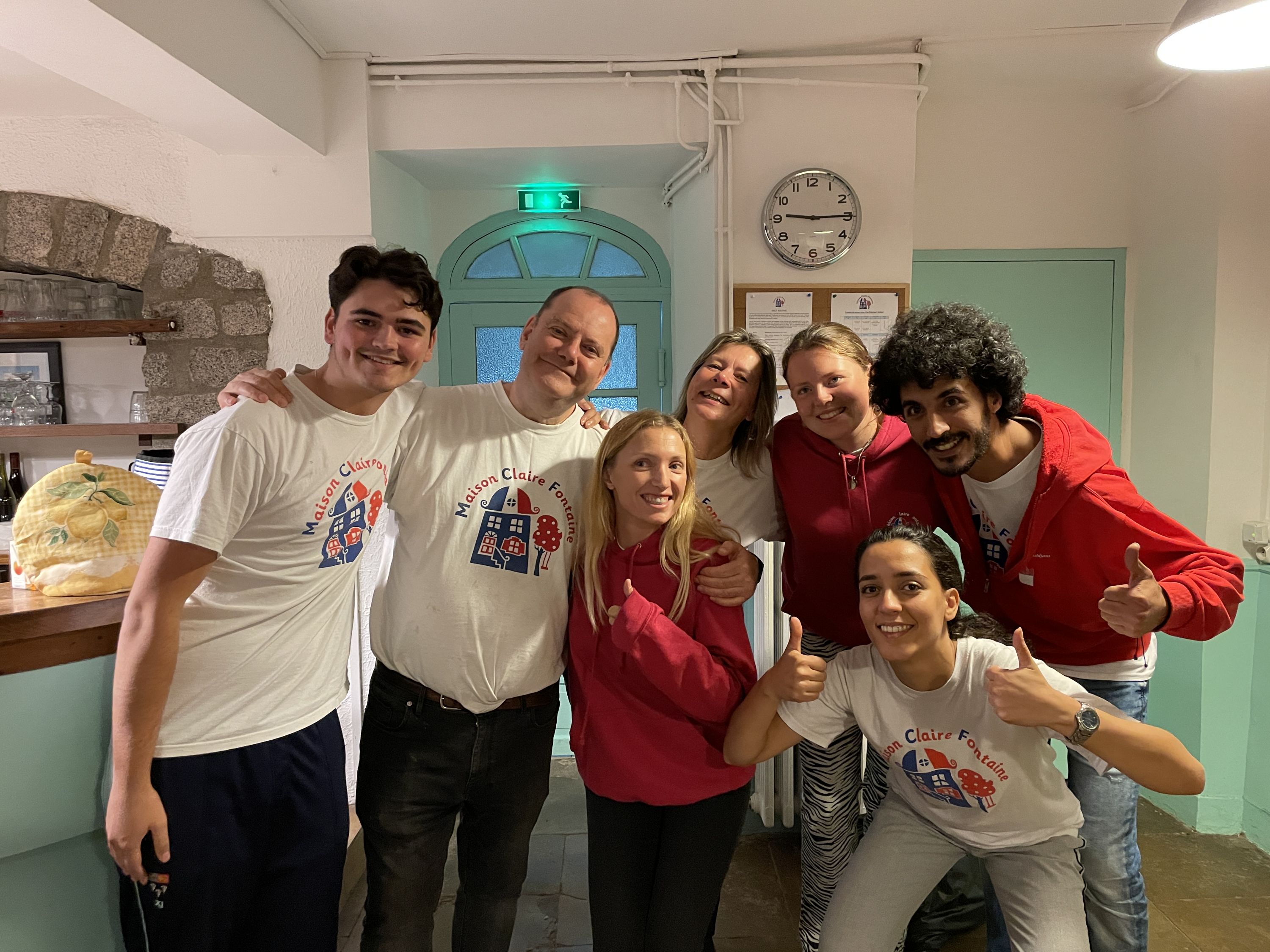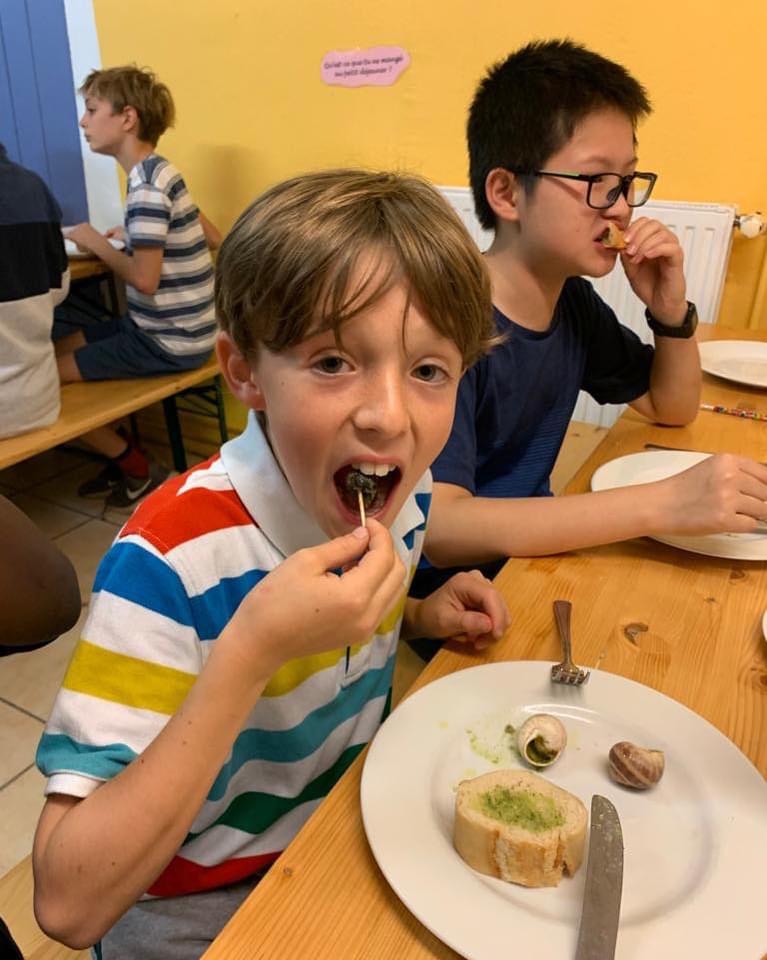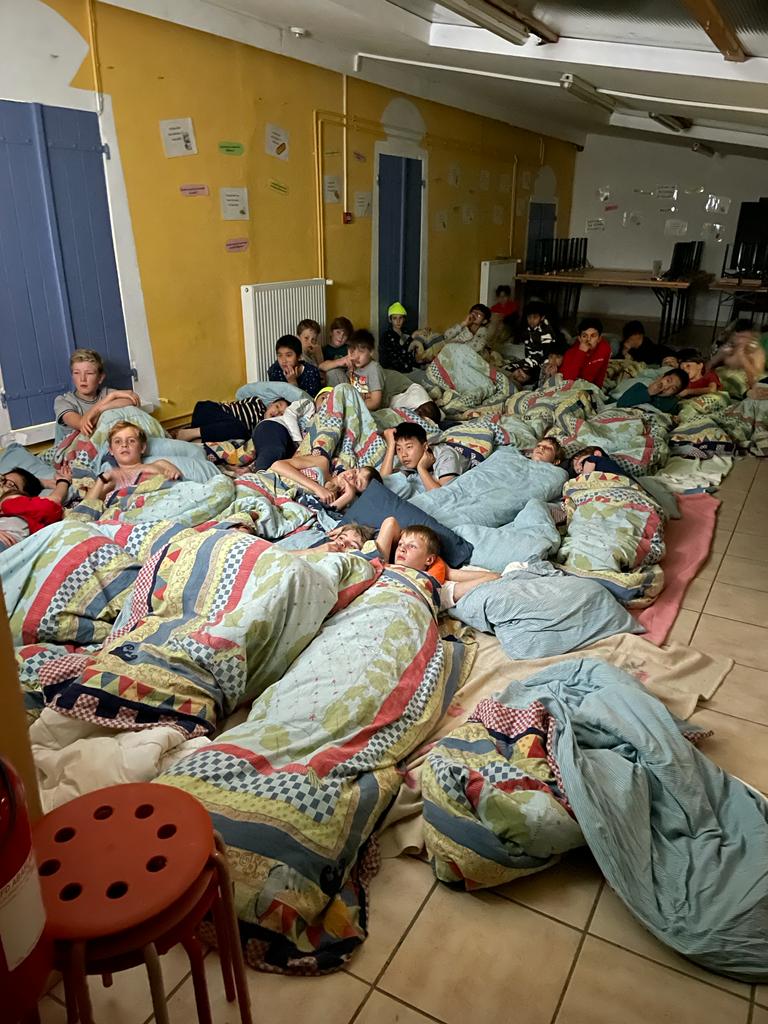 Day 5 - I write, approximately 30 minutes outside of Calais – we have made good time today. Boys are tired, but in good spirits despite the early start! A recap of the week's activities, along with some photos – in reverse order. I thought you would also be interested in seeing the team who have looked after the boys, and us, so well this week: left to right, David, Mark, Zoé, Alex, Ruby, Marou and Hamza.
It wouldn't be right not to include one of Mr Power's (in)famous puns, and it is certainly safe to say – in the words on Mr Power – the boys are all raring to escargot home for a well-needed rest!