Pre-Prep News, Friday 24 June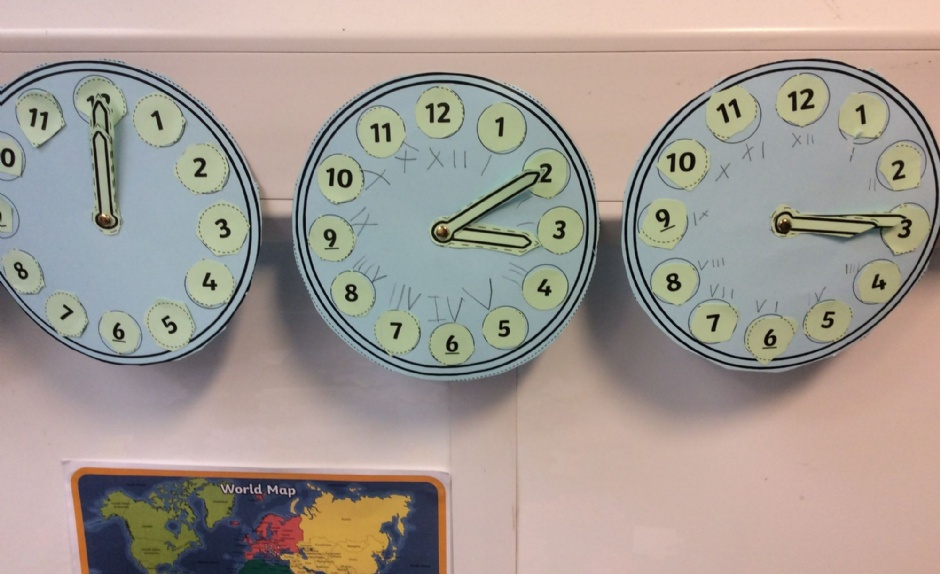 As we race towards the end of this Academic Year, our boys (and staff) are coping brilliantly with the excitement that the end of our Summer Term brings.
From Mrs Ross
We hope that the summer weather will continue to help make our last days of term all the more enjoyable. The boys are looking forward to visiting their new classrooms for a session next week. I am sure that they will tell you all about it when they come home on Tuesday!
Diary dates
Tuesday 28 June

New Boys' Day and Move-Up Morning

Wednesday 29 June

am


1800-1845

Dress rehearsal: Ocean Commotion


Ocean Commotion performance for parents

Thursday 30 June

1800-1845

Year 2 and Year 4: Ocean Commotion performance for parents

Friday 1 July

1400-1530

Pre-Prep Sports Day

Wednesday 6 July

Pre-Prep Final Assembly

End of Term for Pre-Prep at end of day (NB: After School Club as normal)

* * * * * * * * * *
Notices


* * * * * * * * * *
Pilgrims' Shell awards
Year 2 - to William C for his engagement and enthusiasm to get started on all tasks this week.

Year 1 - to Alexander L - for his creative treasure map with such a lot of detail included.
Reception - to Attilio for his hard work and perseverance with his handwriting.
* * * * * * * * * *
Year 2
The commotion in the ocean has officially started! All Year 2 boys went home this week with their lines that they wrote for our scene in the Year 2 & 4 production of Ocean Commotion next week. Early practises within the classroom have started with promise. Lots of boys already know their lines off by heart and are ready to think further about expression and technique when performing. Many afternoons this week have been spent preparing stage decorations and head-dresses for each boy. This production has provided ample opportunity to explore different artistic techniques. The boys absolutely adored learning how to marble paper to be used in their fish headwear. The magic felt by the boys when they turned over their piece of blank paper is clearly shown in Teddy H's face below! These will be so effective in transforming these Year 2 boys into a large shoal of fish under the sea.
The boys have also used coloured paper lanterns and tissue paper to create octopuses. The boys were most careful using these delicate materials and are very keen to take their new octopus pet home. Colour schemes were thought about carefully and even included a Norman's Set octopus and a Jubilee octopus! Only the eyes are left to be attached before they go on display in the Pilgrims' Hall for Ocean Commotion.
A lengthy discussion was had amongst the class about whether they were making an octopus or a jellyfish. Various facts were banded around to support both sides of the argument. Eight legs – octopus. Shape of body – jellyfish. Big brain – octopus. Different colours – jellyfish. Eyes – octopus. Position – jellyfish. The debate went on… These boys certainly know their sea creatures now!
A huge thank you to Mrs Leslie who kindly joined Mrs Pleming and me as another pair of hands to help with these art activities this week.
Mrs Ford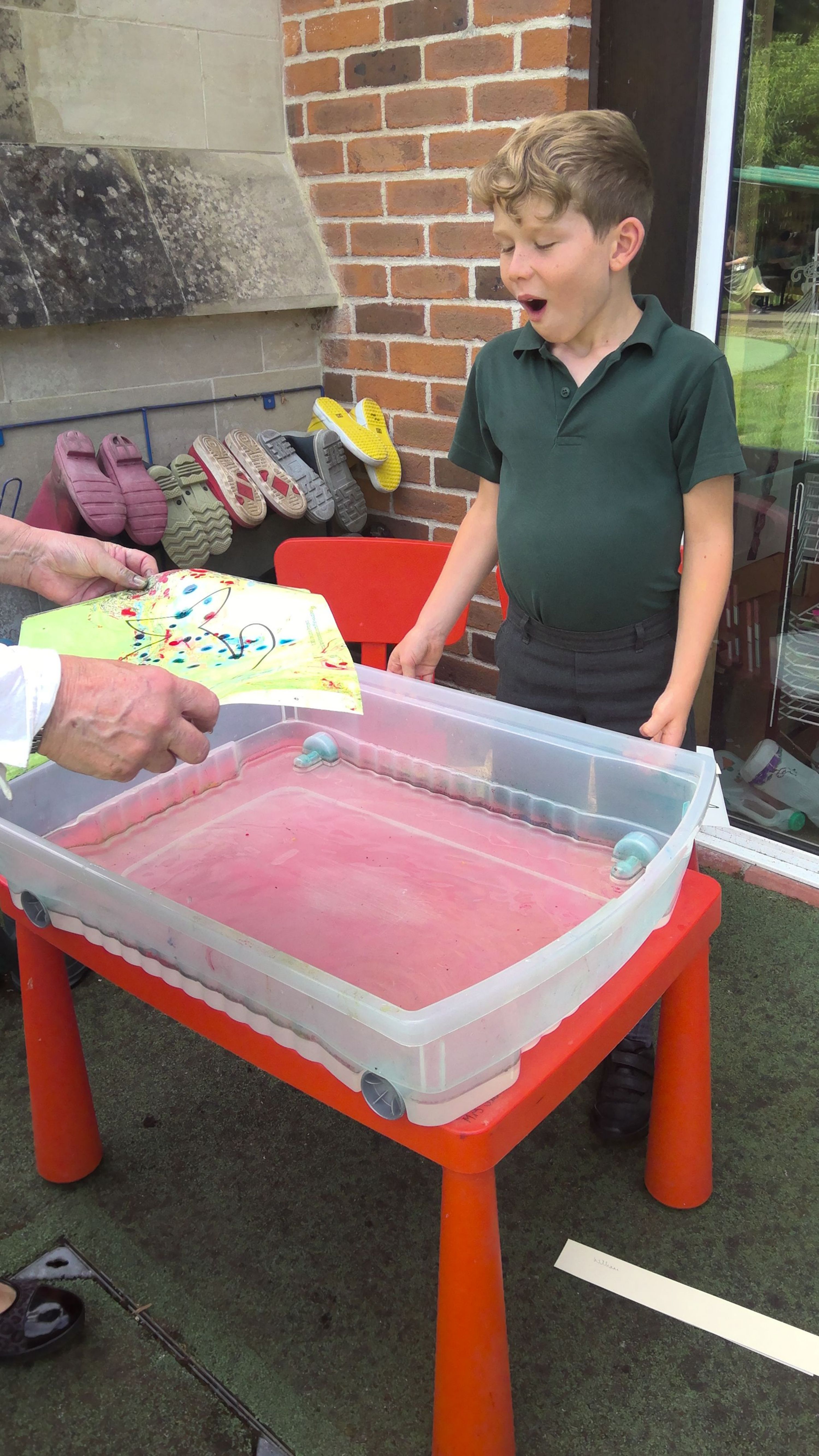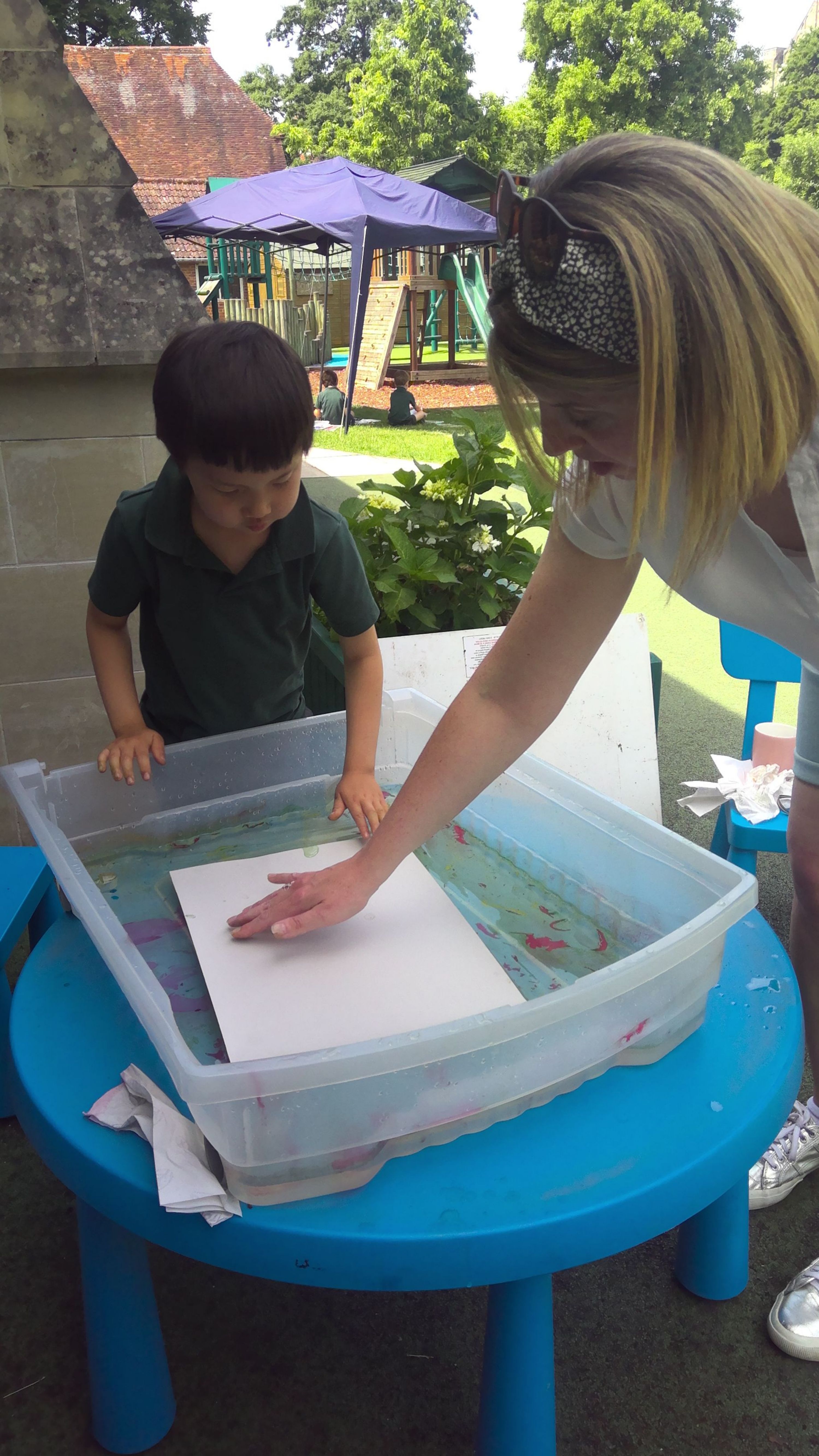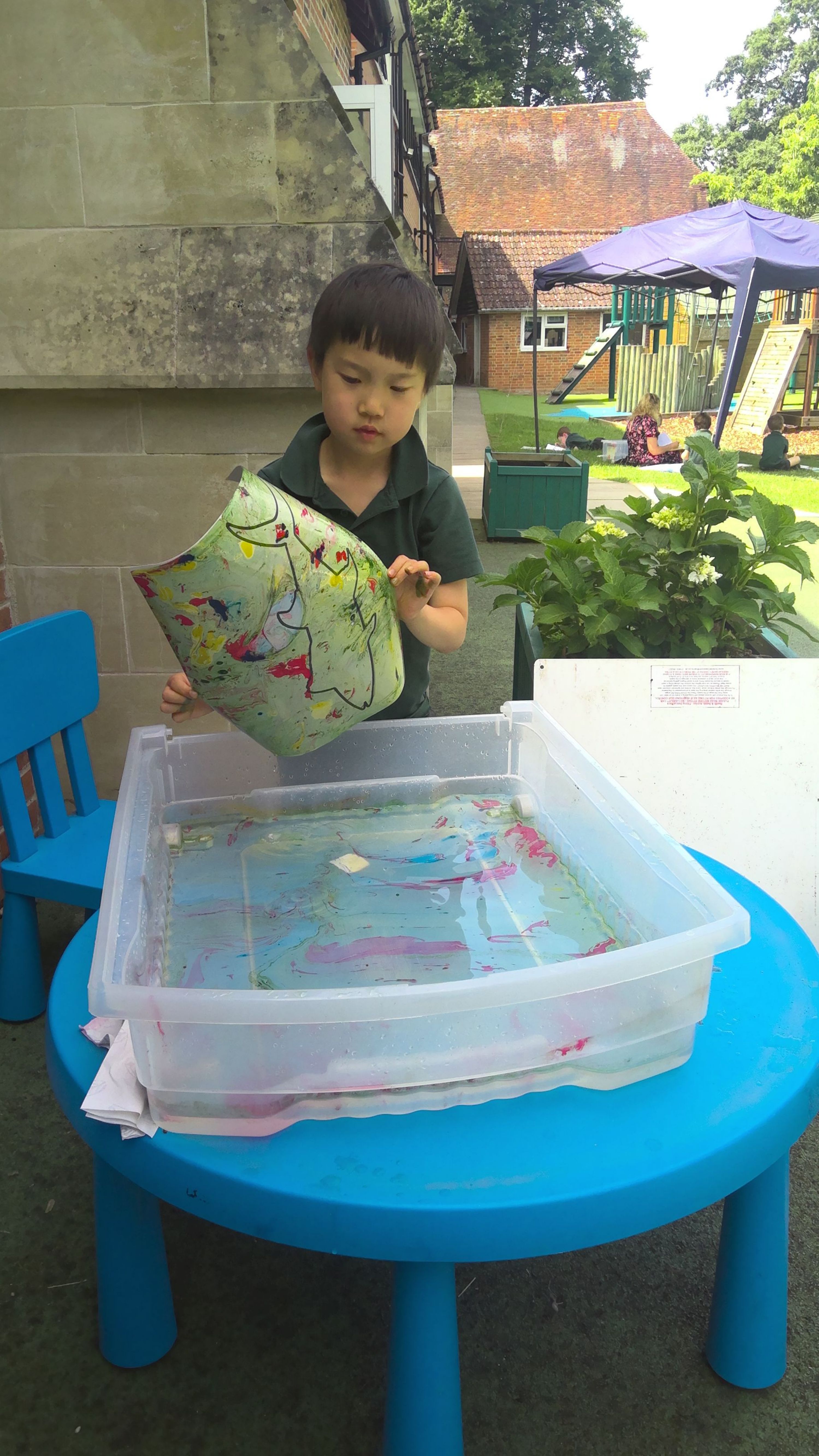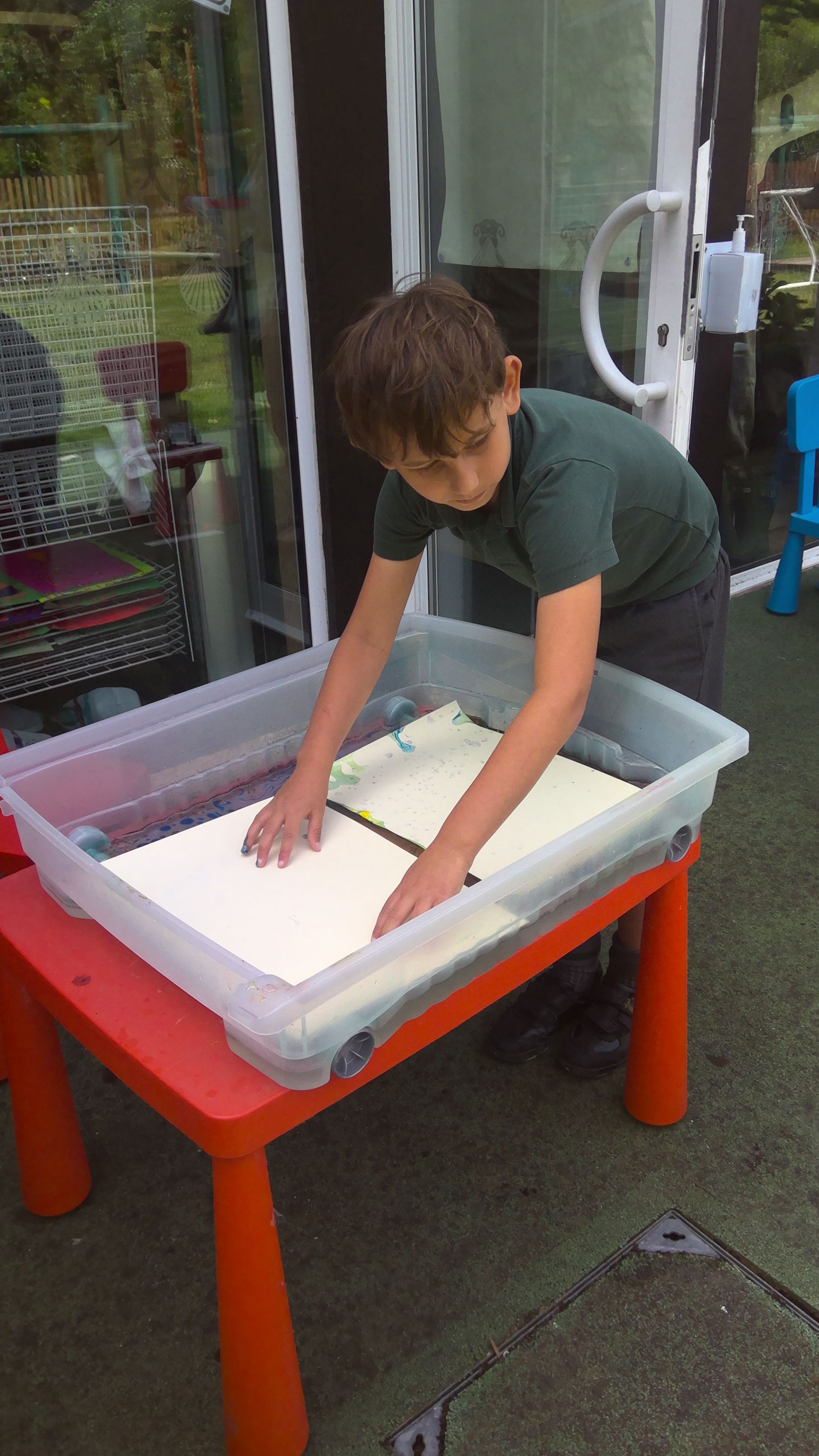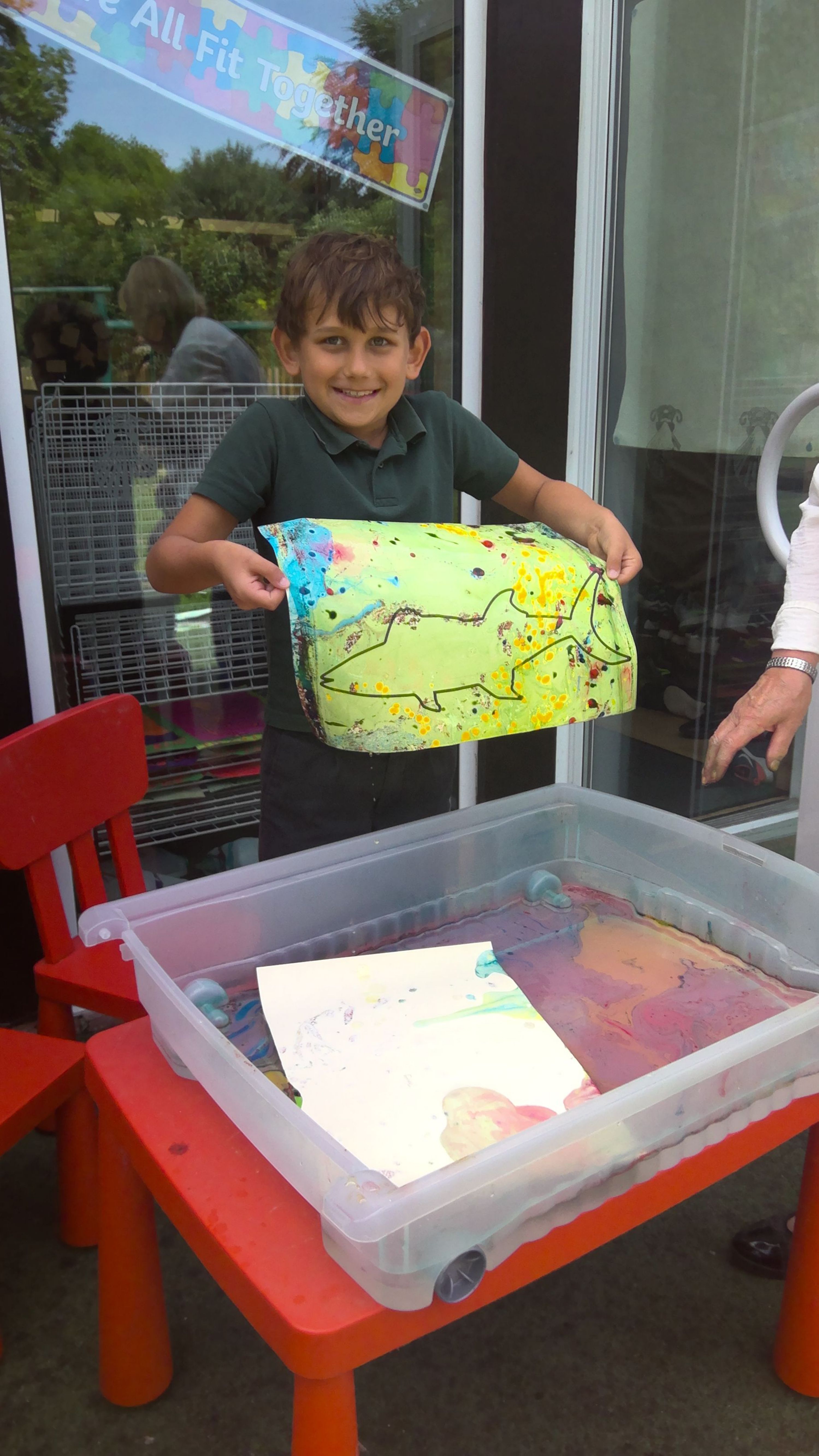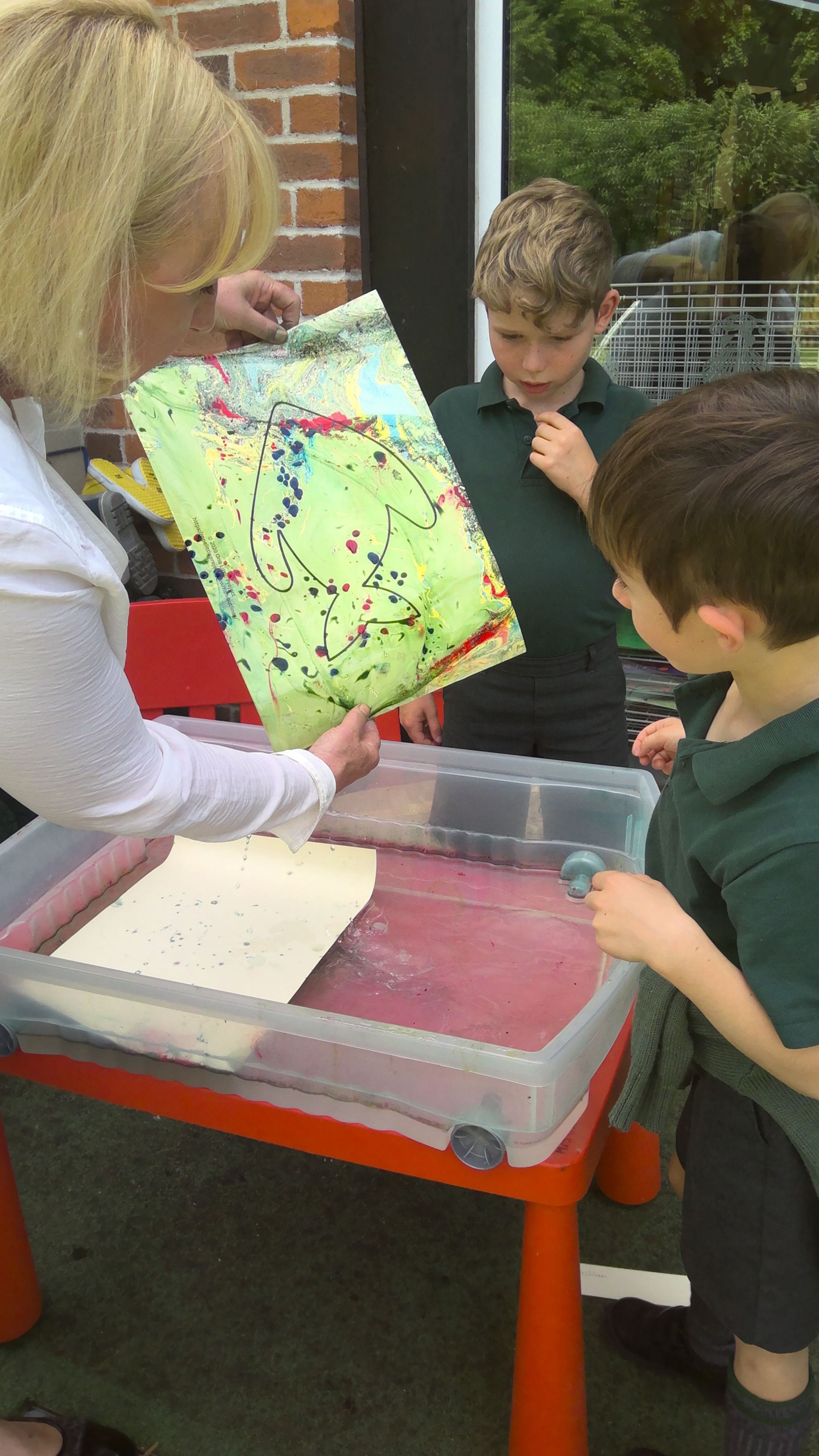 Year 1
The boys have worked very hard on telling the time this week using an analogue clock. They have focused on o'clock and half past times. To help with this task, the boys made their own clocks by cutting, sticking, and attaching hands with split pins. When looking at different sorts of clocks we chatted about Roman numerals and some boys were fascinated with these so decided to include Roman numerals on their own clocks. The boys have now been able to use their own clock to answer time questions. We will move on to think about quarter past and quarter to the hour next week.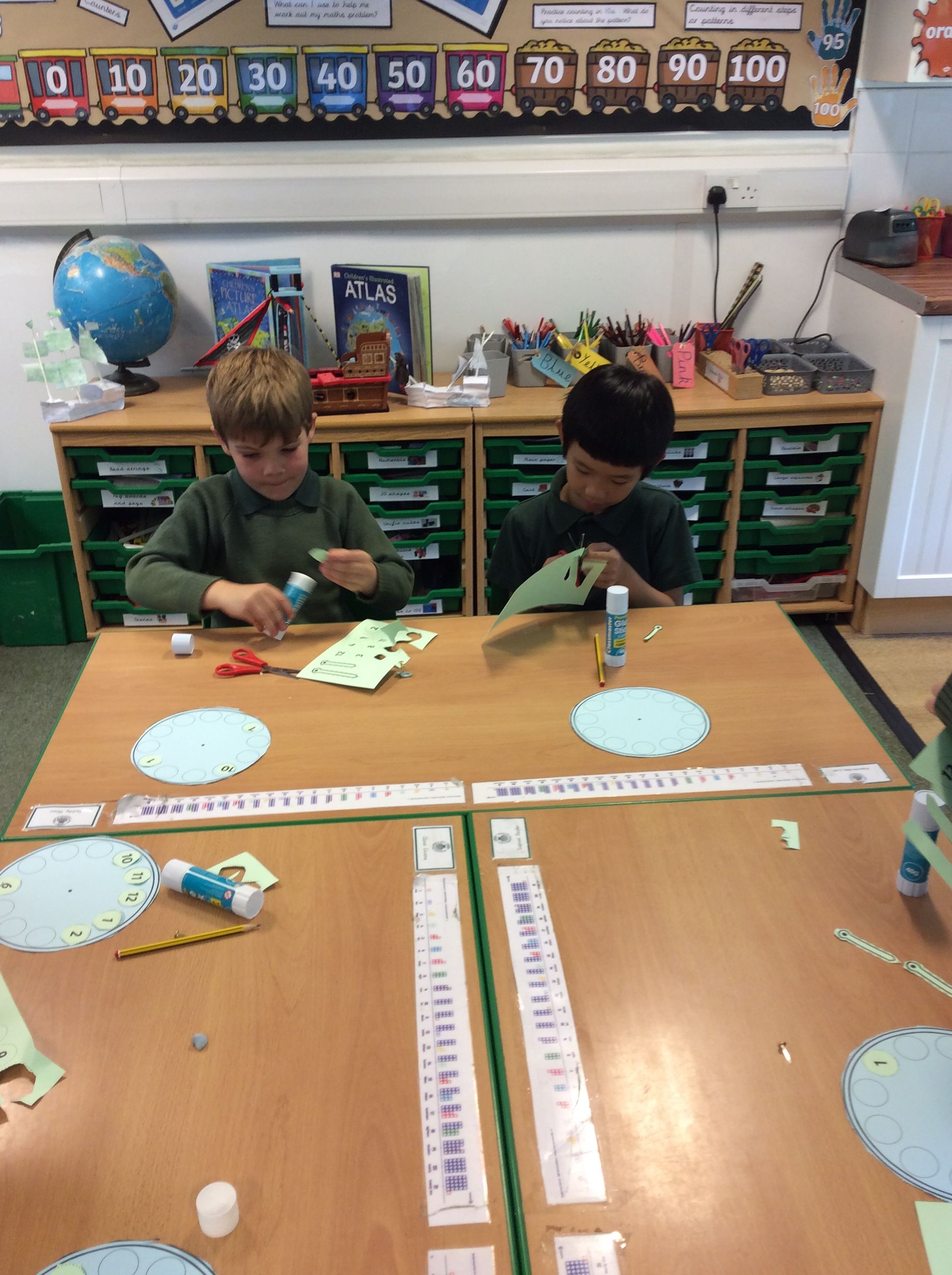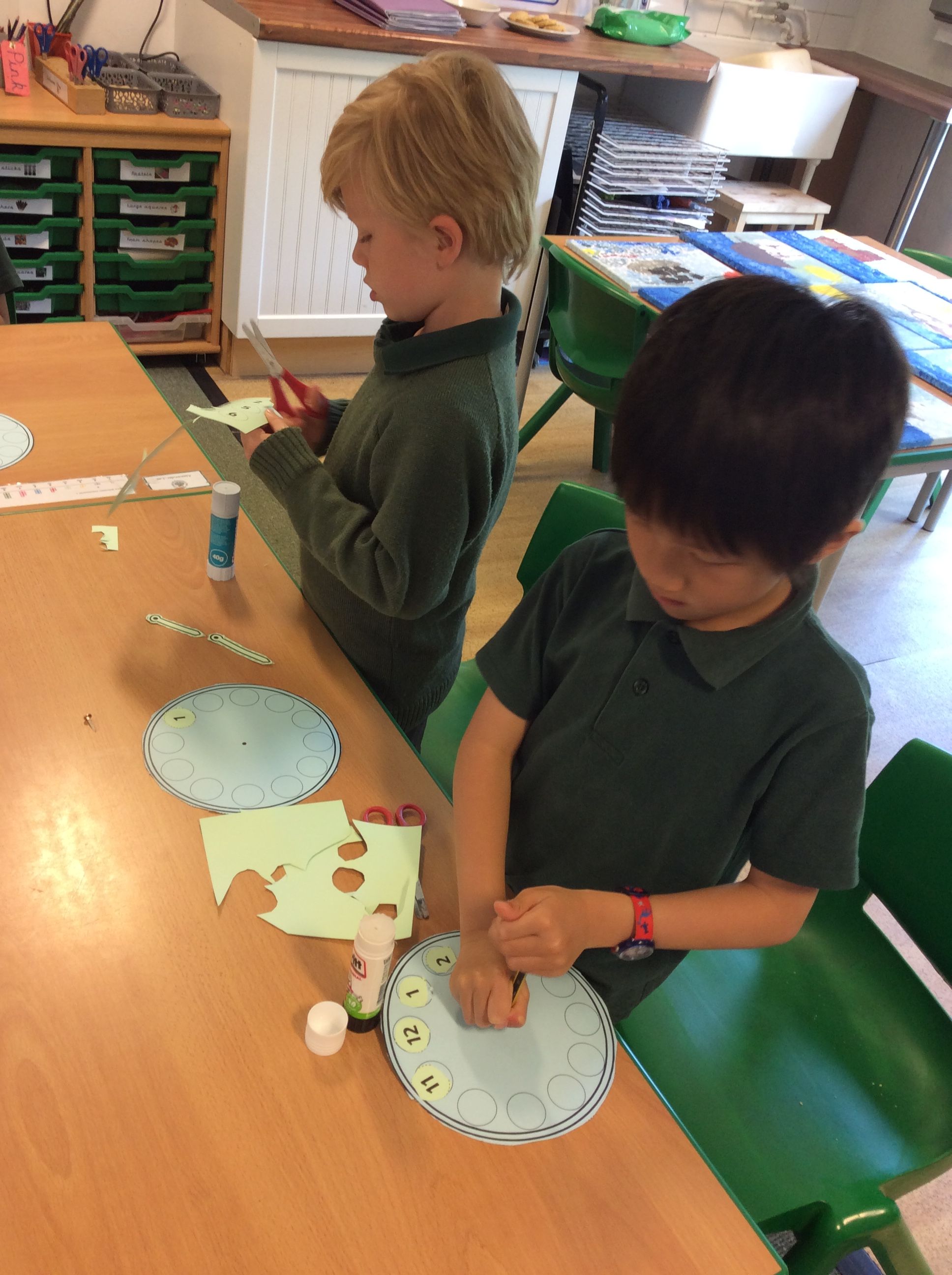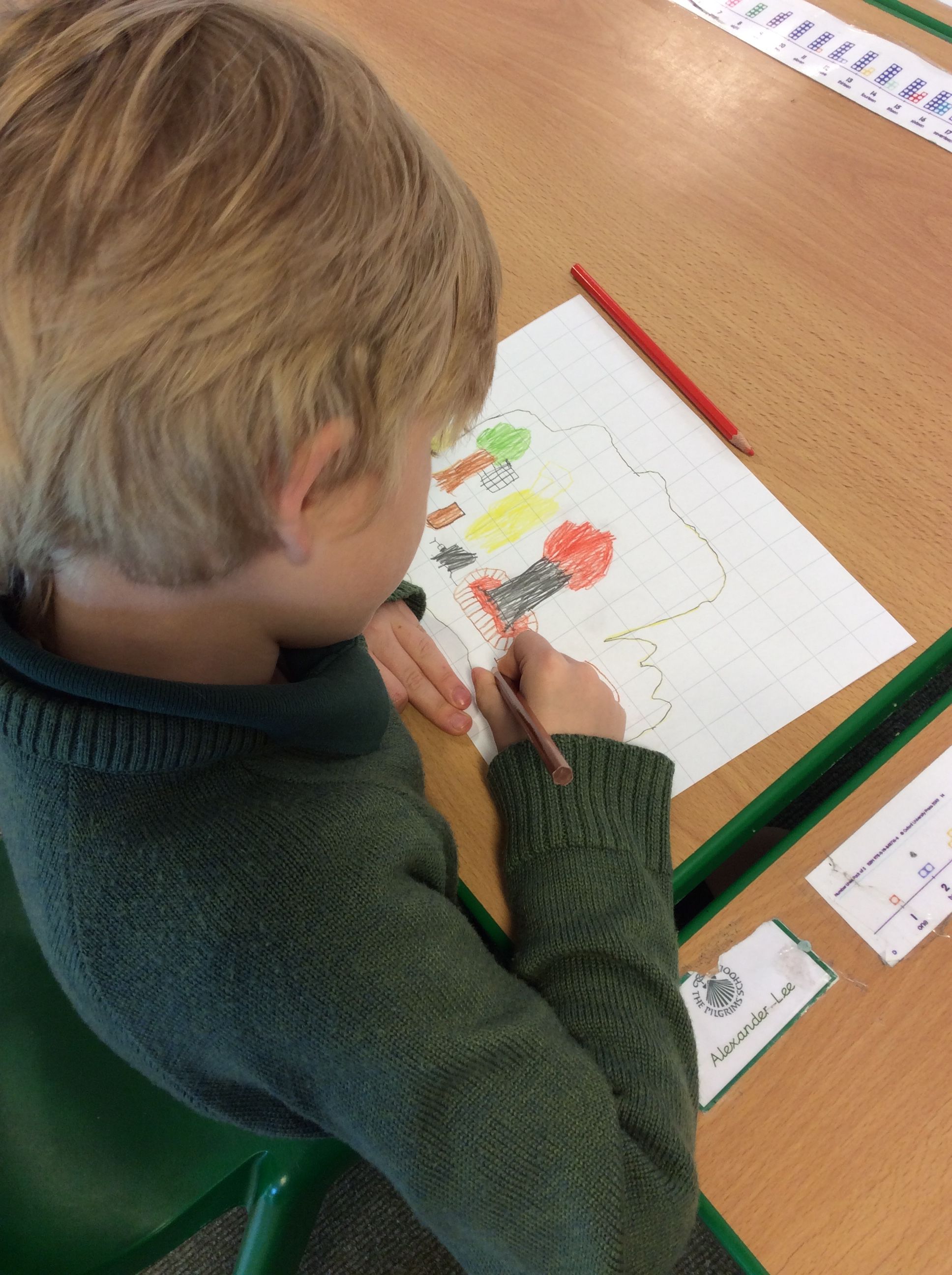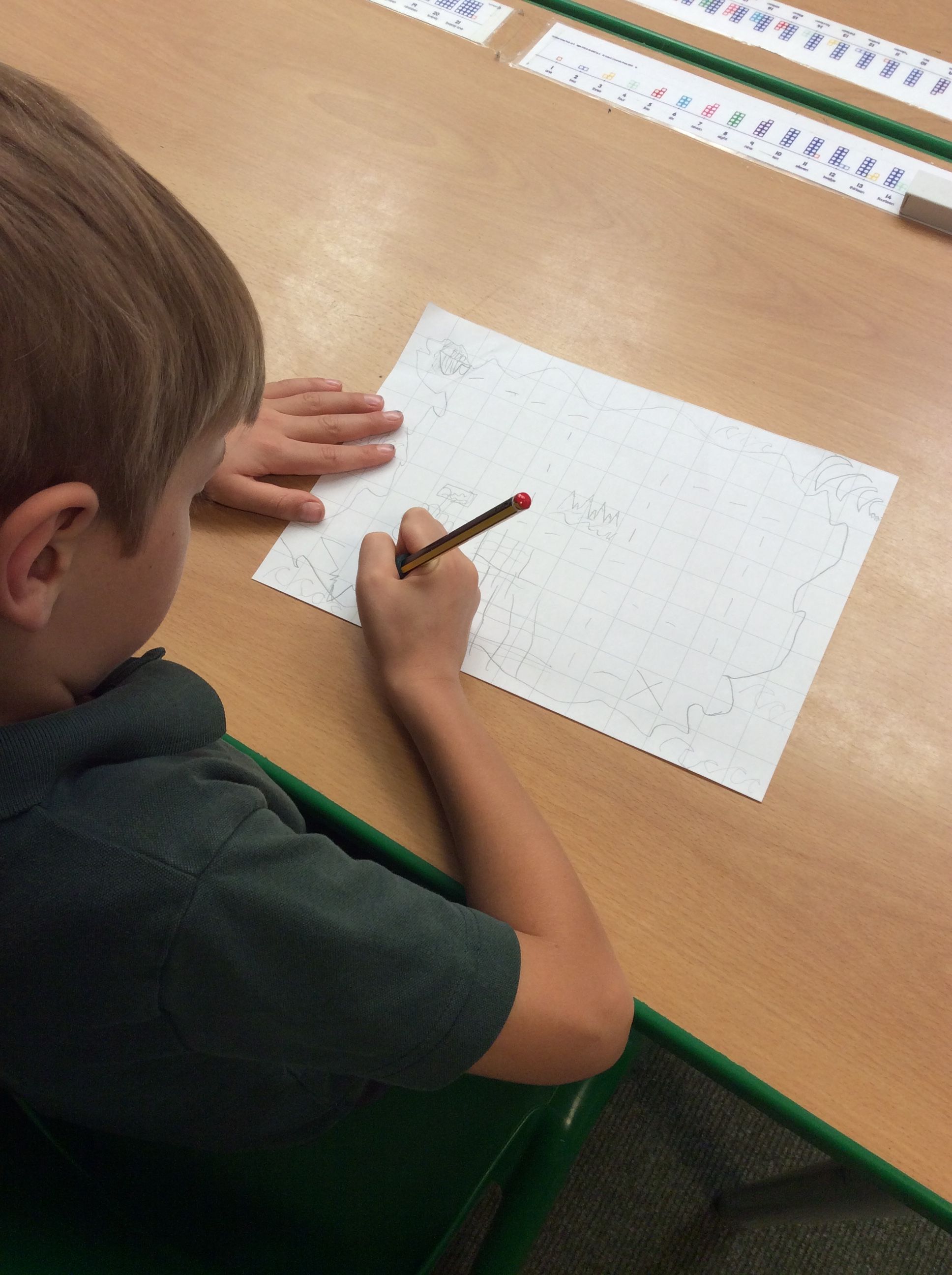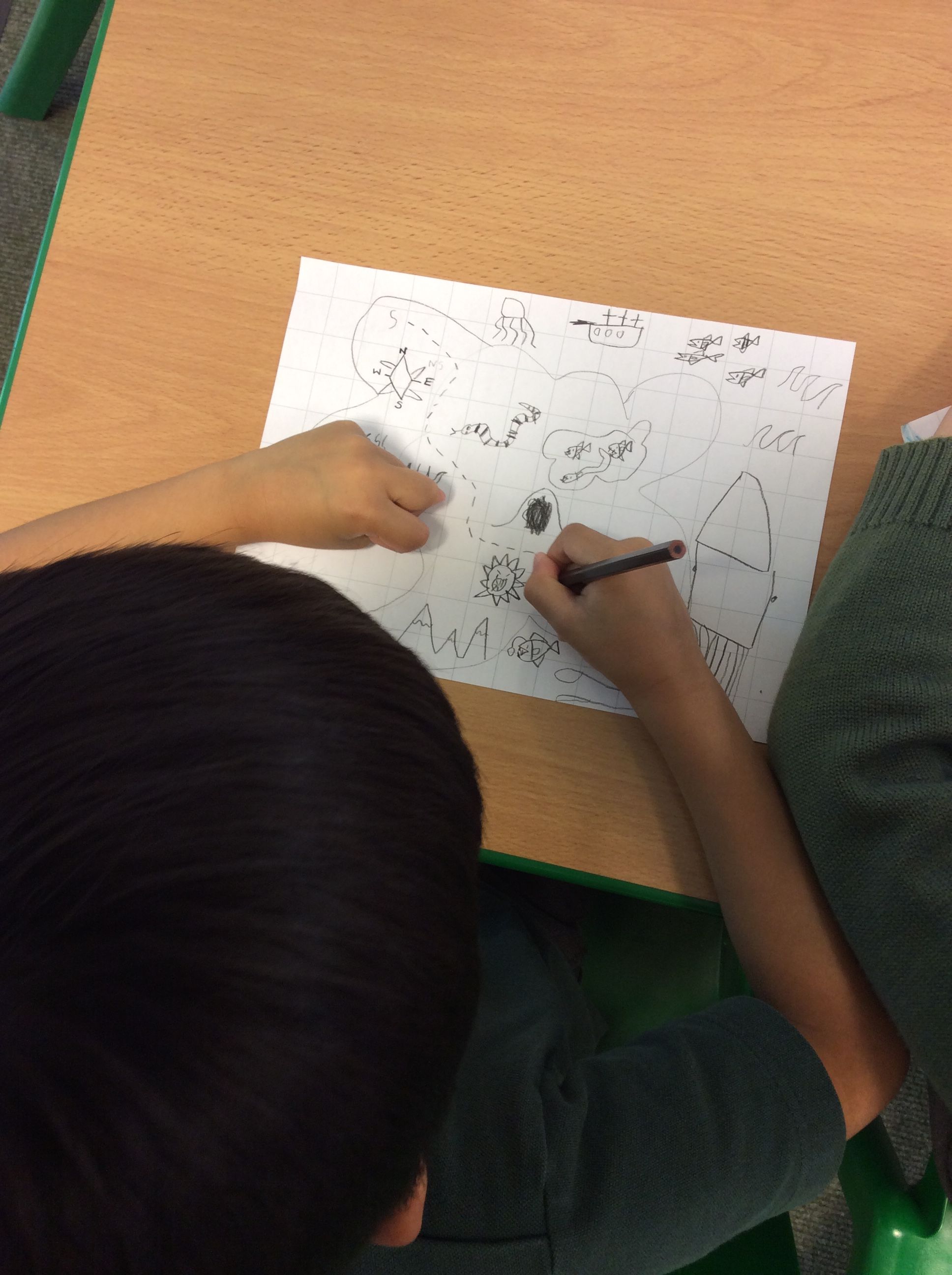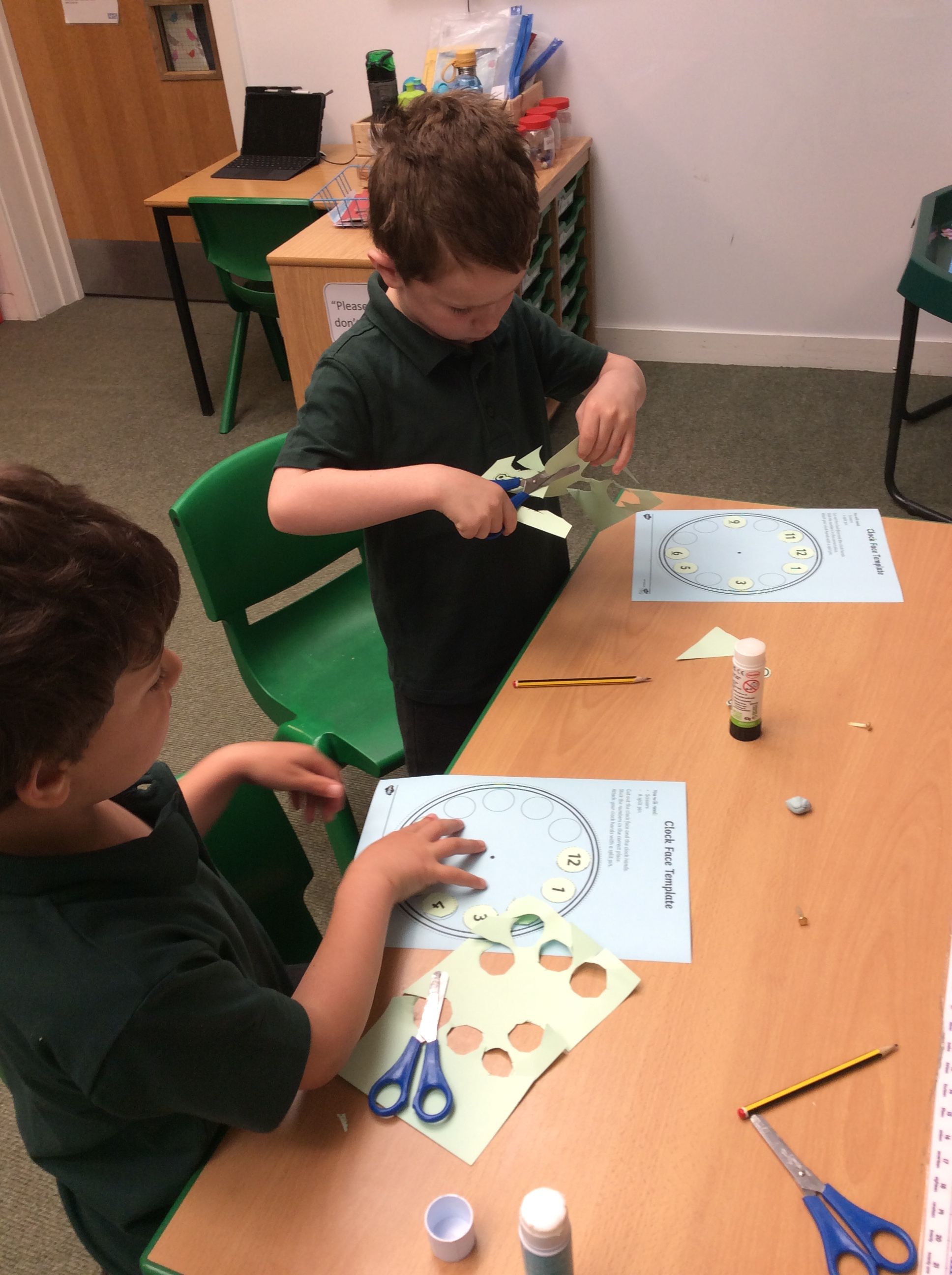 Can you follow my treasure map? Great fun was had in creating treasure maps to help Pirate Dog find his treasure because he lost his own map! After exploring maps of different kinds, the boys used squared paper to draw their own treasure islands on; they then added any features they thought would be on an island and coloured them in carefully. Teabags were used to splodge colour onto their maps to make their maps look old and crinkled! Lastly the boys used the squares and wrote directions for getting from the 'S' start to the 'X' marks the treasure spot. Some very clear directional instructions written with one boy deciding to use North, South, East and West. Land ahoy! X marks the spot. Well done, boys!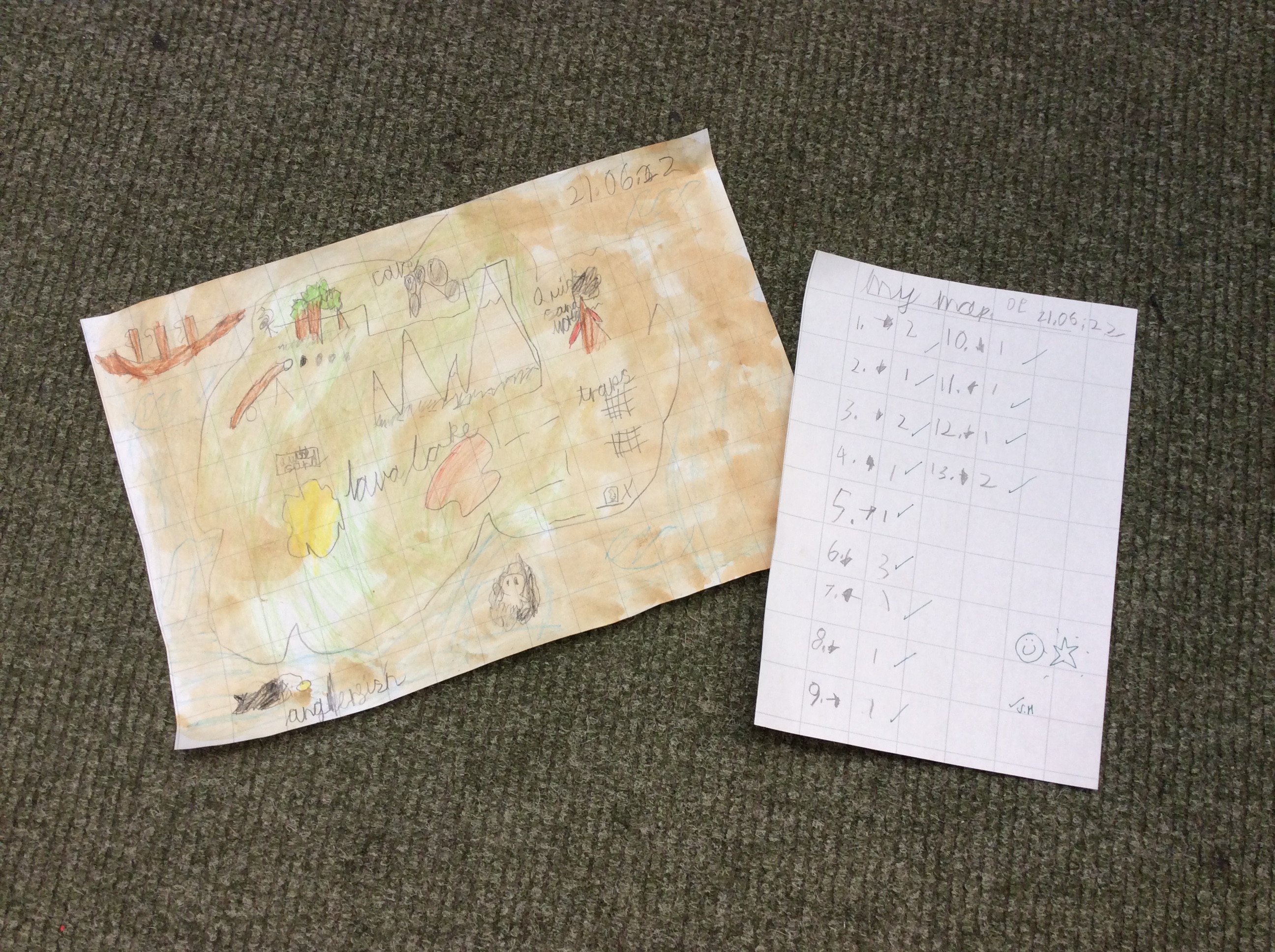 A super week! Have a great weekend.
Mrs Huntley
Reception
Excitement is growing amongst the boys regarding the upcoming performance of Ocean Commotion by Year 2 and 4. It is wonderful to hear snippets of the songs in the Reception classroom and on asking one boy about it, he told me 'My older brothers Ralph and Caspar taught me!' The boys have enjoyed making fish and starfish whilst sharing their knowledge about these sea creatures with their friends and teachers.
They have been enjoying the wonderful sunshine with water play and in the mud kitchen, where the boys are budding chefs cooking up some wonderful dishes to tickle our taste buds. Our role play has changed from a veterinary surgery into a Lego world, where much sorting and counting can be extended and practised.
Mrs Kent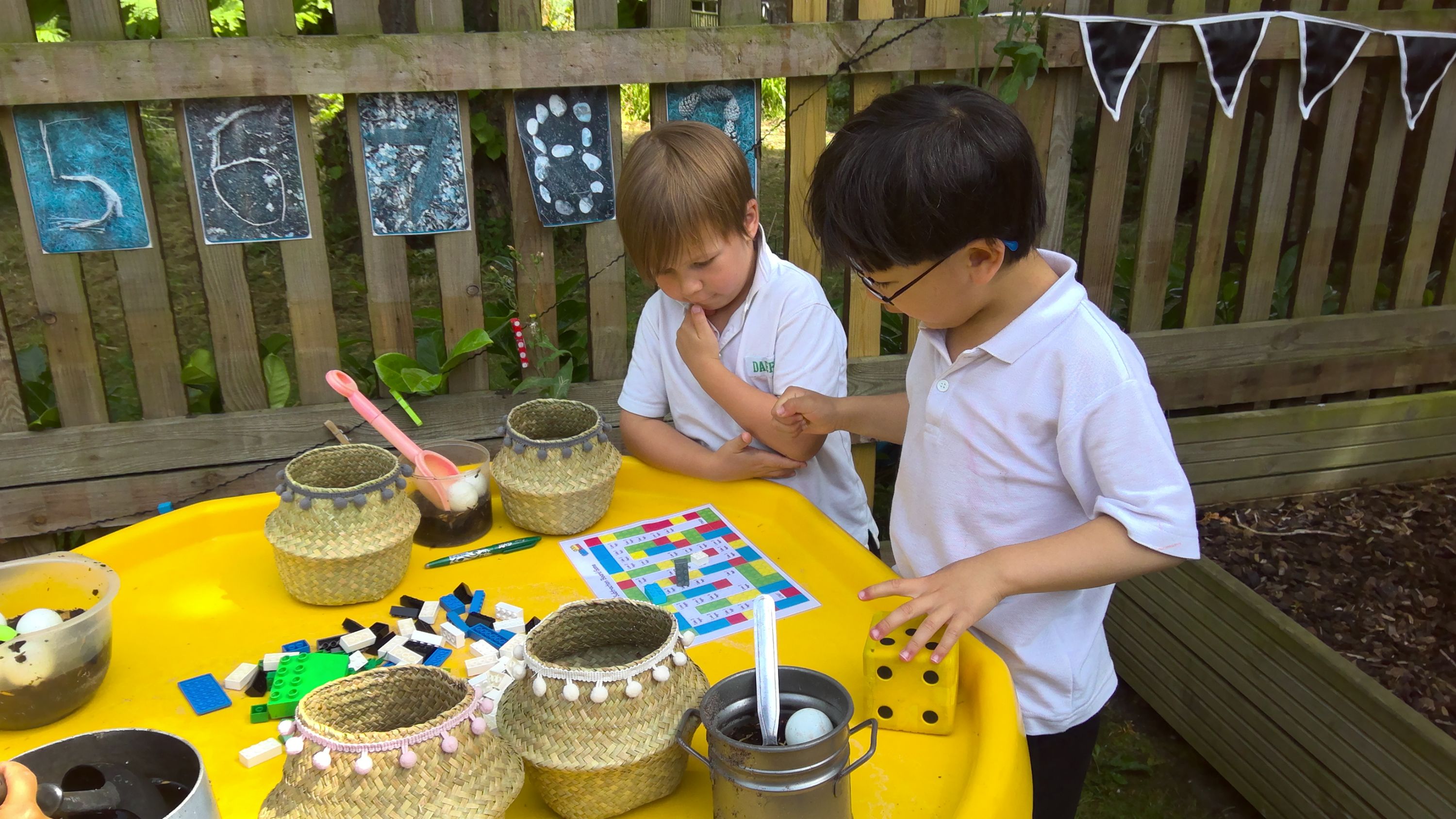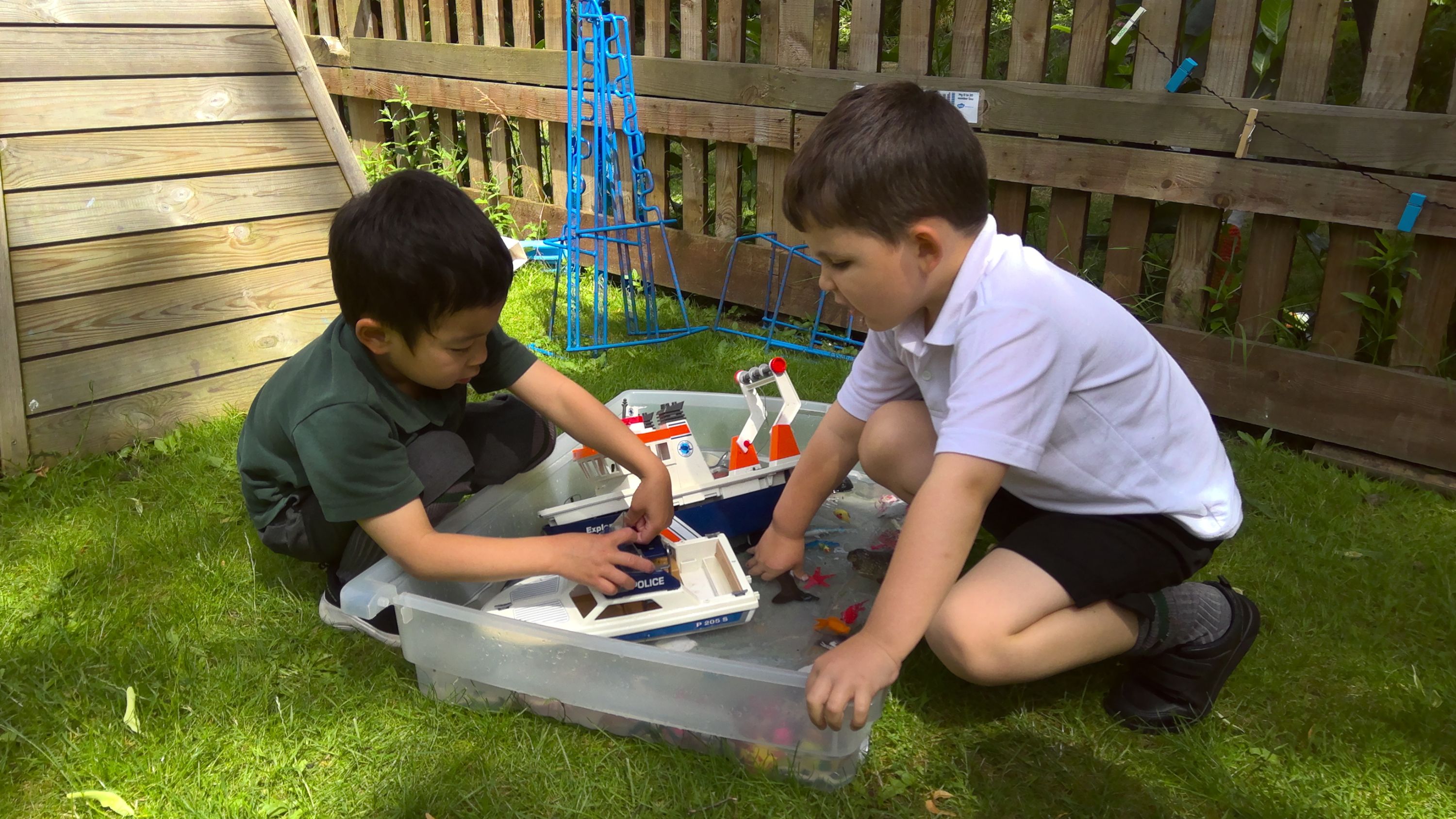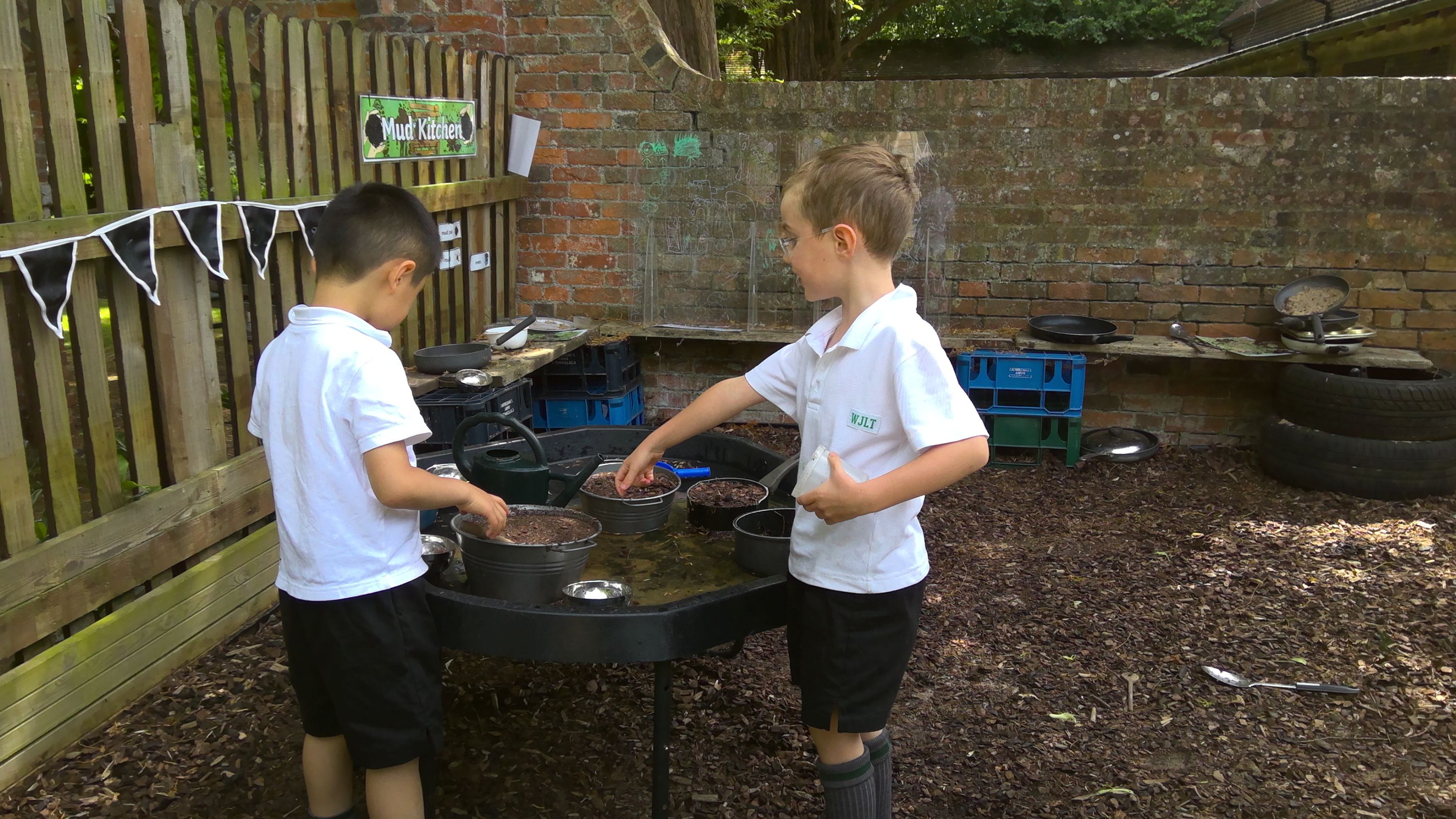 Forest School
Following on from our very hungry caterpillar last week, the boys in Year R took a closer look at butterflies. After chatting about the features on a butterfly the boys worked in small groups and created their own enormous butterflies using natural items. In free exploration time some boys went butterfly spotting whilst some had a lovely time in our mud kitchen!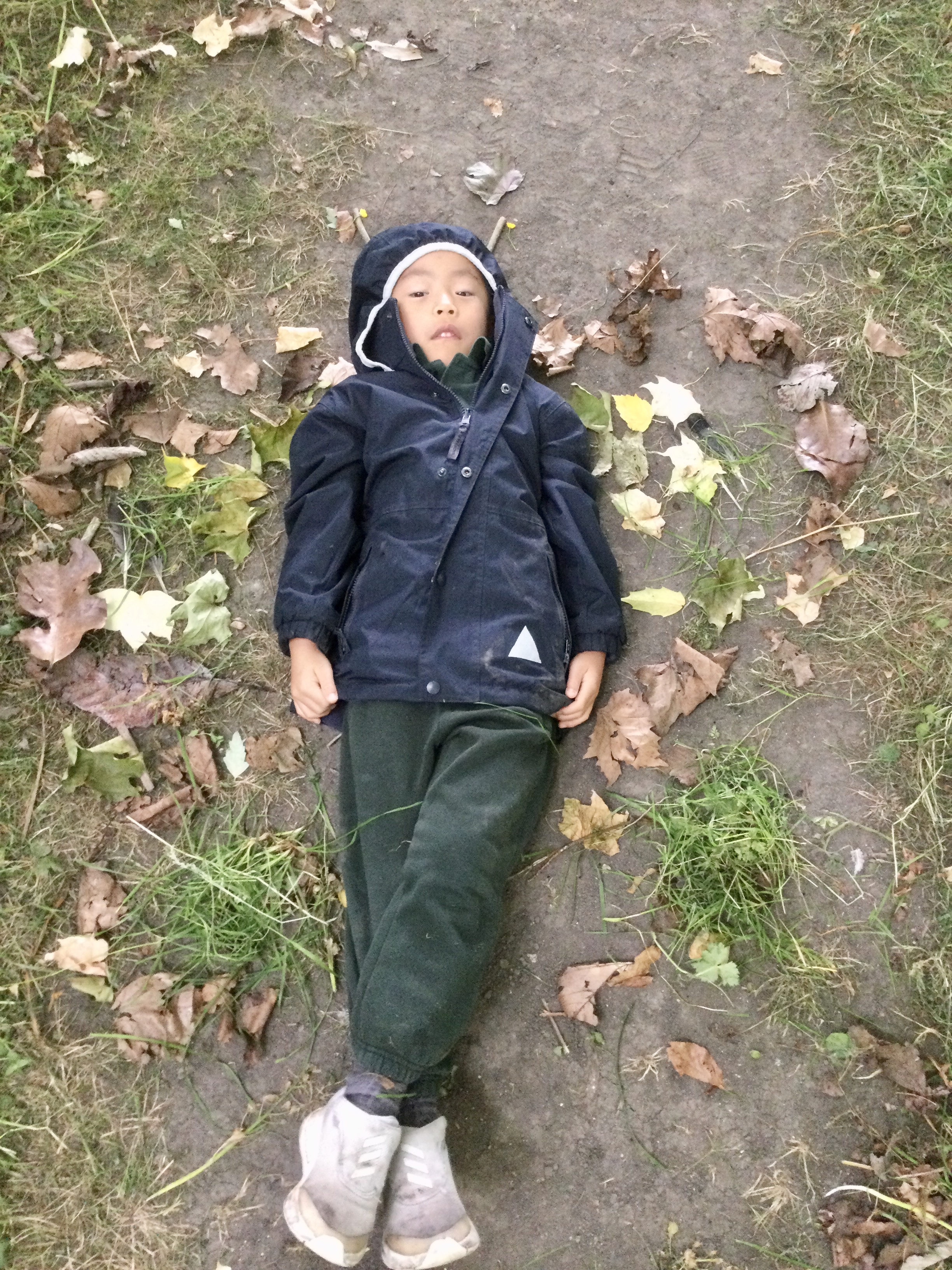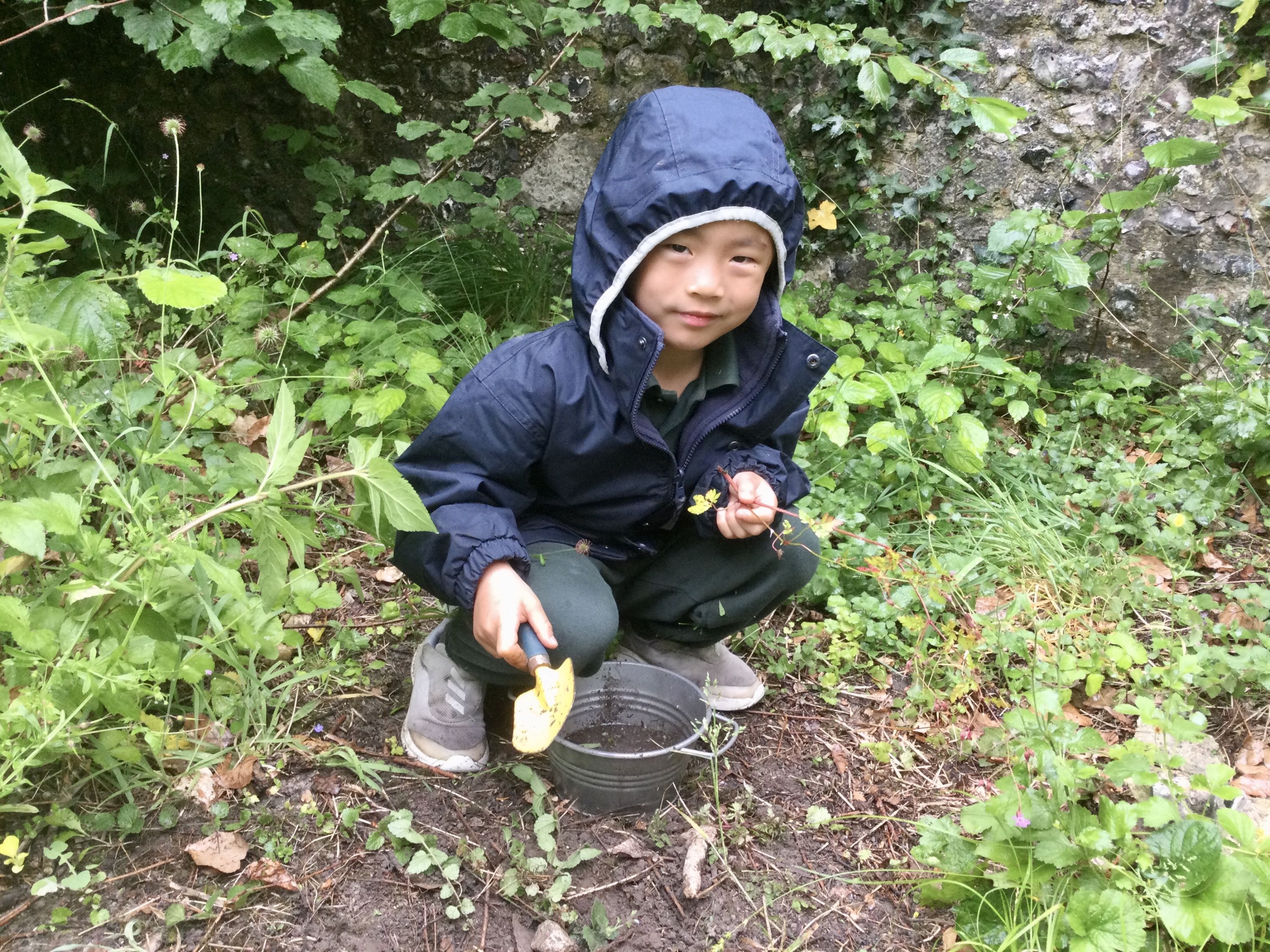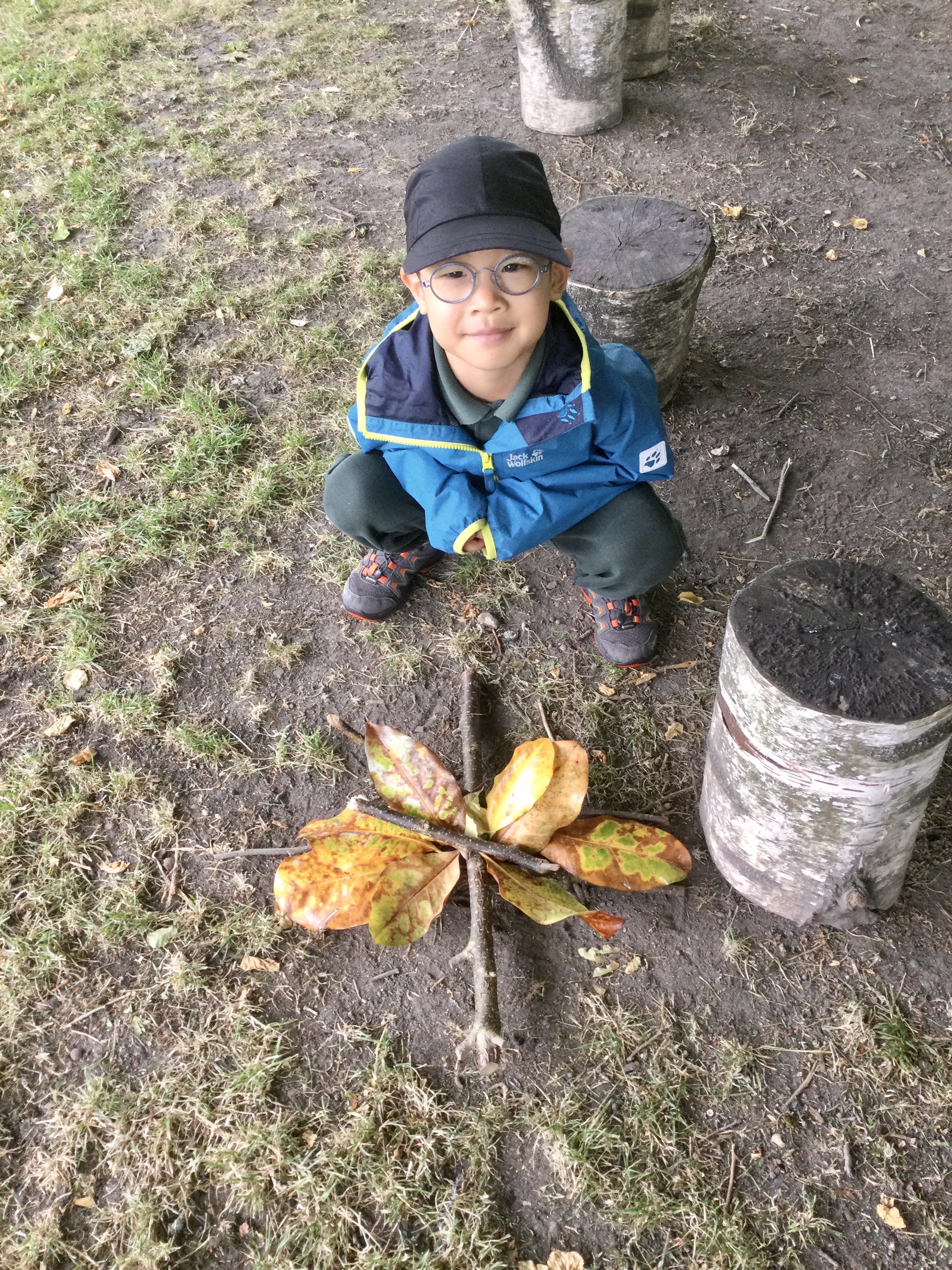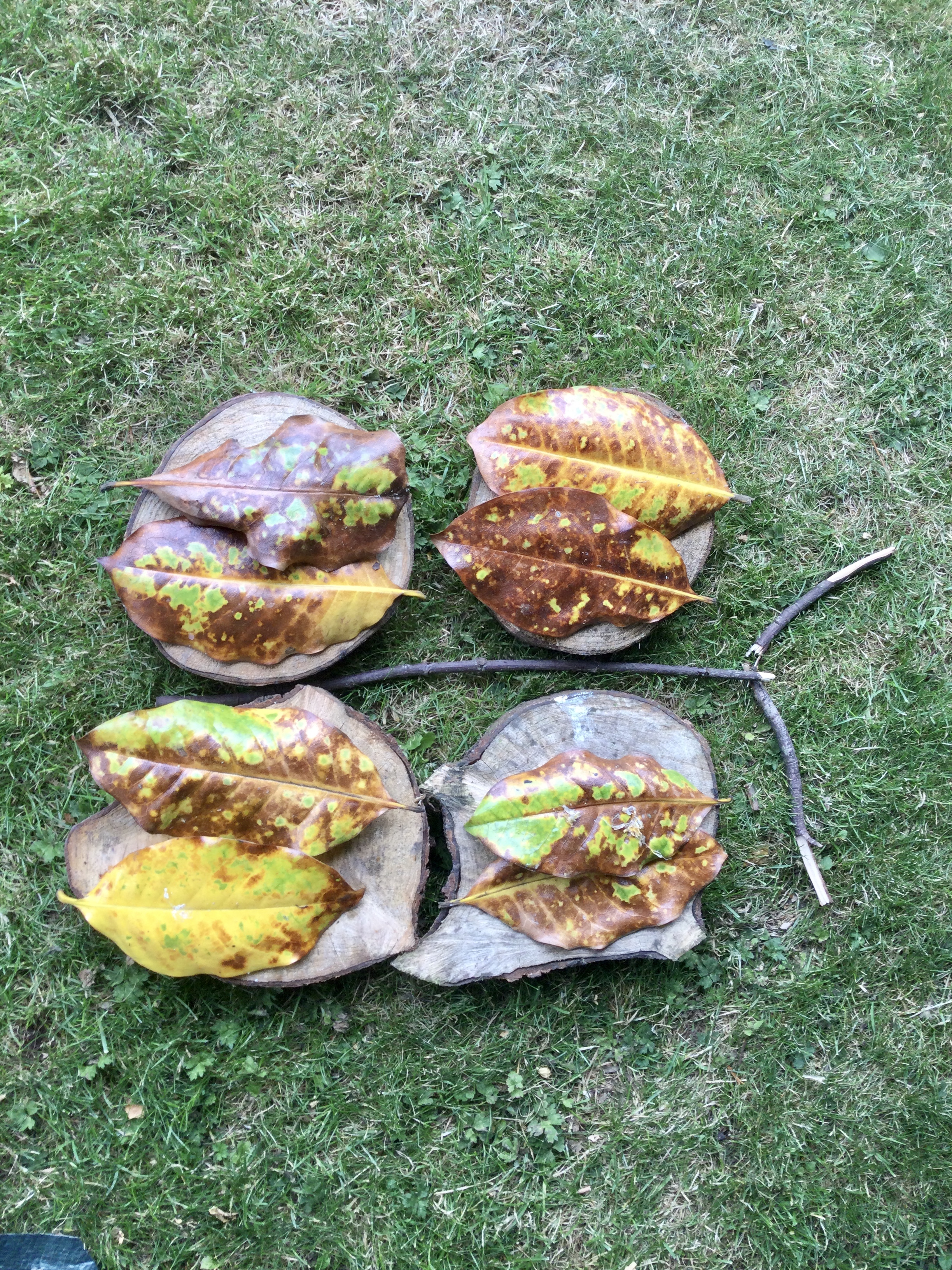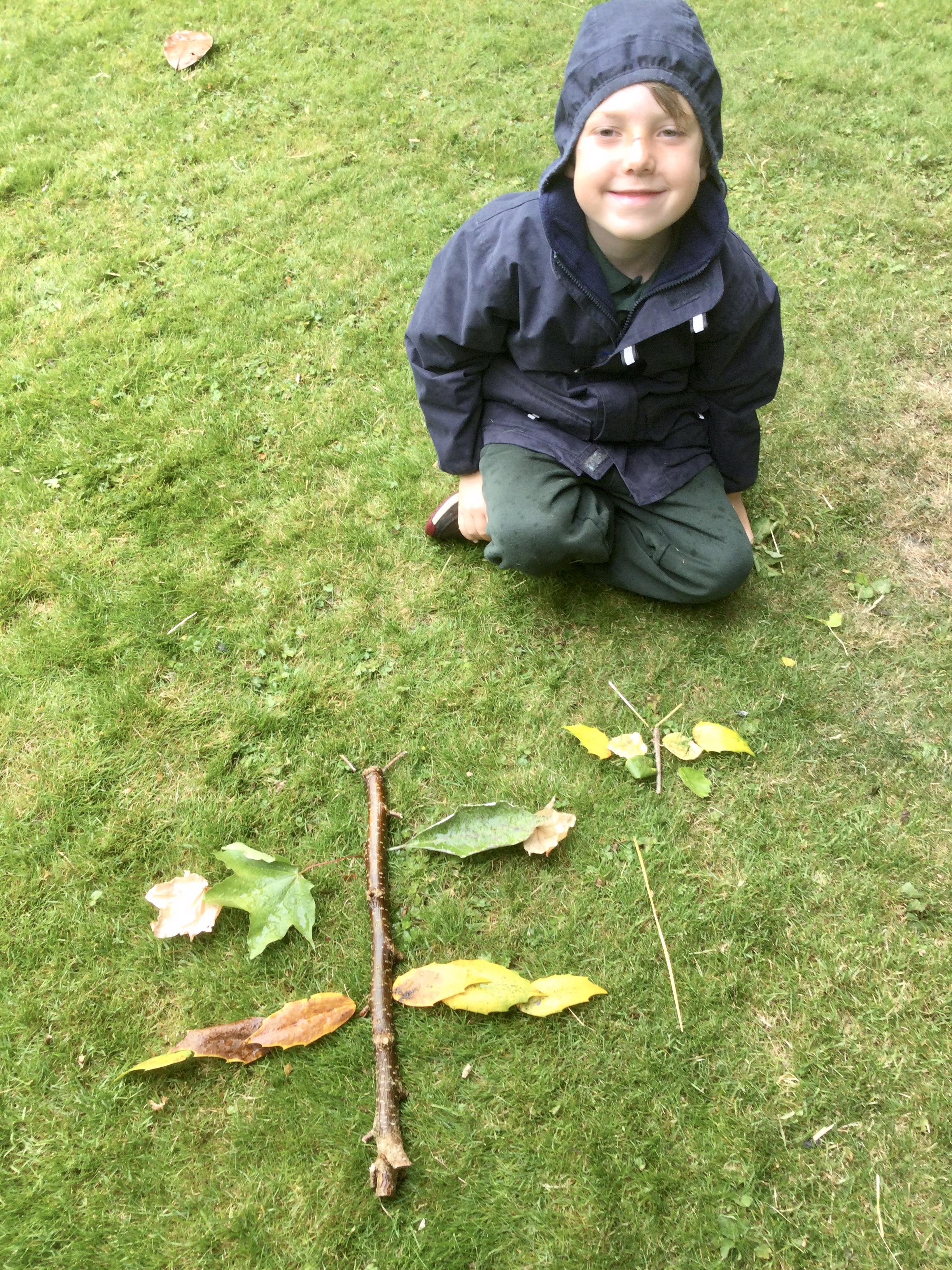 Inspired by the story of 'The Stickman', Year 1 had a go at applying their knot skills in order to create their own 'Stickman'. Our 'Stickmen' seemed to come alive once they decorated with leaves and other natural items, as well as a pair of googly eyes! In free exploration time some boys simply enjoyed playing with their stickman, whilst some boys built him a home.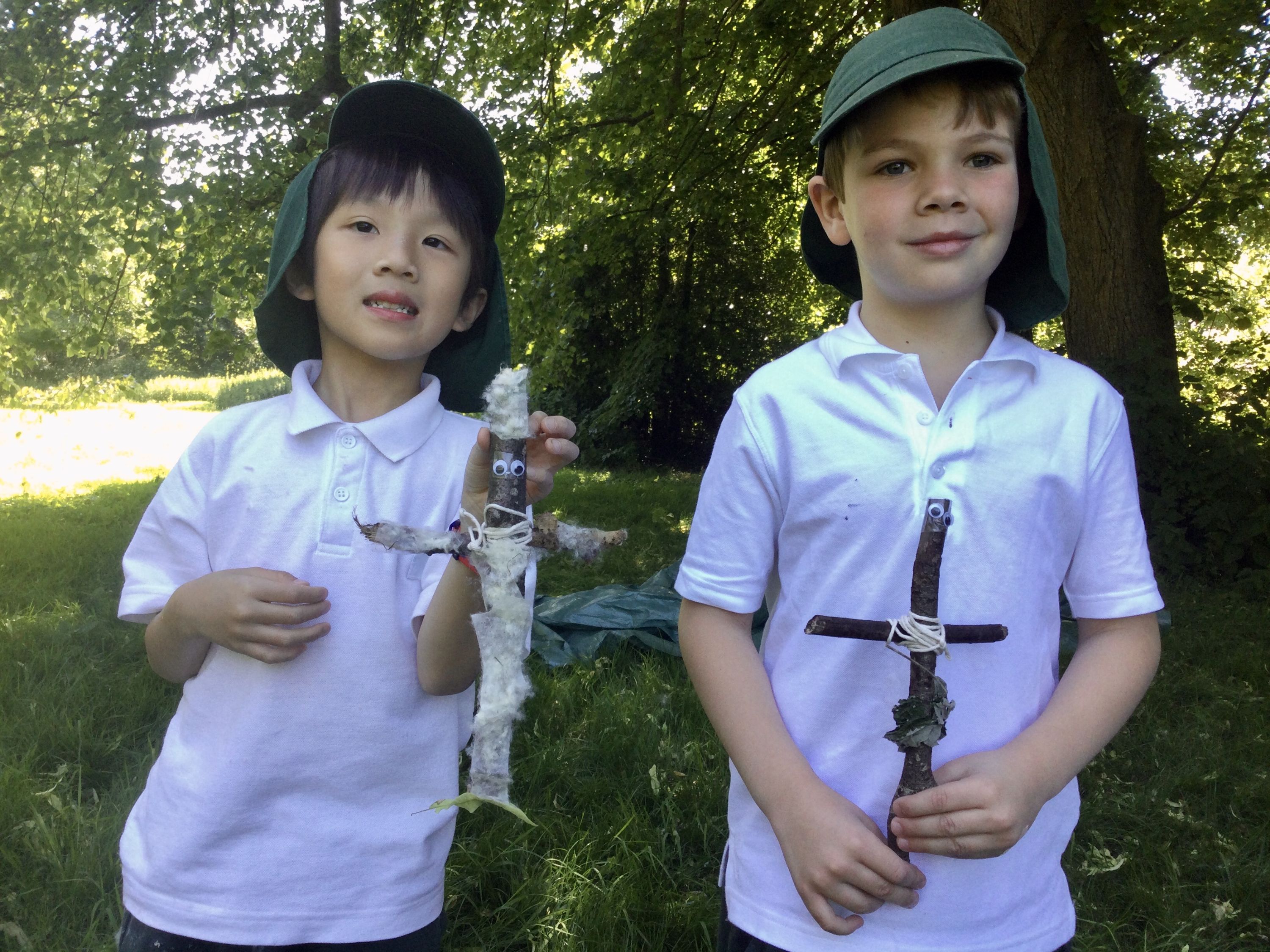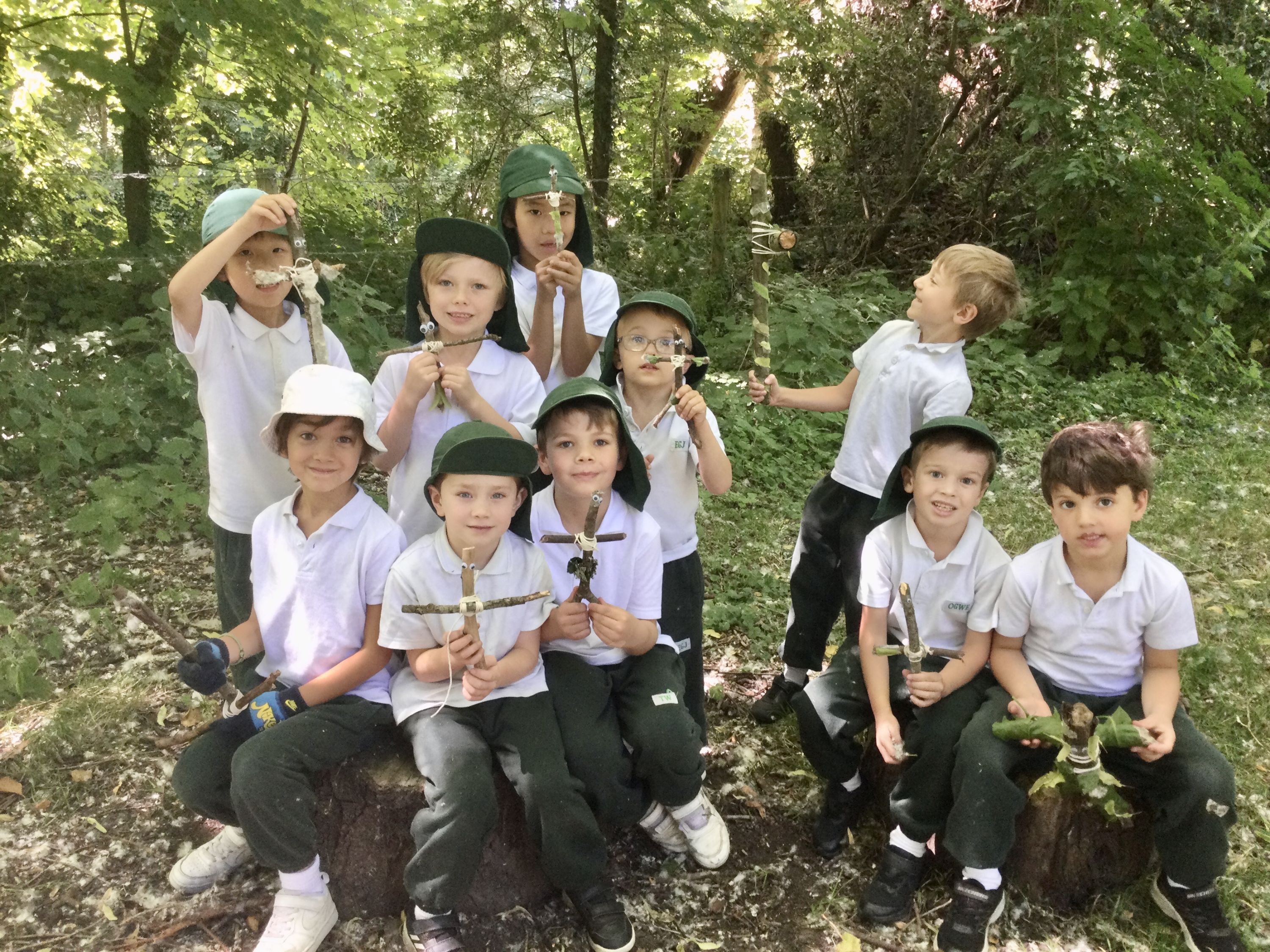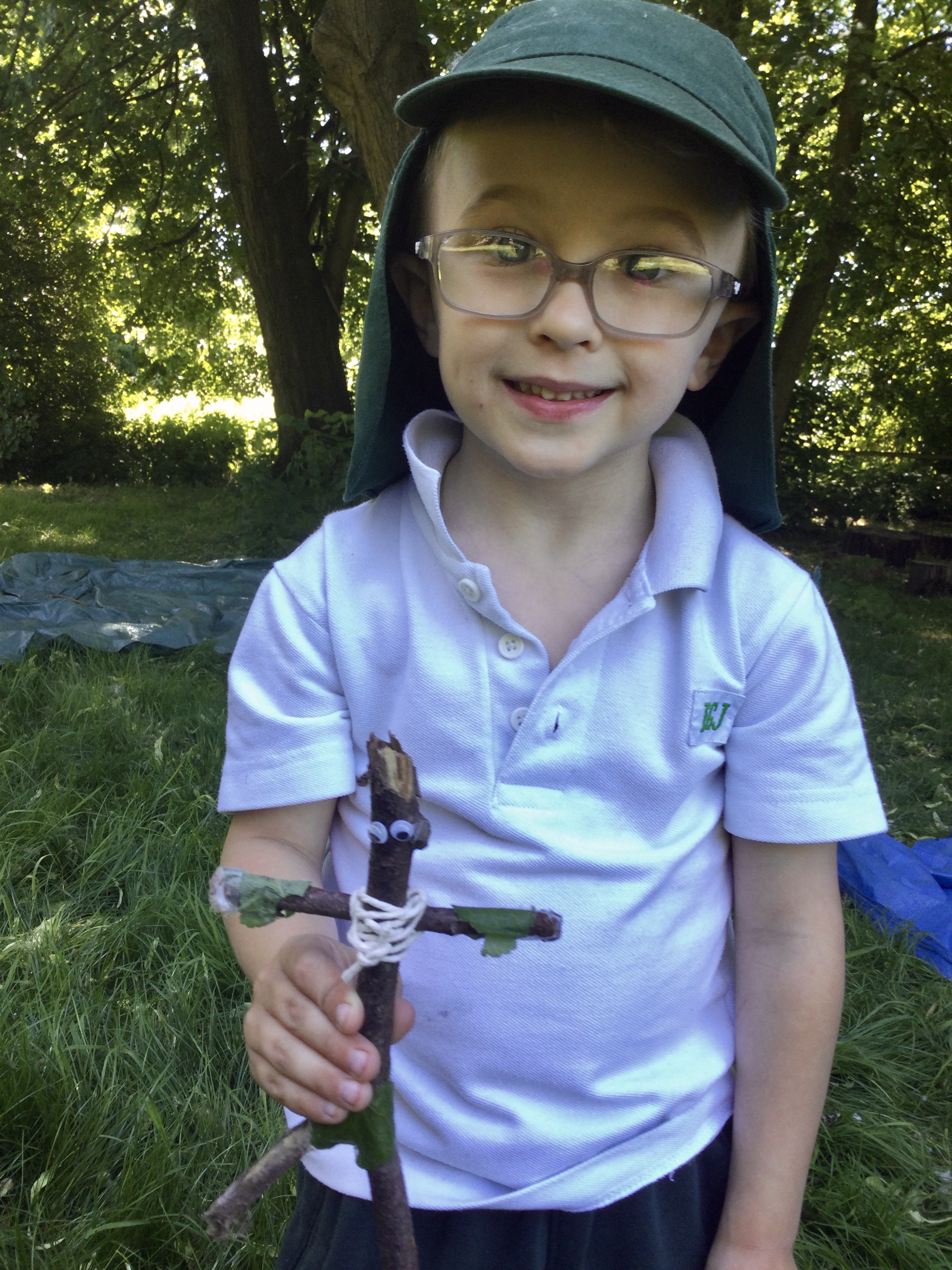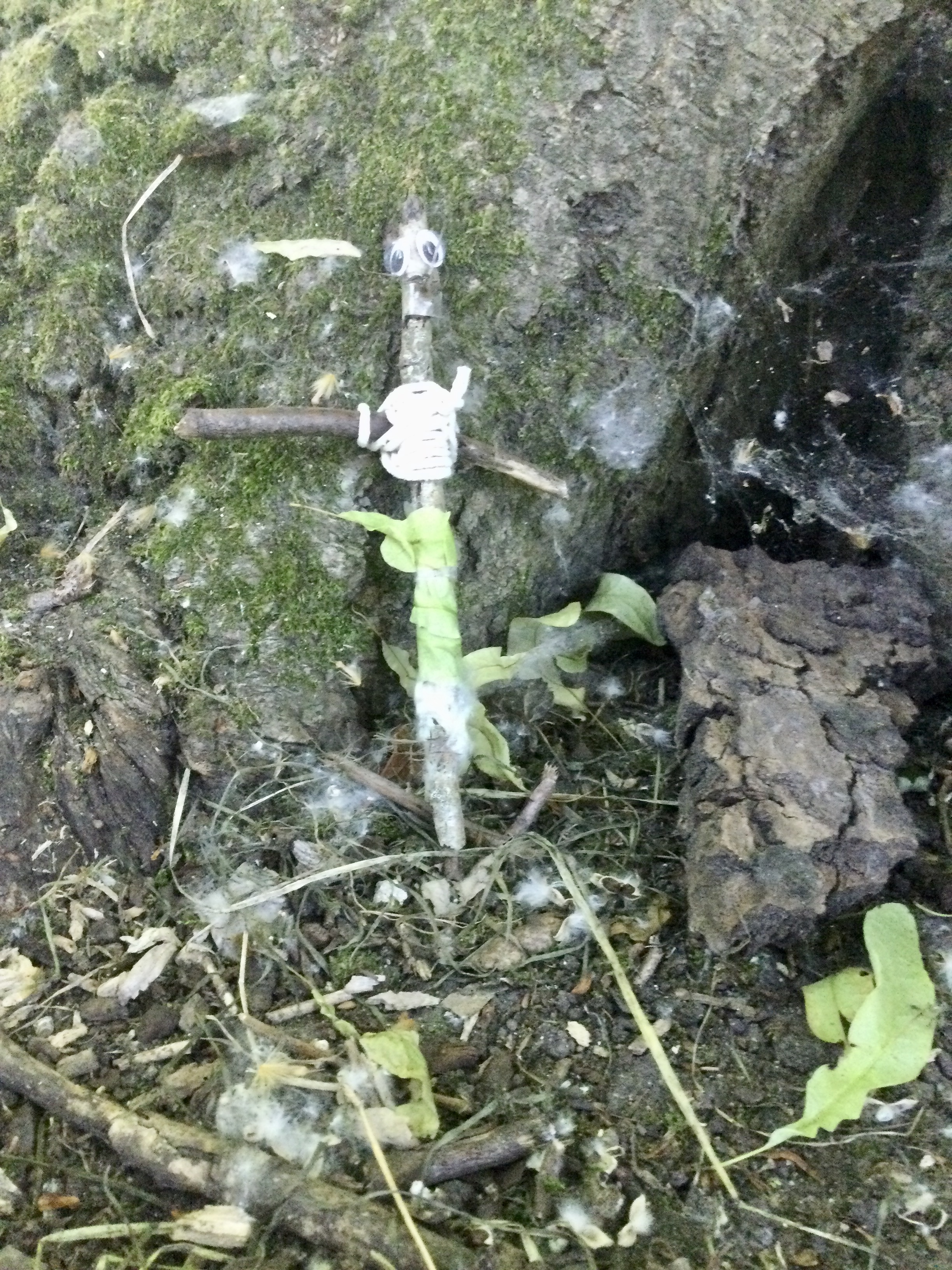 We chatted about spirits with Year 2 and wondered if everything living had a spirit. The boys were all given a small bit of clay each and asked to find a quite spot in the arboretum. Using natural items and clay, the boys decided what they thought the spirit for the arboretum looked like. In free exploration time the boys were given opportunities to weave, drill, make dens and colour match.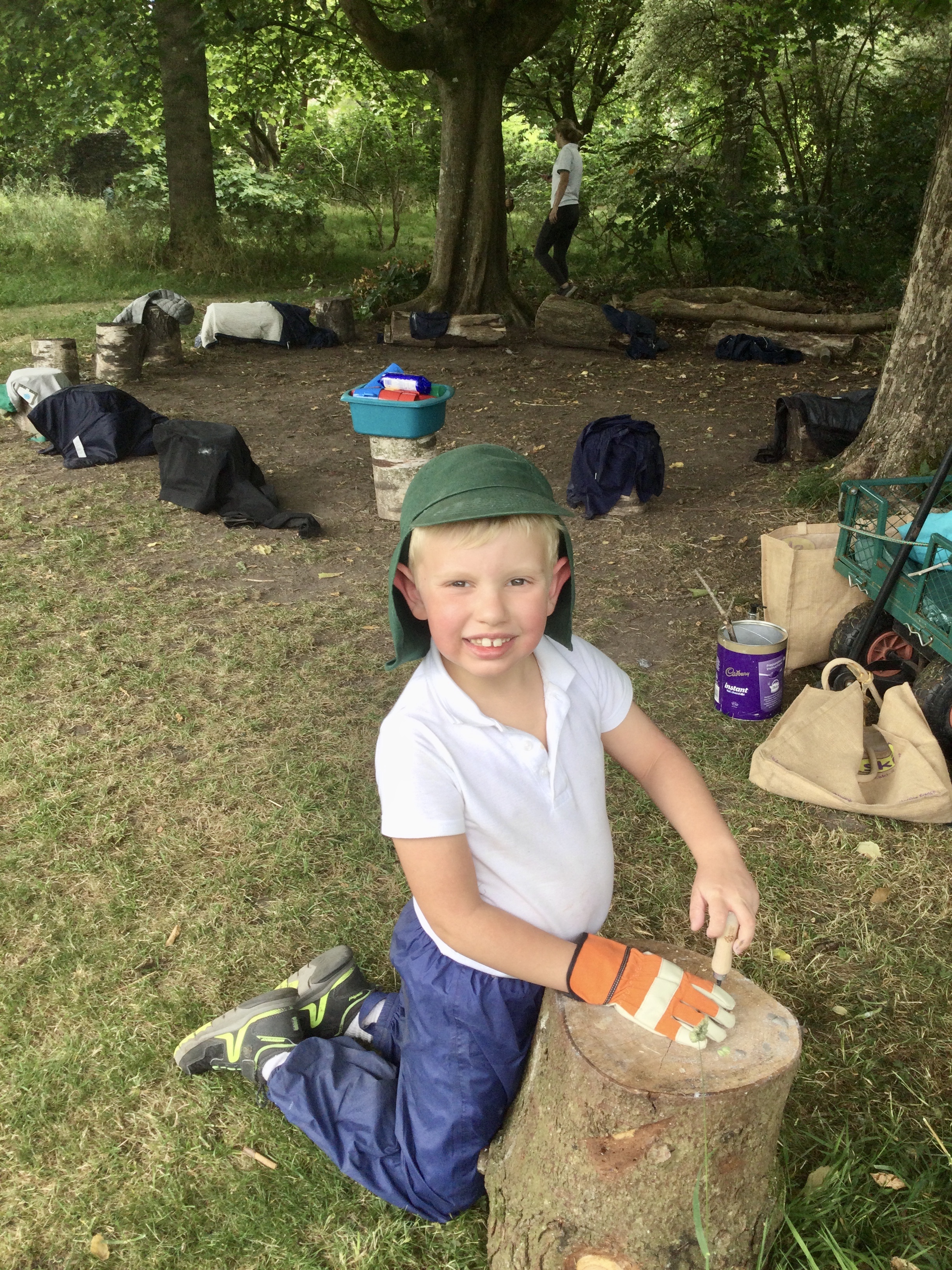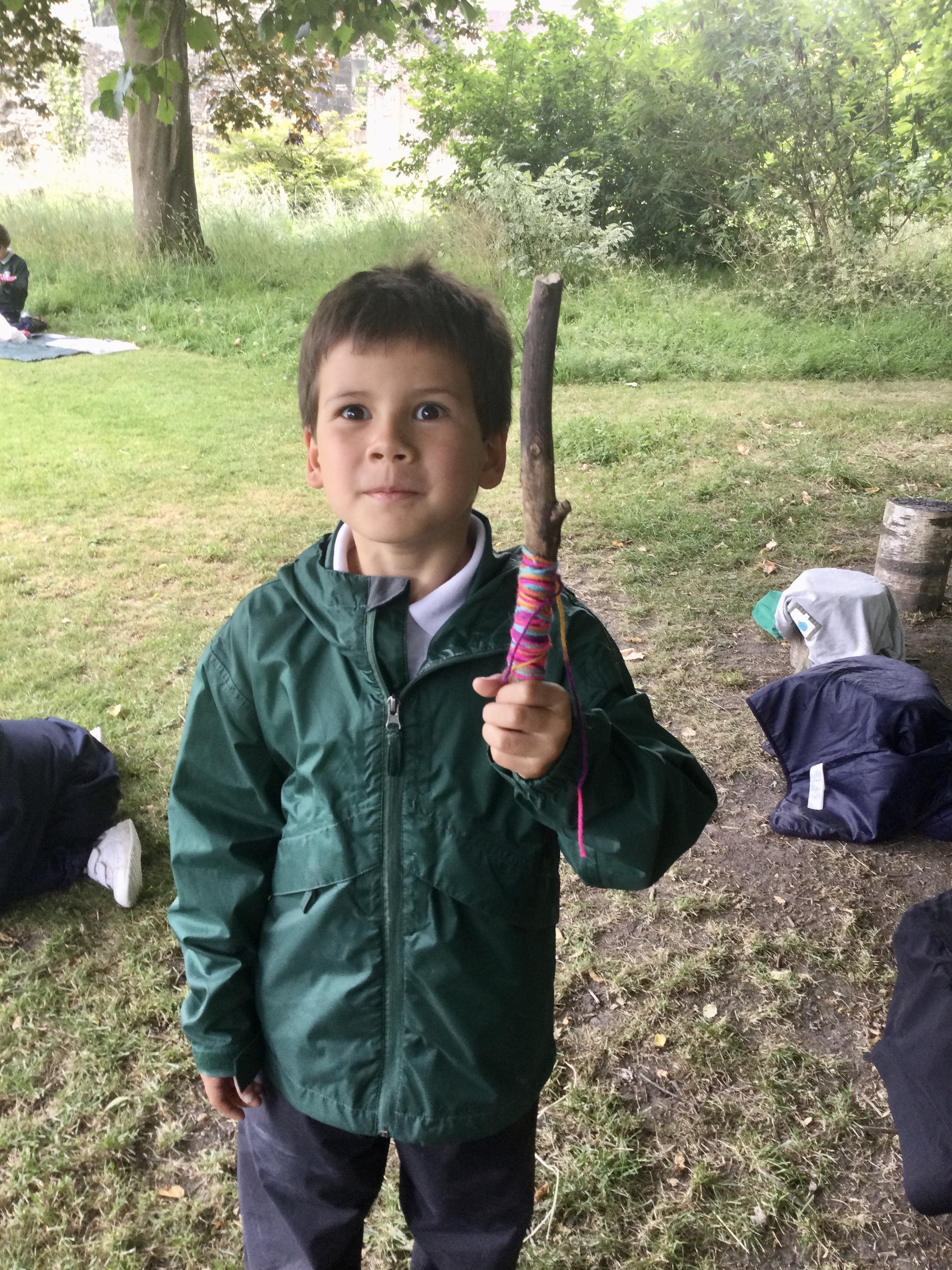 Mrs Walker